How to build a motorhome?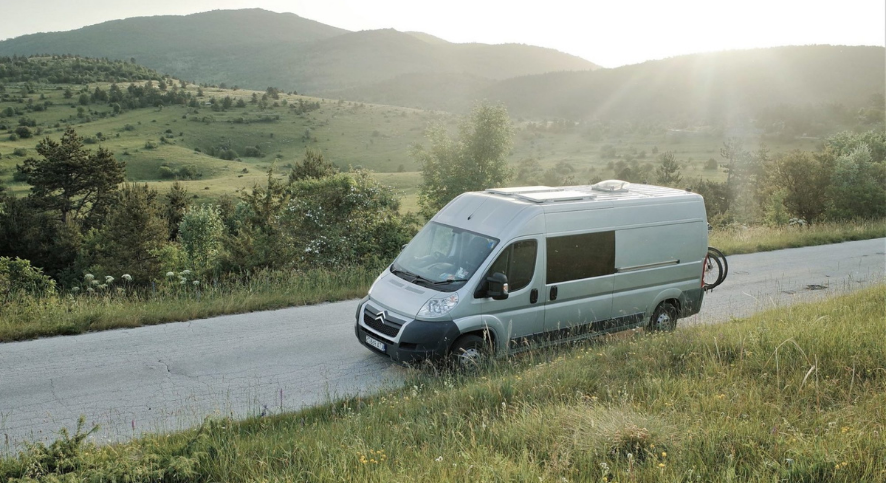 Less than two months ago, we announced a competition whose aim was to show the world the best motorhomes made by our readers.
We create it together with the organizers of the Caravans Salon fair, which will be held from 24 to 26 September 2021 in Poznań.
There, in a special zone, owners of selected vehicles will be able to present them to fair participants. Therefore, a very interesting event is being prepared for the upcoming edition of the fair.
Detailed information about the competition itself and applications can be found here .
Also on our fanpage on Facebook , we create a series of posts that will familiarize readers with the competition vehicles and their creators. We invite you to like our Facebook profile to be up to date with all the news.
Today we are starting a series in which we will present these campers to you. We will present the profiles of their owners, who will undoubtedly reveal the secret and show how the design process and the construction of their vehicles were carried out.
In this article, we will introduce you to the car of Kasia and Rafał from Warsaw, which was created as part of their Vandalvan project.
Interview with Kasia and Rafał - the creators of Vandalvan
Judging from your report, the road to completing the construction of your mobile home was long, but filled with learning, rich experiences and satisfaction. Could you please tell us about the time spent on the project and the total costs it has consumed?
Yes, it was quite a long way because the van was built after our regular work hours, and we started the conversion right after the birth of our son, so we also had to adjust to the new situation. We made Vandalvan in stages, when we went on our first vacation, we did not have, for example, second-row armchairs or upper cabinets . In this way, the entire work was carried out for almost a year. However, to give you an overview, the first construction takes about 400 man-hours (i.e. with a strong commitment, it takes about 2-3 months of work on average).
Satisfaction with the construction is actually high. Kasia and I both work with computers - the effects of such classes are often visible only after months, if you can see them at all. Here, one day you install the window and you immediately have the satisfaction that your project is moving forward, and you have done it yourself.
There are also moments of frustration, especially at the installation stage, where the effects are not visible so quickly or when you have to repeat a piece of work because the elements do not fit together. On our website, we provide a detailed cost estimate of such a project to facilitate planning. Our buildings cost about PLN 30,000, considering that we mostly did the work ourselves. For the same materials, if you want to have a solar installation and equipment similar to a motorhome , you have to assume a budget in the range of PLN 15-40 thousand.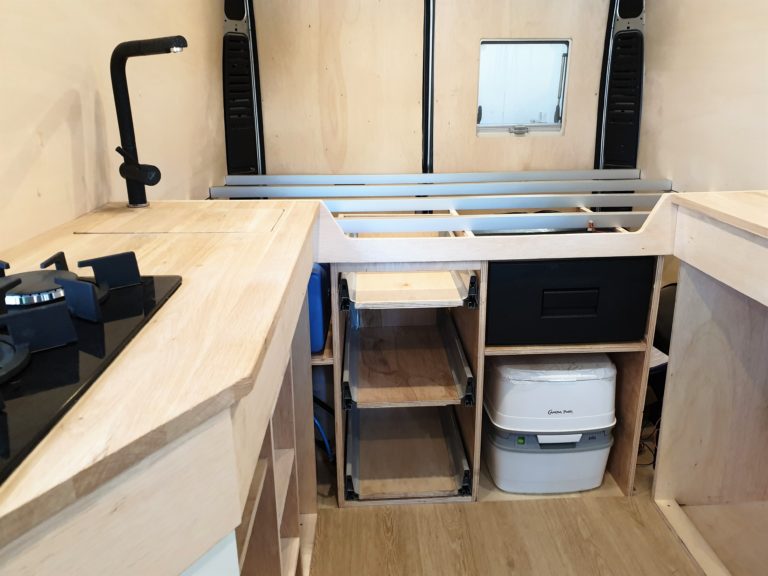 What are, in your opinion, the main advantages of building your own body compared to buying a ready-made motorhome?
Costs can be lowered in this way. We also looked closely at the aesthetics, which gives the feeling of a cozy apartment interior - which we could not find on the market of typical motorhomes.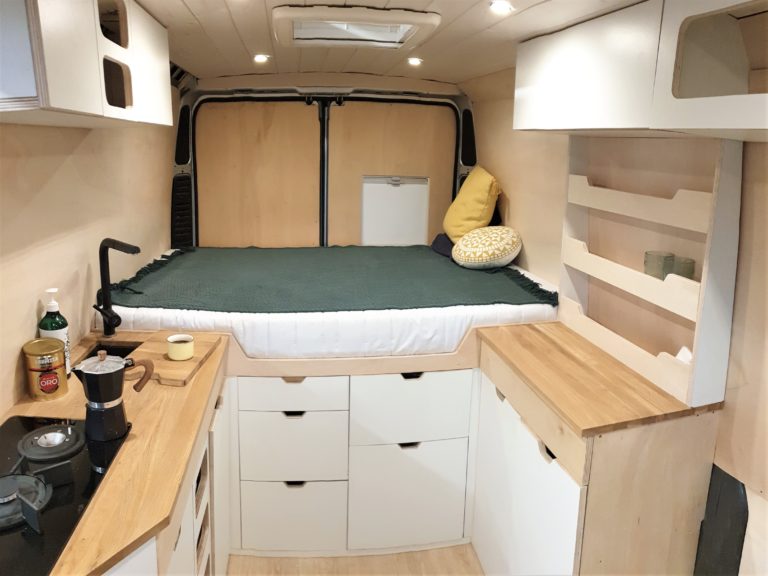 What was the biggest challenge for you in the process of building the vehicle and did you have moments of doubt?
Social media and the fact that you will announce the implementation of your project to the world give a lot of mobilization and effectively allow you to get rid of doubts. It also helps to set deadlines, for example, planning a vacation with the family in a motorhome, which you have to meet with the built-up area so as not to spend it in the workshop. Furniture joinery was certainly a challenge, in which I had no experience, but it turned out that everything could be done.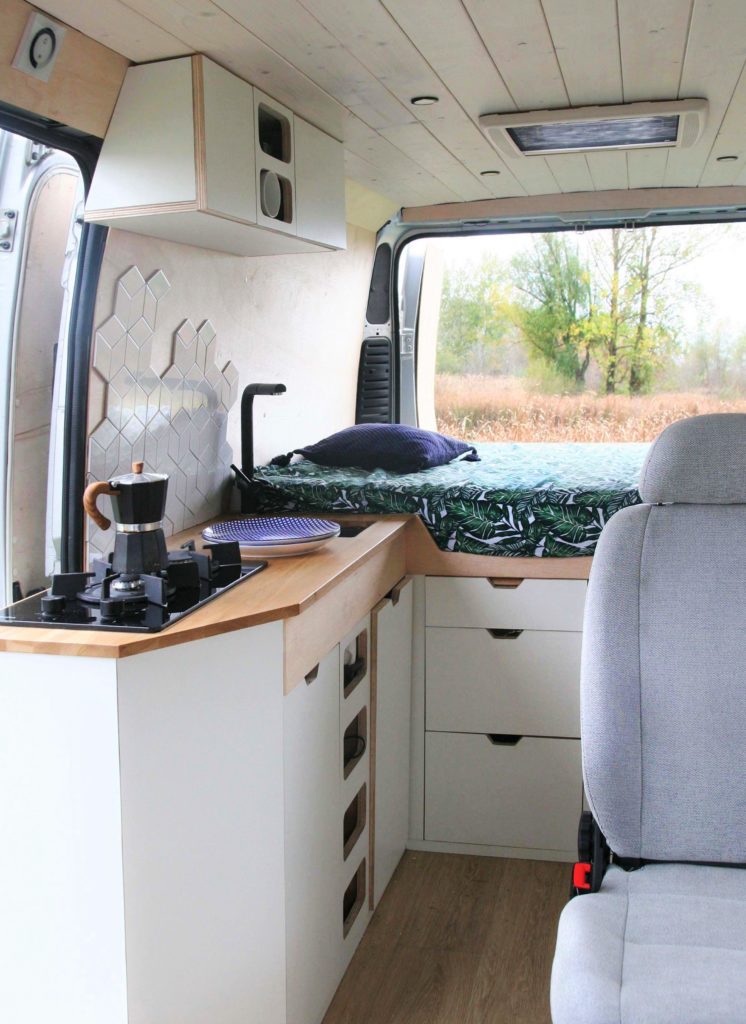 As you know, when we start something for the first time, we often pay the so-called "fricowe". What mistakes would you avoid if you were to build the car again?
We would make a shorter motorhome and that's what we are doing now. We also changed the sleeping position, adding an additional element of the bed extension - our bed is 182 cm across, which, despite the height not exceeding this dimension, turned out to be not very comfortable. Currently, thanks to the additional overlay, we have a very large bed measuring 182 cm x 190 cm.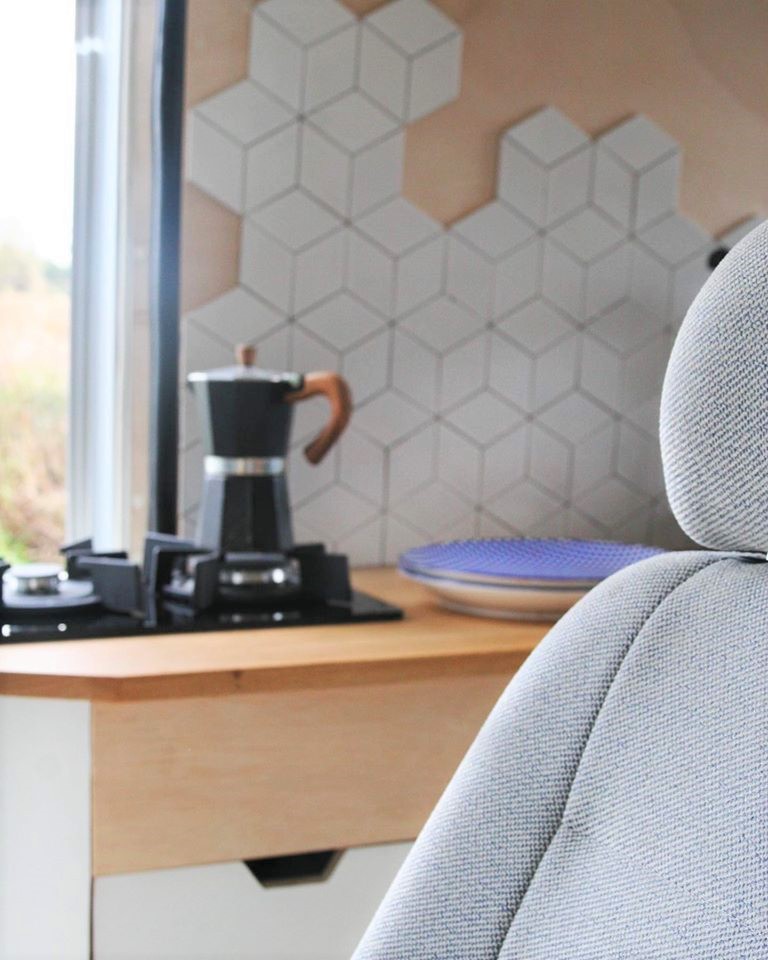 The pandemic has shown that a motorhome should necessarily be fit for year-round use. What should you pay attention to if you want to build a motorhome that is fully resistant to winter conditions?
We ourselves have no experience in winter camping . However, it is definitely worth remembering about good insulation and efficient space heating and hot water.
In retrospect and observation, whether and what aspects of development should be better entrusted to professionals?
There are elements that must be entrusted to professionals, i.e. the construction of second-row seats. The rest with a little manual skill and patience can be done by yourself.
Often in the comments (especially of Internet users) there are statements that it is not worth investing in dedicated, often more expensive equipment for motorhomes and you can always find some replacements. Is this approach correct? What compromises can and should we not agree to?
Our search for replacements was often motivated by the home aesthetics we wanted.
Nevertheless, in our opinion, it is worth investing in dedicated solutions for:
- a refrigerator , preferably a compressor one, that is safe to use and energy-efficient
- specially designed gray and clean water tanks that will help you save valuable space
- decent electrical installation - based on a gel battery, properly isolated from the starter battery and a branded MPPT charging regulator for the solar installation
- parking heating guaranteeing service in Poland
What are your business plans for the future related to caravanning?
As I mentioned, we are building a second van. It will be the result of our experiences and the experiences of our guests who rented the first Vandalvan from us during the last season. It was a total of 12 families, often with children - their opinion was worth its weight in gold for us. We want to design and build a car that is aesthetically beautiful, compact and well thought out in terms of functionality. If someone likes it, we will be happy to repeat such a building on request.
Vandalvan in a nutshell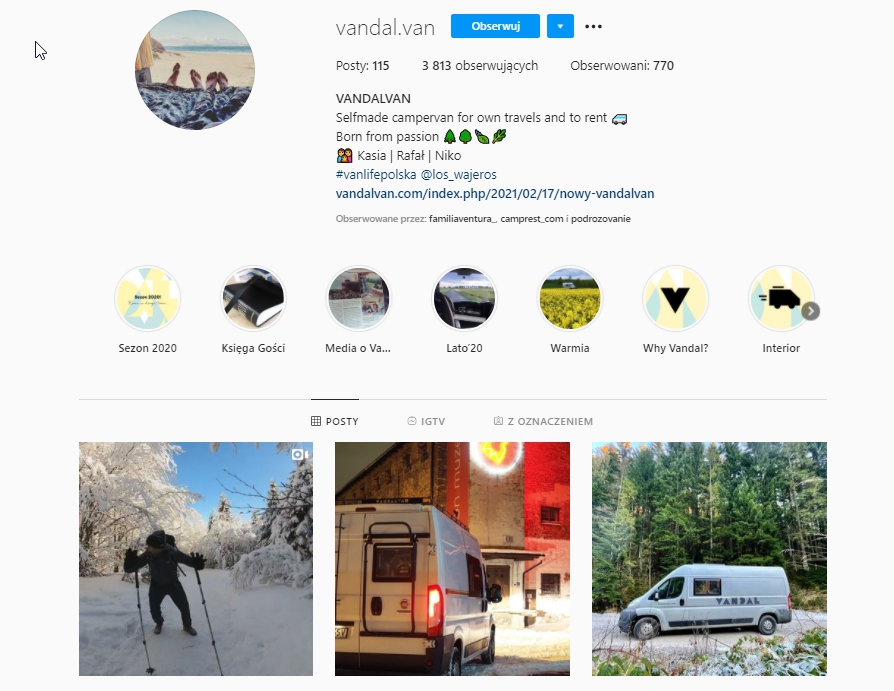 Base: Citroen Jumper L3H2 3.0 HDI 180 KM
Day / night functionality: The interior has been designed for comfortable travel and accommodation for two adults with two children. The comfortable bed in the sleeping area has dimensions of 130 × 182 cm (enlarged to 190x182 cm with an extra bed). The second bed for children, 110 × 150 cm in size, is obtained in the passenger compartment by turning the driver's seat and lowering the table.
Equipment:
- two-burner gas cooker - 35l fridge - 70l clean water tank - 90l gray water tank - toilet - outdoor shower - hot water boiler - auxiliary heating - 230V sockets (independent power supply from photovoltaic panels) - chairs and camping table - luggage rack for 2 bicycles
Built-in furniture - comments from Rafał:
When building furniture, you need to remember about the need to optimize the weight of the car , not only due to the permissible 3.5 tons, but also fuel consumption, which will be proportionally lower. Therefore, it is worth using light plywood or a plate made of exotic wood. In addition to its low weight, such wood also has very good water / moisture properties.
In our buildings, we decided to use Ceba plywood (also known as Kapok or Downwood). We were looking for a special plywood composed of as many layers as possible to make the edges left unfinished look attractive.
The front panels of the building have been additionally laminated in white. We decided to do it for both aesthetic reasons and high durability of the coating.
The entire furniture was made of 18 mm plywood, we used 12 mm plywood on the floor, and 5 mm plywood to finish the interior walls of the van. We bought all the sheets in the 1220 by 2440 mm format.
For the countertops, we used a natural oak made of a 20 mm thick and 600 mm wide glued board. The ceiling was covered with bleached spruce wood paneling.
Construction cost: approx. PLN 30,000
I feel best in the form of trade fairs and meetings with enthusiasts. Technical freak. In my life I have dismantled many motorhomes for the first time. Fan of large vehicles, mountain biking and traveling without weight and financial restrictions. At CampRest, I am responsible for all publications on automotive topics.
Enjoyed reading this article? Share it!