Palermo from avantura.campers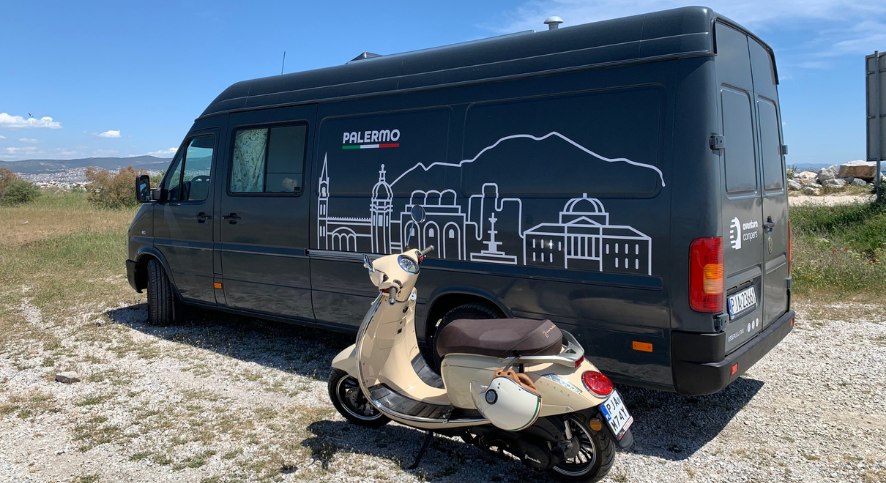 We present another motorhome for the competition , made by our readers.
We are creating the competition together with the organizers of the Caravans Salon fair, which will take place from 24 to 26 September 2021 in Poznań.
There, in a special zone, owners of selected vehicles will be able to present them to fair participants. Therefore, a very interesting event is being prepared for the upcoming edition of the fair.
Detailed information about the competition itself and applications can be found here .
Also on our fanpage on Facebook , we create a series of posts that will familiarize readers with the competition vehicles and their creators. We invite you to like our Facebook profile to be up to date with all the news.
In today's episode, we present to you the "child" of Amanda and Hubert - a motorhome with the graceful nickname "Palermo".
Interview with Amanda and Hubert - the creators of the "Palermo" motorhome
Is your car the beginning of your adventure with caravanning / camping and what prompted you to make your own motorhome housing?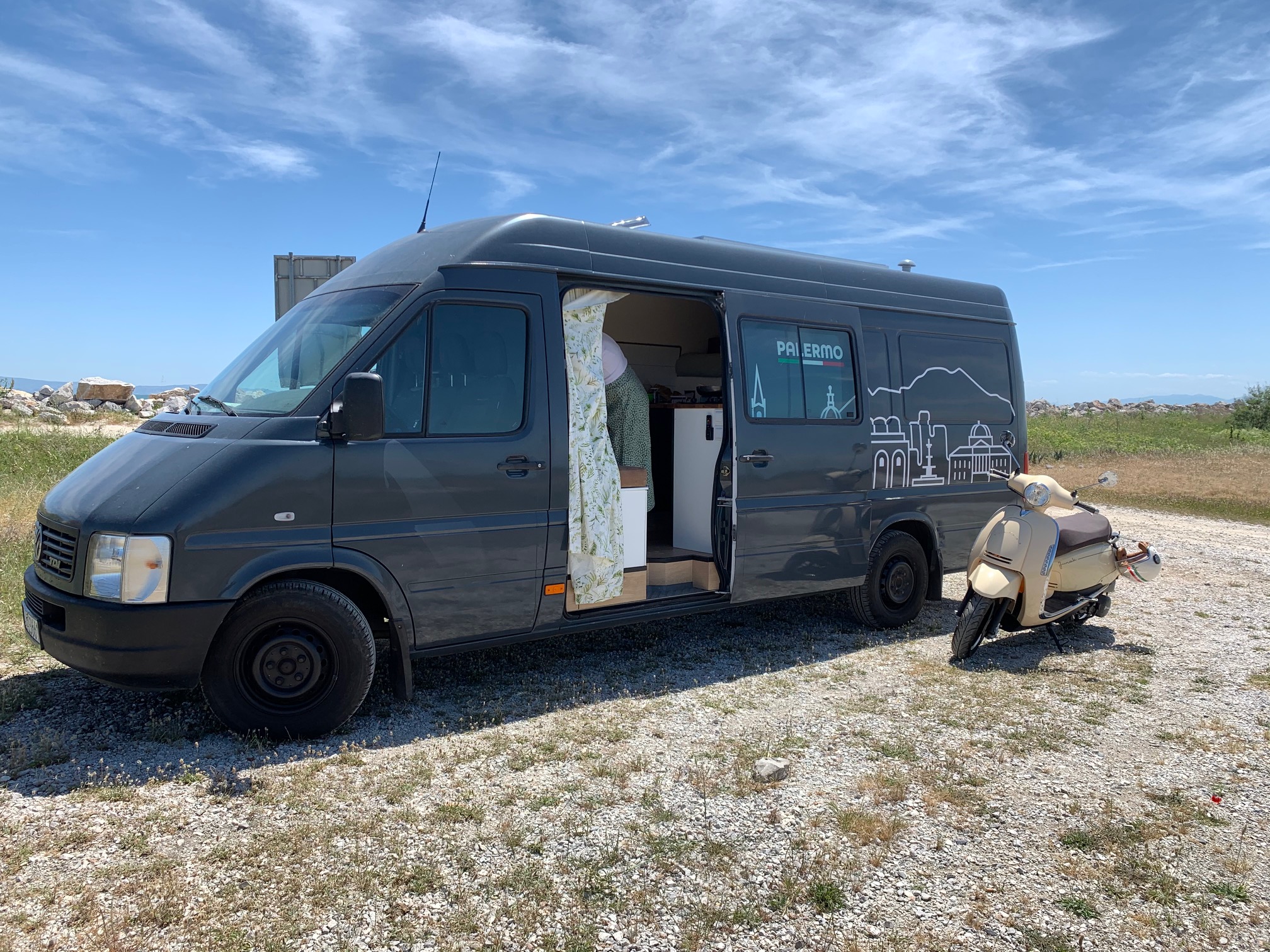 As for the beginnings, it started very early with us, we were both scouts and together we participated in rallies, camps, camps ... of course, we were accompanied by a tent then, and so it served us for a long time. As children, we first discovered these charms separately, and when we got to know each other, we started traveling together. We have made many trips - from our beloved Garda through many other places, and finally, in 2018, we flew to Georgia, where we rented an off- road vehicle , in which we slept in the wild throughout the trip. Every evening we shifted our backpacks to the front and unfolded the mattress at the back. We bathed in a Decathlon tent. Then the light came on and the idea was that it would be great to have an autonomous, self-sufficient car.
From that moment on, everything changed. I started to analyze all the arguments for and against and to count what costs it would generate, because we didn't want to do it half-heartedly. The pandemic and the excess of free time helped us make the final decision. In 2020, we bought a car and the fun with the van body began.
We like to make dreams come true, we love contact with nature and we don't like to limit ourselves while traveling. Thanks to Palermo, we can go wherever we want and stay there as long as we like.
Tell me more about the history and parameters of the base car - how did you find it and what was your guiding principle?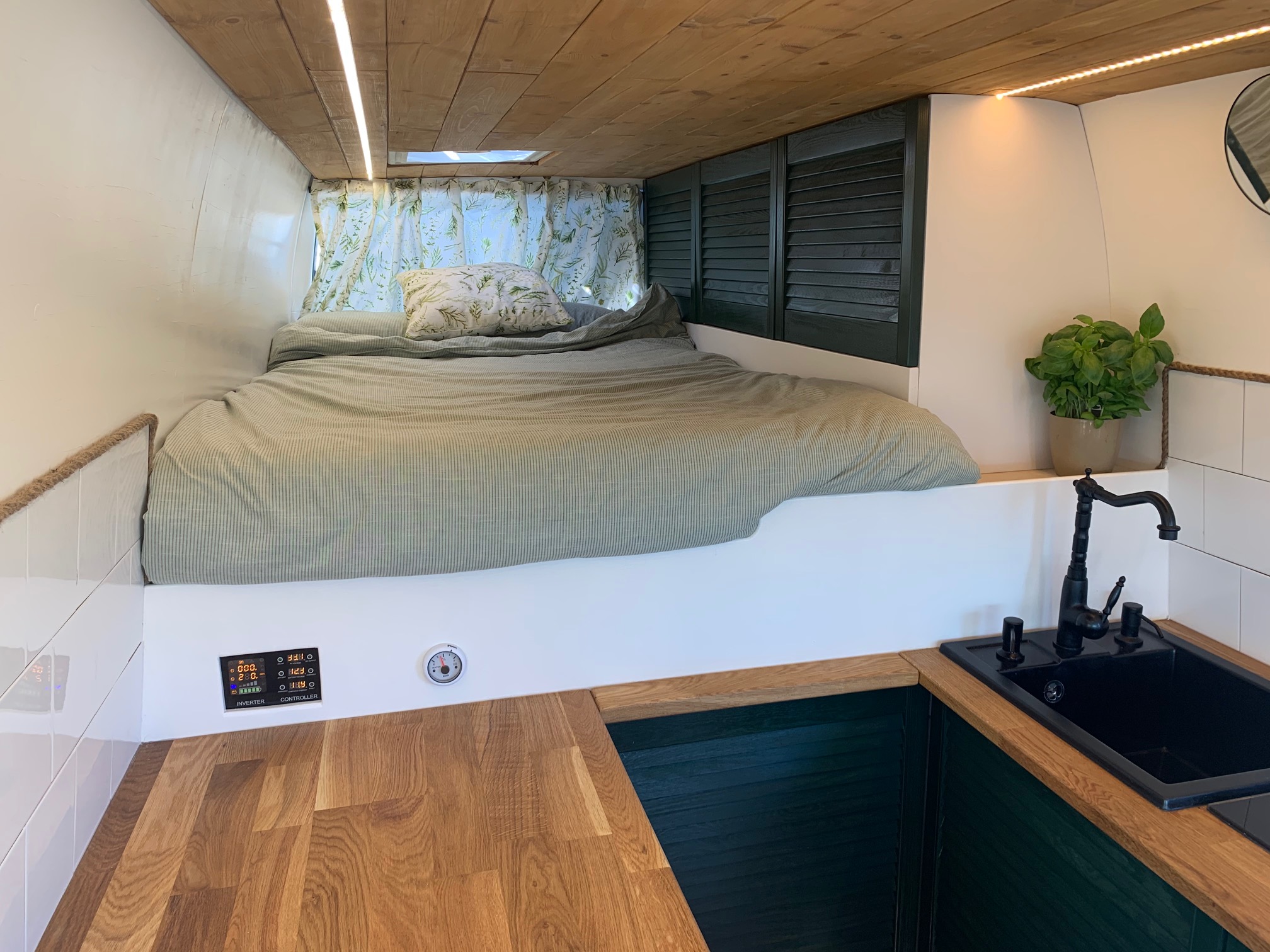 As for the base car, we were primarily guided by the dimensions, load capacity and availability of spare parts. The technical condition of the car was most important to us. Nowadays, when buying an older car, it is not only possible to pay attention to the year and mileage.
We searched for the car for several months, and finally Amanda found an advertisement - it was a VW LT from 2003, with a 2.5 TDi 80KW engine. Its previous owner ran a small furniture store. Unfortunately, the pandemic forced the business to close. The car was in good technical condition, which was later confirmed by our mechanic. A year earlier, the car had been repainted, so we didn't have to worry about the paintwork either. In addition, it was well-kept and in constant use.
After the purchase, the first step was to put the car in the mechanic - we replaced all seals in the engine and gearbox as a precaution, we installed brakes with better parameters taking into account the weight of the body, and of course we replaced all operating fluids . The LT prepared in this way drove to the workshop and the development began.
How and from what materials did you make the load-bearing structures, insulation and furniture construction?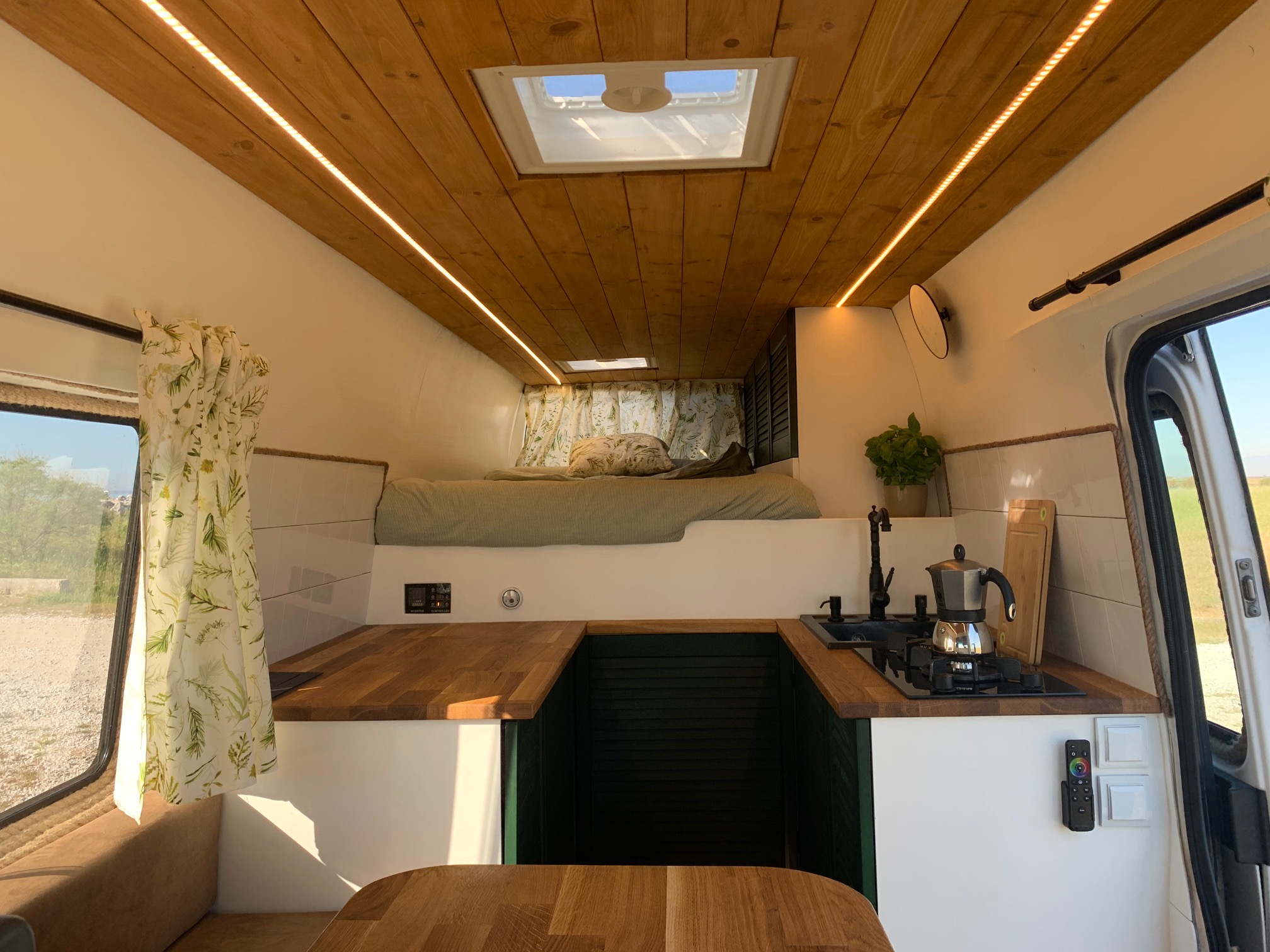 As for the materials - I paid attention to their weight and the greatest possible water resistance. After removing all the elements on the floats, we started by removing the rust and securing the paint inside the car.
The next stages included the following works:
Electricity - mainly the distribution of wires, with selected cross-sections, strips / conduit were used as appropriate protection.
Insulation - a very important stage for us - for thermal insulation we used the well-known alufox foil, styrodur with a thickness of 2 to even 8 cm, and, of course, PUR foam for sealing. All walls, doors, floor and ceiling were insulated. We had the opportunity to sleep at -2 degrees at night with no heat on and there was no problem with the temperature inside.
Furniture construction - load-bearing elements and furniture are made of 4-12 mm waterproof plywood, 18 mm plywood is used for the construction of the bed, we have wooden and oak tops.
What was the greatest challenge for you in the development process? What did you deal with yourself, and in what aspects did you use the services of external specialists or companies?
Before starting the project, the electrics were probably the biggest challenge. Maybe not just the performance (I have contact with electrical systems at work on a daily basis), but the selection of appropriate components, so that we do not have to worry about a lack of power. Insulating the car was also arduous work. As we wanted to do this exactly, it took a long time.
We did most of the project on our own, we used the services of a mechanic, we hired a company for wrapping a motorhome and we converted a conventional refrigerator to a 12V compressor in a refrigeration company.
You have probably had more than one trip by car. In retrospect, what would you have done / changed differently?
Difficult question, at the moment it's hard for us to mention something. We finished the car relatively recently, sometimes we miss the fourth place, e.g. for friends. The car is registered for 3 people and so many people can sleep in it.
Well, you can't have everything, instead of friends, we can take a scooter with us and visit small towns with narrow streets, not worrying about the prohibitions and the dimensions of the motorhome.
Often in the comments, especially of Internet users, there are comments that it is not worth investing in dedicated, often more expensive equipment for motorhomes and you can always find some replacements. Is this approach correct? What compromises can and should not be made?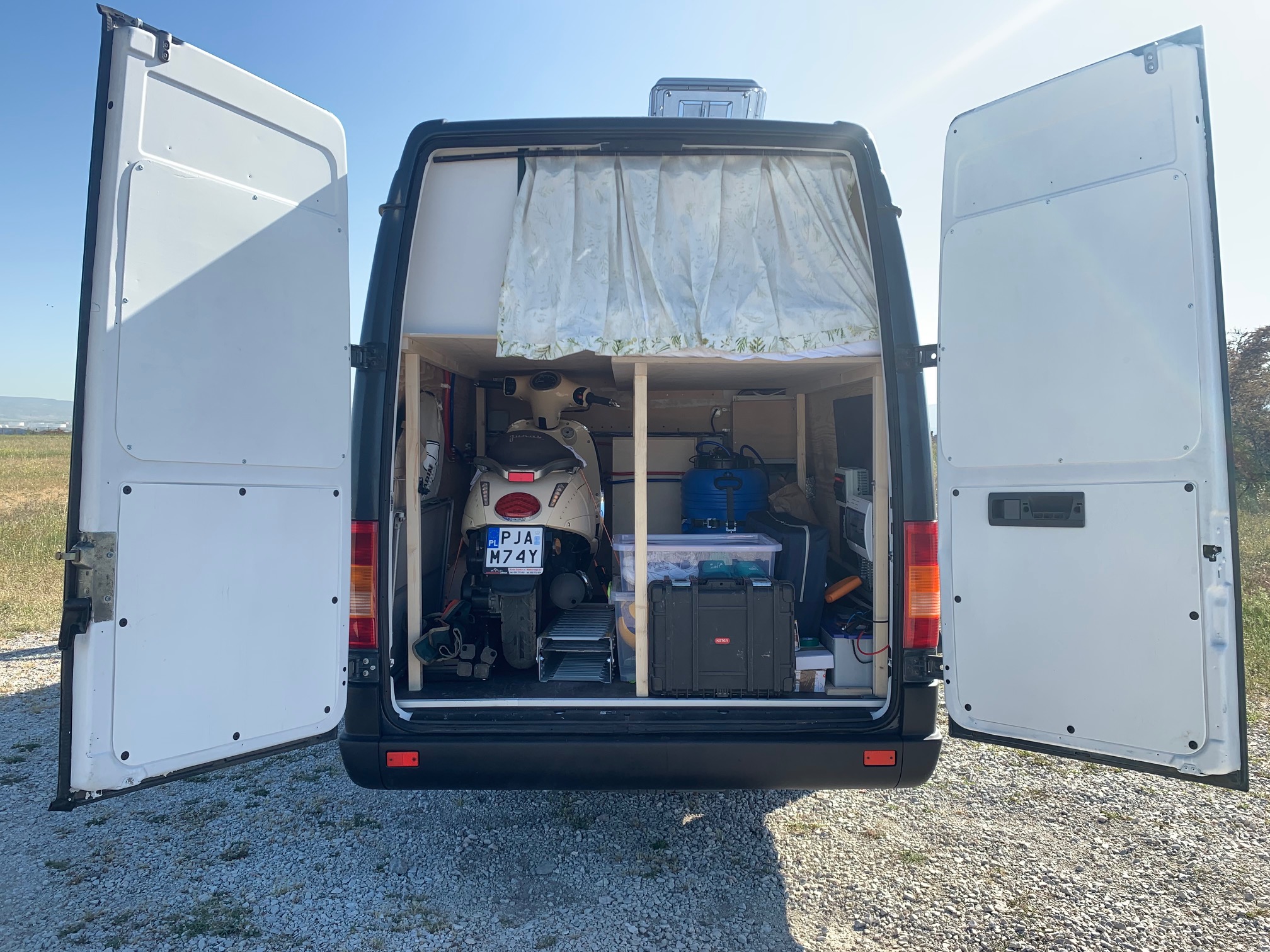 We approach such comments very carefully, because often the components dedicated to motorhomes are really well made, undergo a series of tests and, above all, are checked by users.
Of course, some component prices are very high, probably due to their countries of origin, transport, duty / taxes. In the current situation on the caravanning market , we also constantly observe rising prices. I cannot answer this question unequivocally, because on the other hand, in several places we have adapted home solutions (e.g. a sink, battery, air conditioning or gas cooker) for use in a motorhome and so far they are doing very well. I think this is where common sense is needed.
What I have certainly noticed on the market is the lack of a coherent comprehensive Polish brand producing components for motorhomes . Unfortunately, the vast majority of the market is in the hands of foreign concerns, which probably also affects prices to some extent.
PALERMO in a nutshell:
self-sufficient electrical installation (370W photovoltaic panel, 12V 180 Ah battery, two electric circuits for 12V and 230V with a 1500W converter
parking air conditioning 230V
water installation with hot and cold water
2 beds (double 200x120 cm and a folding single bed)
compressor refrigerator 12V 95l + freezer 13l,
clean water tank 80 l, gray water 120 l
tourist toilet
external shower with a battery and a handset mounted on the side of the car
two-burner gas cooker
kitchen sink with battery
two-zone LED lighting with the possibility of changing the light intensity,
large, spacious garage for Palermo Bambino, i.e. the Junak Vintage 124cm scooter , gas grill, bicycles, etc.
More about the vehicle and trips of Amanda and Hubert on FB, Insta and TikToku avantura.campers
We also invite you to read the previous interviews with the creators of the motorhomes competition:
I feel best in the form of trade fairs and meetings with enthusiasts. Technical freak. In my life I have dismantled many motorhomes for the first time. Fan of large vehicles, mountain biking and traveling without weight and financial restrictions. At CampRest, I am responsible for all publications on automotive topics.
Enjoyed reading this article? Share it!