Yenncamp - Jenerals' motorhome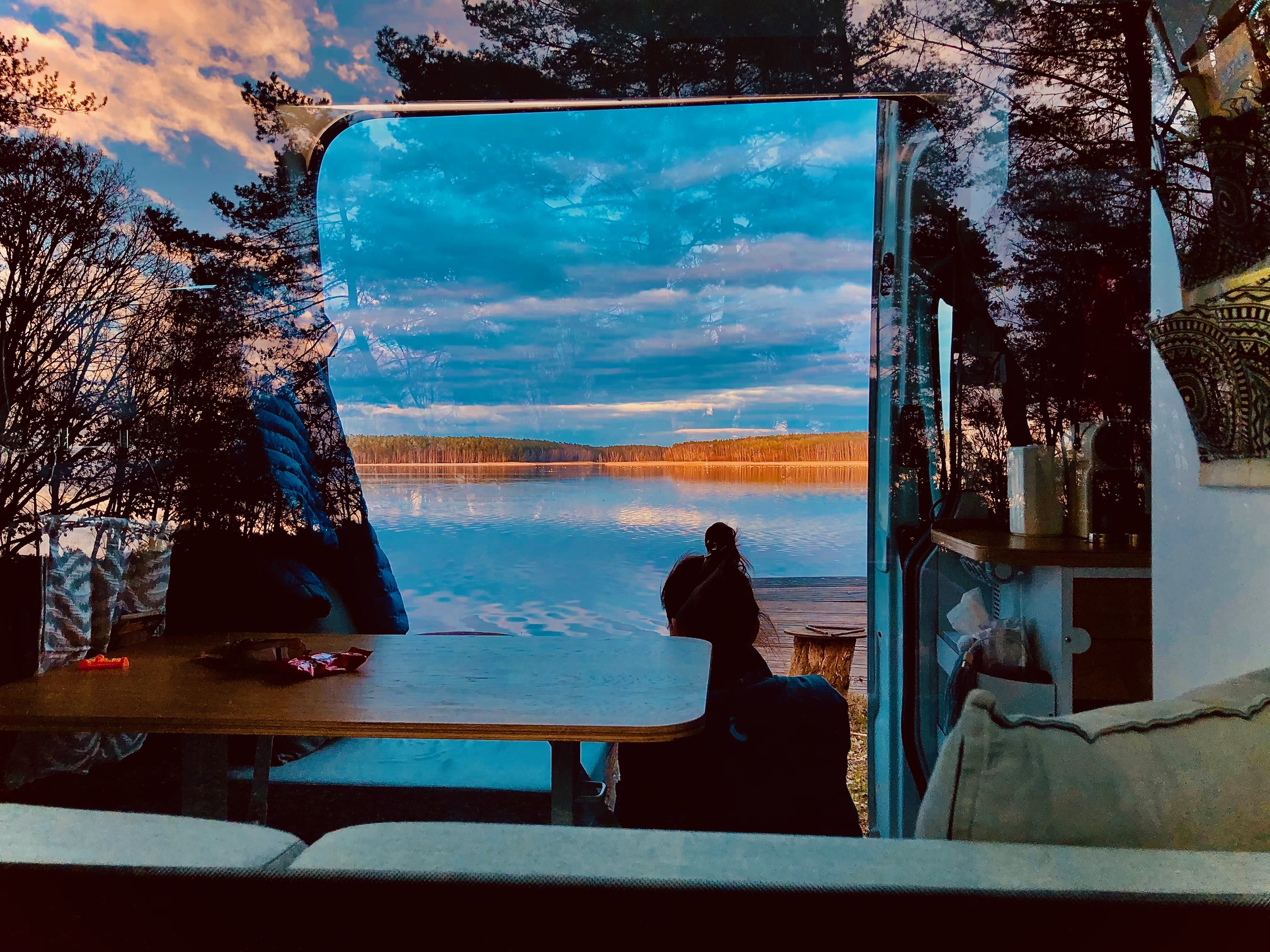 We present another motorhome for the competition , made independently by our reader.
We are creating the competition together with the organizers of the Caravans Salon fair, which will take place from 24 to 26 September 2021 in Poznań.
There, in a special zone, owners of selected vehicles will be able to present them to fair participants. Therefore, a very interesting event is being prepared for the upcoming edition of the fair.
Detailed information about the competition itself and applications can be found here .
Also on our fanpage on Facebook , we create a series of posts that will familiarize readers with the competition vehicles and their creators. We invite you to like our Facebook profile to be up to date with all the news.
In the next article devoted to self-made camper van bodies, we present you a project prepared on the basis of a Mercedes Sprinter from scratch.
Interview with Kasia and Maciej Jeneralski - the creators of Yenncamp
Is your car the beginning of your adventure with caravanning / camping and what prompted you to build your own motorhome?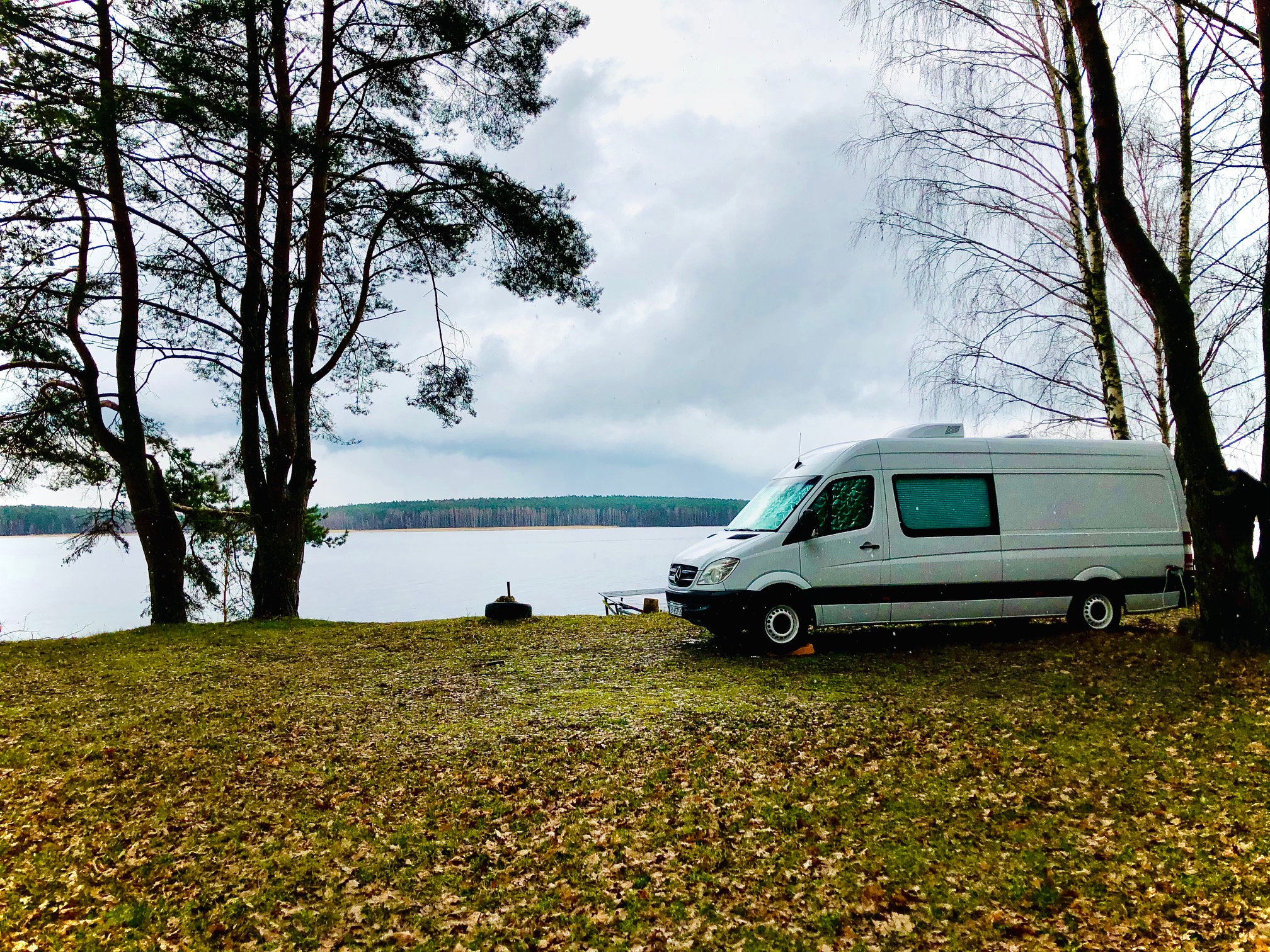 We started our adventure with caravanning many years ago with the Knaus Südwind caravan, which we have traveled many times along the length and breadth of our country. This is where it started. Why only our country and why should I torture myself on this "necessary" part of traveling , i.e. on the road, banal transport? In some situations it is not pleasant in any way. to part. So I decided to move it to the car. Not literally, but just to keep the vibe at least. Where did this decision come from? A nice motorhome is a sack of money, and an old motorhome is money, a few socks and their smell for free, but I am particularly allergic to this. So the decision was made - we are building a motorhome.
Tell me more about the history and parameters of the base car - how did you find it and what was your guiding principle?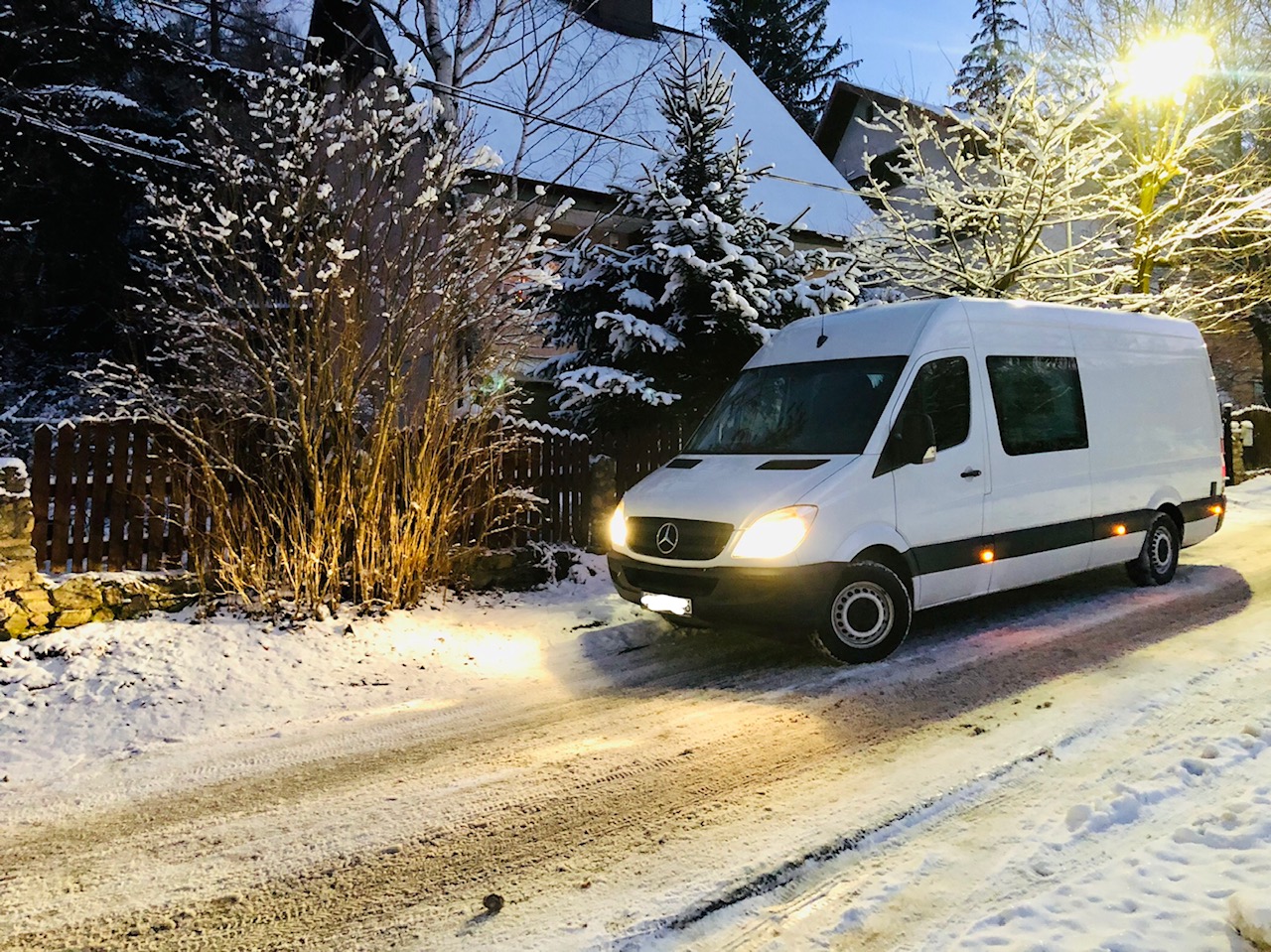 The choice of the base was absolutely by accident for a Mercedes Sprinter in the "Doka" version, i.e. a brigade. The car is a bit narrower than the Ducato I use in the company, but much longer. I found a copy with the original side glazing on the rear doors , and it is always a few thousand in my pocket ... In my opinion, the rear drive is definitely better suited for a car that is ultimately "weighted down" by the body. Undoubtedly, it is better to drive and can handle situations where we are dealing with snow or mud, or a slightly heavier approach to the destination. We found ourselves in such conditions several times, and even once we even pulled out a Ducato-based half- integrator from the sand. From the launch of our dump truck, we have already had 4,000 kilometers on the odometer.
How and from what materials did you make the load-bearing structures, insulation and furniture construction?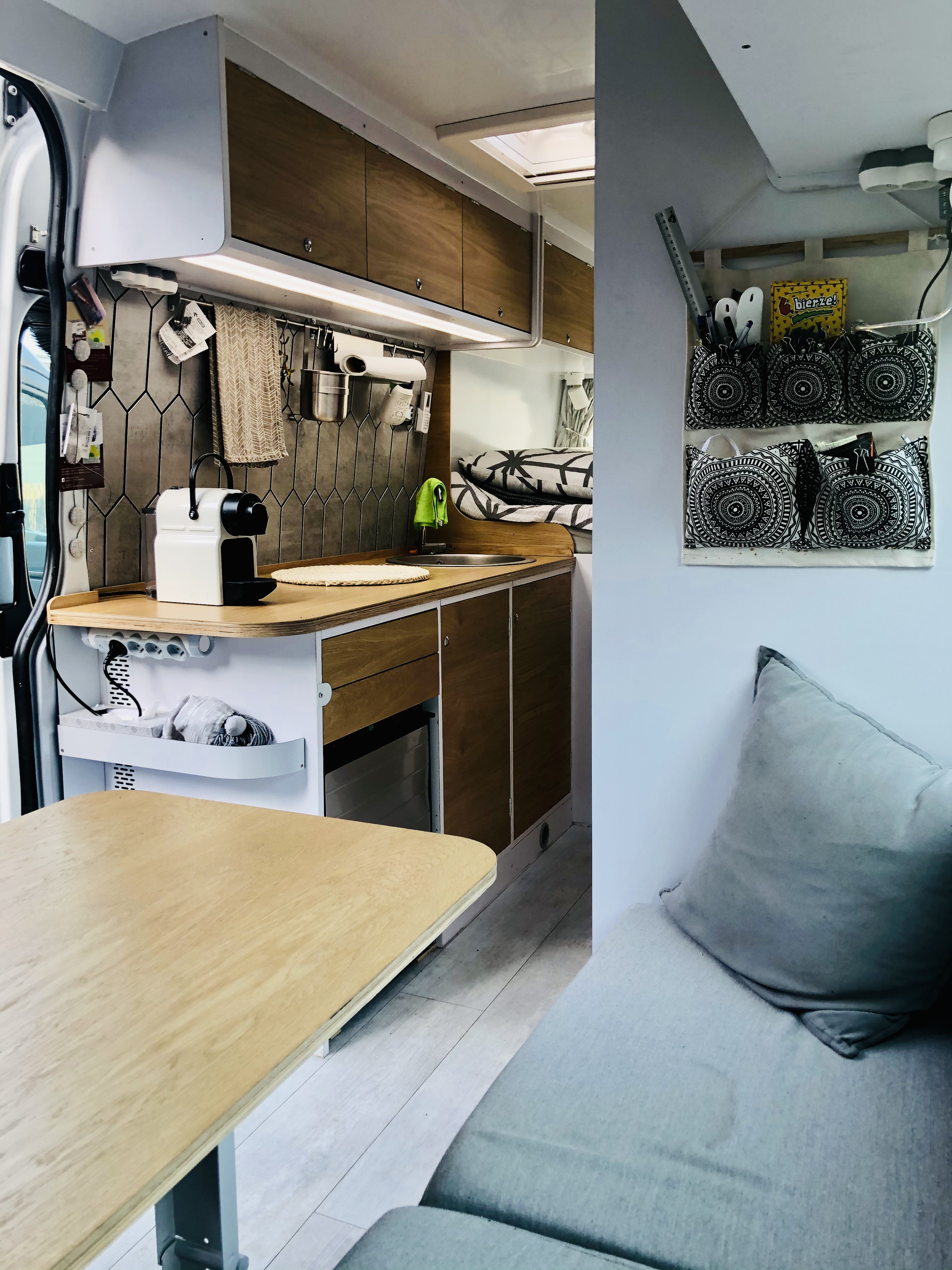 I have a large machine park (I run an advertising agency), machine tools for steel, aluminum, plastics, lasers , CNC and others. At one point I realized that if I was to have a motorhome that would meet the expectations of my wife's friend, I would make it myself, and in my case the motto was: "hold a beer and watch". My long-term recipe for work: think, plan, think, design, check and think, and you won't get hurt. And it was so. The project adapted to the technical plans of the Sprinter , loosely based on the idea of our Knaus, was implemented step by step under the supervision of Kasia.
What was the greatest challenge for you in the development process, what did you deal with yourself and in what aspects did you use the services of external specialists or companies?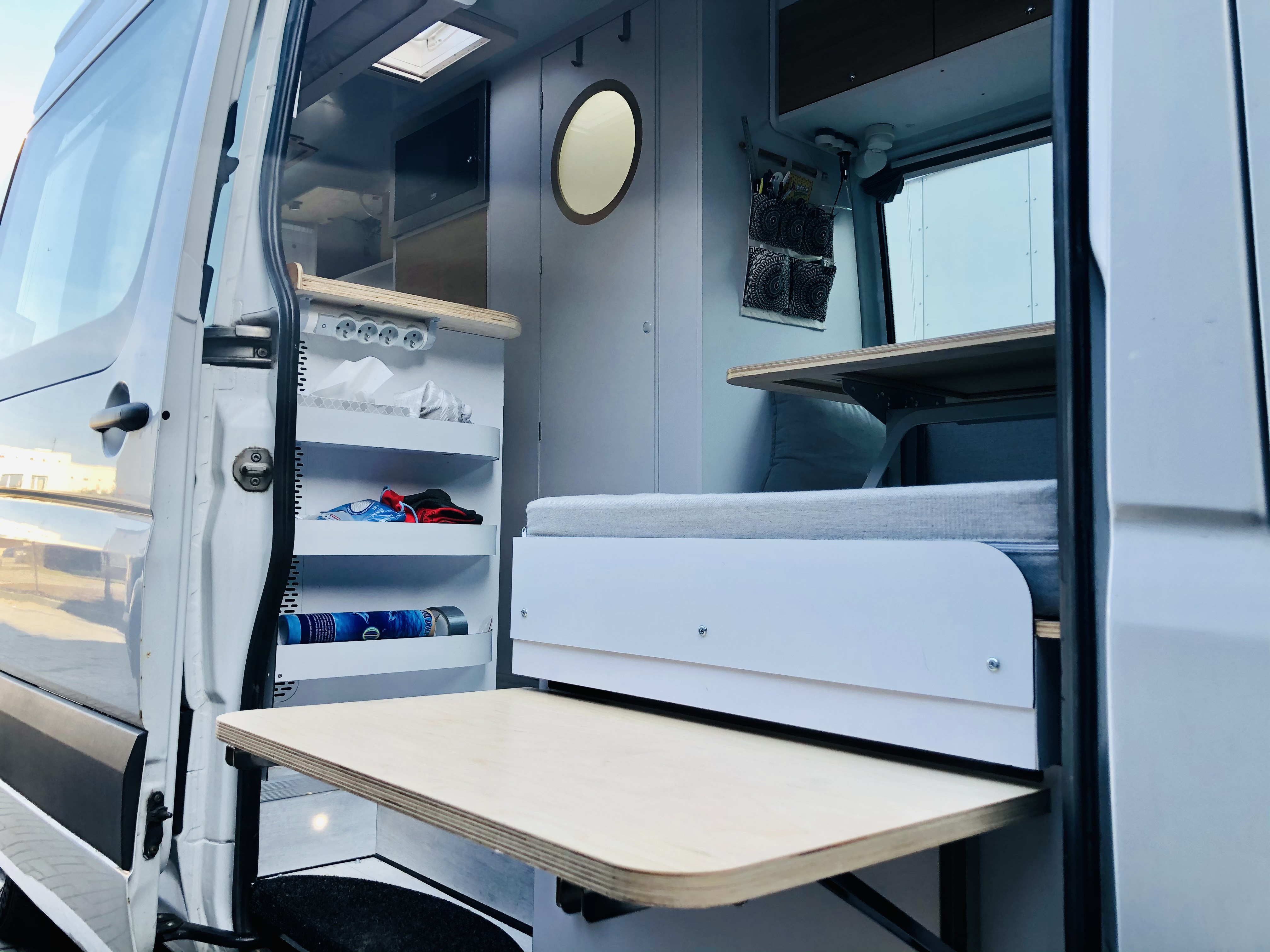 Thread! Managed to. After the implementation of thermal (polyurethane, polystyrene and micro-rubber) and acoustic (bitumen mat) insulation, laying water and sewage systems as well as 12V and 230V, laying the floor (PVC panels) and walls (dibond), I started working on the construction . My CNC processes all materials: from metals, through laminates, composites, plastics, foams, rubber ... to carpentry materials (plywood, MDF, HPL and others). A well-written program according to a well-prepared project (here we come back to thinking) turns work on buildings into fun into adult LEGO. Drilling, cutting, grooving is very precise, performed by the machine . During this time, we drink coffee and think - what to do next. I had my own idea for the implementation, I did not follow the example of others, I did not peek at it. I do not know if it is good, but I dare to say that it worked.
How long did it take you to build the vehicle? What turned out to be the biggest challenge? To what extent did you do the work yourself and what did you entrust to the professionals?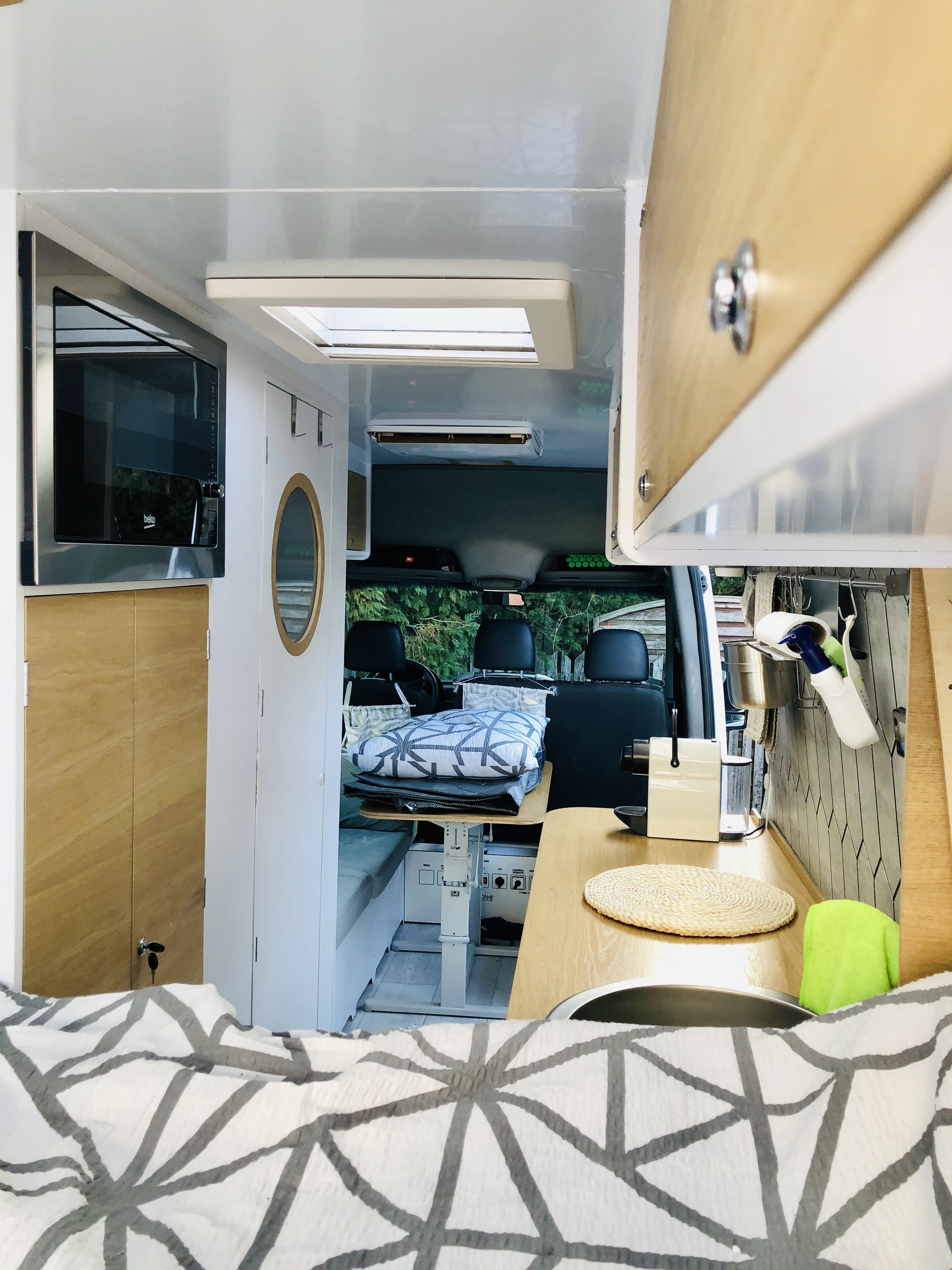 In total, the car was ready in two months. However, I worked overtime so as not to interfere with the work of the advertising agency. You have to live on something. Nothing, in words: zero - I have not commissioned anything to specialists. I had such a situation that a few days in a row I woke up at night, because I had no idea for a shower tray , it was not in the typical commercial dimensions that would match my housing. At one point an idea came up and from that moment I slept peacefully ;-) I made it myself from aluminum on CNC - for that, a base, ceramic enamel and that's it! I even made the banal kitchen tiles myself.
Have you summarized the costs associated with the entire project?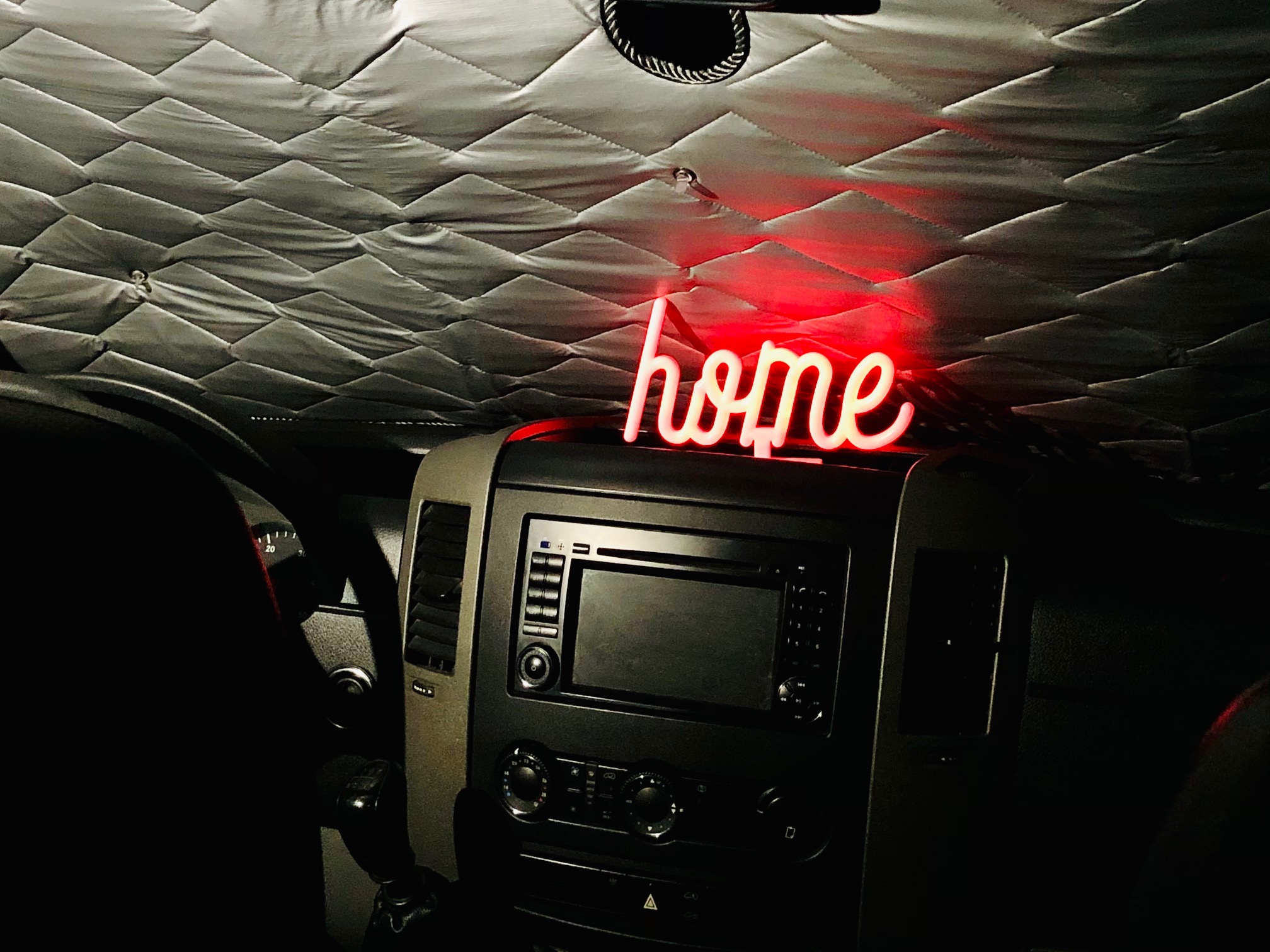 Not yet. Some things, due to the lack of a large garage to work in winter, we put away in the spring, all adhesives and sealants need the right working temperature, just like me. Although, since starting the motorhome, we have already made it over four thousand kilometers, including the December Karpacz at a temperature of -15. A moment ago, I installed a stationary roof air conditioning and a skylight. At the moment, I am putting on a roof rack, on which the photovoltaic and awning will be mounted. However, I am sure that I have already exceeded the value of the car well.
Often in the comments, especially of Internet users, there are comments that it is not worth investing in dedicated, often more expensive equipment for motorhomes and you can always find some replacements. Is this approach correct? What compromises can and should we not agree to?
We have to take into account that if we give our bum somewhere, we will have to live with it. Staying, using and using all things in the motorhome cannot be a pain. It's like with ski boots: if you measure them in the store and they are a bit uncomfortable, it will only get worse while driving. And let's come back to thinking before acting. Most things dedicated to motorhomes are expensive or very expensive. You can search on sales, you can use stimulants, but I would not recommend this or advise you to be careful when browsing the scraps, unless something "hits" in good condition. The technical and visual condition should come first. Let's go back to fragrances, for example ... As for substitutes, it is enough to take e.g. a wash basin faucet from a market and a dedicated one: dedicated is 30% of the market weight and 200-300% of the price. And that's the way it is with most things, and weight is the bane of building-ups. Compromises in my case: sockets and electric switches, LED lighting used in advertising, various, replaceable furniture fittings, and that's probably all.
We know that you are already preparing the next project, how will it be different from the previous one?
Yes, I have already bought another Sprinter. This one is a real "rojber". It is graphite and has black glazing. Such a bandit. Chip motor - the asphalt is rolling, but fortunately it has a muzzle at 125 km / h. The buildings will be quite similar. Why fight with proven patents? Besides, I want to make it before the season. Of course, using the experience gained during the first construction , I will improve this and that. However, ours passed the exam by two hundred percent, so I'll focus on design issues. Buda will have graphics in a contrasting color, interior furniture will be high gloss with delicate accents in the color of the exterior graphics. With us, everything is simple and clear to "add" space.
A motorhome in a nutshell:
- a car adapted for a family of three,
- sleeping for two people on the back of the car, under the bed a trunk for three bikes and more luggage,
- sleeping for an adult teenager in the "living and dining" part,
- 75l water tank, 6l boiler,
- no gas installation due to bad experiences
- gas stove for cartridges - just in case,
- Microwave,
- bathroom with shower, chemical toilet,
- a wardrobe and a dedicated shoe wardrobe,
- an external table integrated with the building,
- Webasto diesel parking heater,
- Sinclair parking climate with heating function,
- 60l absorption refrigerator,
- electric installation 230V and 12V,
- on-board batteries,
- all 12V on-board devices,
- Thule Omnistor 4m awning,
- custom-made internal roller blinds for all windows plus thermal mats for the front (cabin),
- additionally a suitcase power generator - for all necessities.
Ultimately, in the near future:
- photovoltaic installation - planned
- roof rack - purchased
Yenncamp profile on fb: link
We also invite you to read the previous interviews with the creators of the motorhomes competition:
I feel best in the form of trade fairs and meetings with enthusiasts. Technical freak. In my life I have dismantled many motorhomes for the first time. Fan of large vehicles, mountain biking and traveling without weight and financial restrictions. At CampRest, I am responsible for all publications on automotive topics.
Enjoyed reading this article? Share it!