Vantek - a custom-made motorhome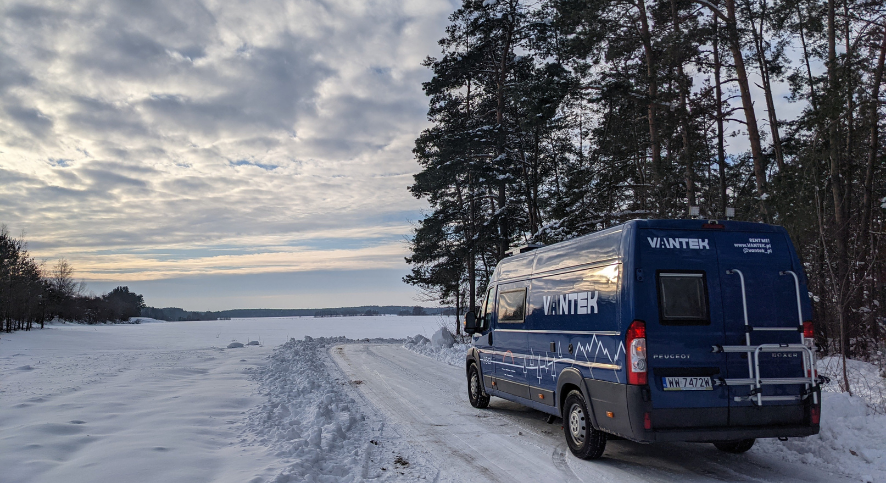 We present another competition camper, made by our reader.
We are creating the competition together with the organizers of the Caravans Salon fair, which will take place from September 24 to 26, 2021 in Poznań.
There, in a special zone, owners of selected vehicles will be able to present them to fair participants. Therefore, a very interesting event is being prepared for the upcoming edition of the fair.
Detailed information about the competition itself and entries can be found here: Did you build a camper yourself? – we are waiting for you .
We are also creating a series of posts on our Facebook fan page that will introduce readers to the competition vehicles and their creators. We invite you to like ourFacebook profile to stay up to date with all the news.
Today, meet Vantek - an extraordinary "child" and the result of many months of work by Kasia and Błażej Rogowski. Their passion for campers has long been awakened during their travels around the world. By observing other travelers, they created an image of their dream car and boldly started implementing the plan. We invite you to meet our heroes and their dream "M" on wheels.
Interview with Kasia and Błażej Rogowski - creators of the Vantek camper
Is your car the beginning of your adventure with caravanning/camping and what prompted you to build your own camper?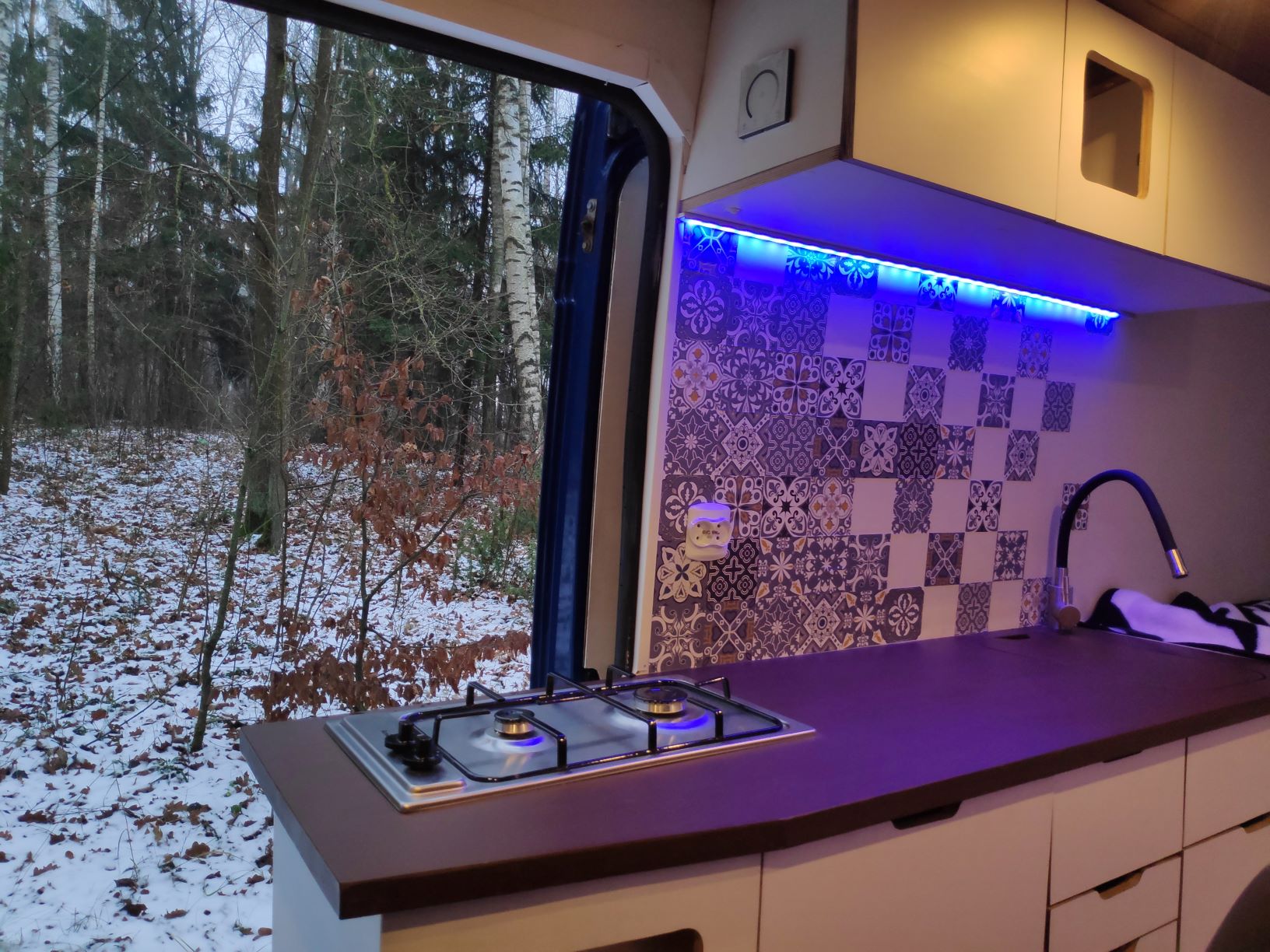 Yes, this is our beginning with caravanning /camping. As it happens in life, everything had to surprise and happened at the right time. As traveling souls, a bit trapped lately, we have always dreamed of a similar initiative, many times we have observed other people's expeditions from the side in various corners of the world , mainly in Iceland and Sardinia. The thought was still in the back of my mind, 2020 brought a bit more flexibility in terms of time, it also combined with logistic and financial possibilities. Friends working on a similar topic also contributed, thanks to whom we realized that this is not an impossible mission.
Tell us more about the history and parameters of the base car - how did you find it and what did you do?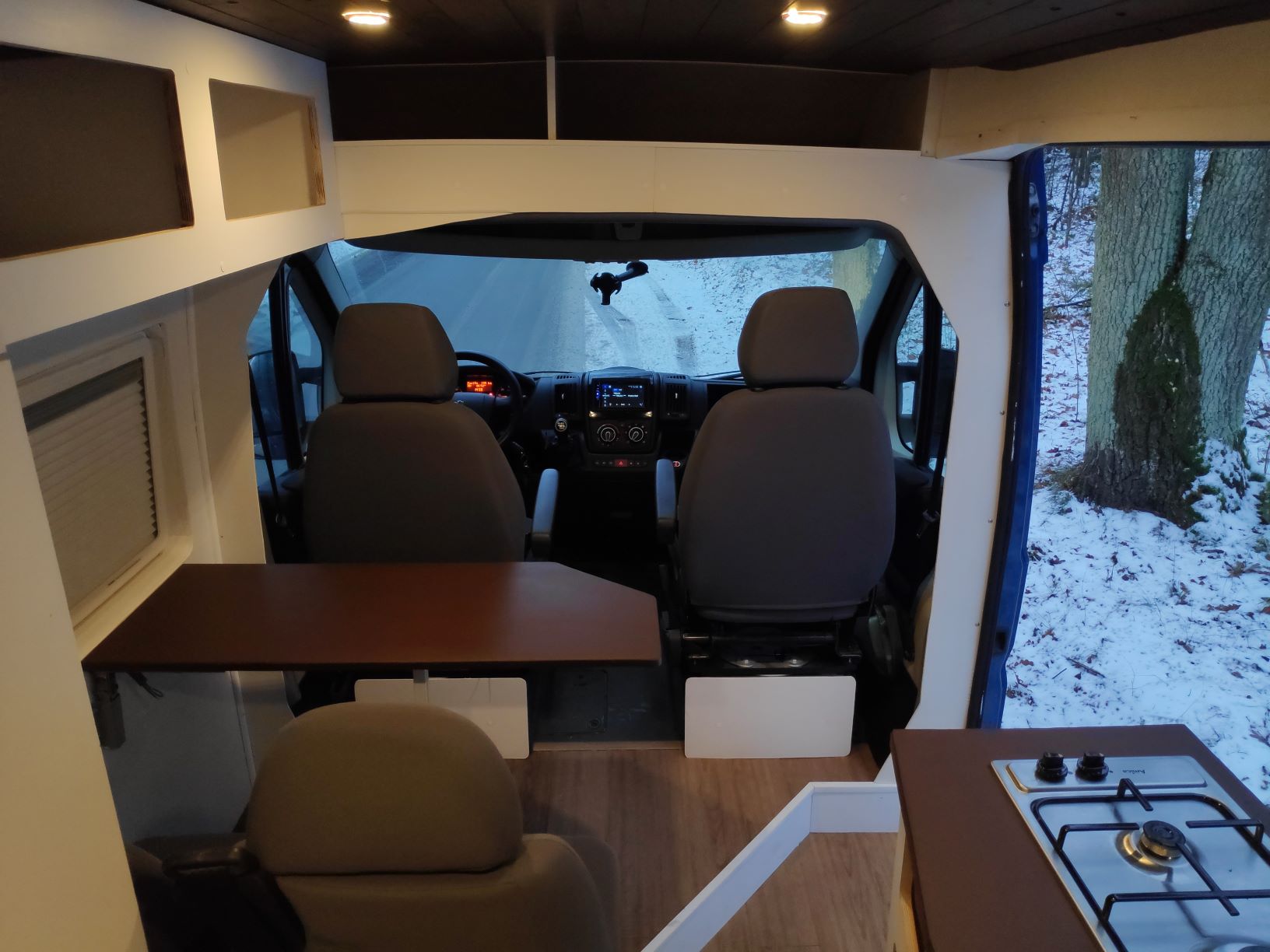 The car was based on the max version (L4H2) of the Peugeot Boxer . Our copy comes from 2012 and is entirely of Polish origin. The choice was made mainly due to two issues: the popularity and availability of the model and the dimensions of the space (width and height). Moreover, we were guided by clearly defined requirements - we wanted to have a 3.0 hDi engine with a power of 180 HP from Iveco, which works great, is long-lasting, (knock on wood) failure-free, while ensuring a comfortable, dynamic and relatively economical journey . Having experience in buying today, I would advise two things: patience and no major compromises. Our search lasted almost half a year until we found this one copy - an inconspicuous ad on Olx, with poor photos and a poor description. I will add that we looked in many sources, from press advertisements, through popular advertising portals, to foreign databases of post-lease cars .
How and from what materials did you make the supporting structures, insulation and furniture?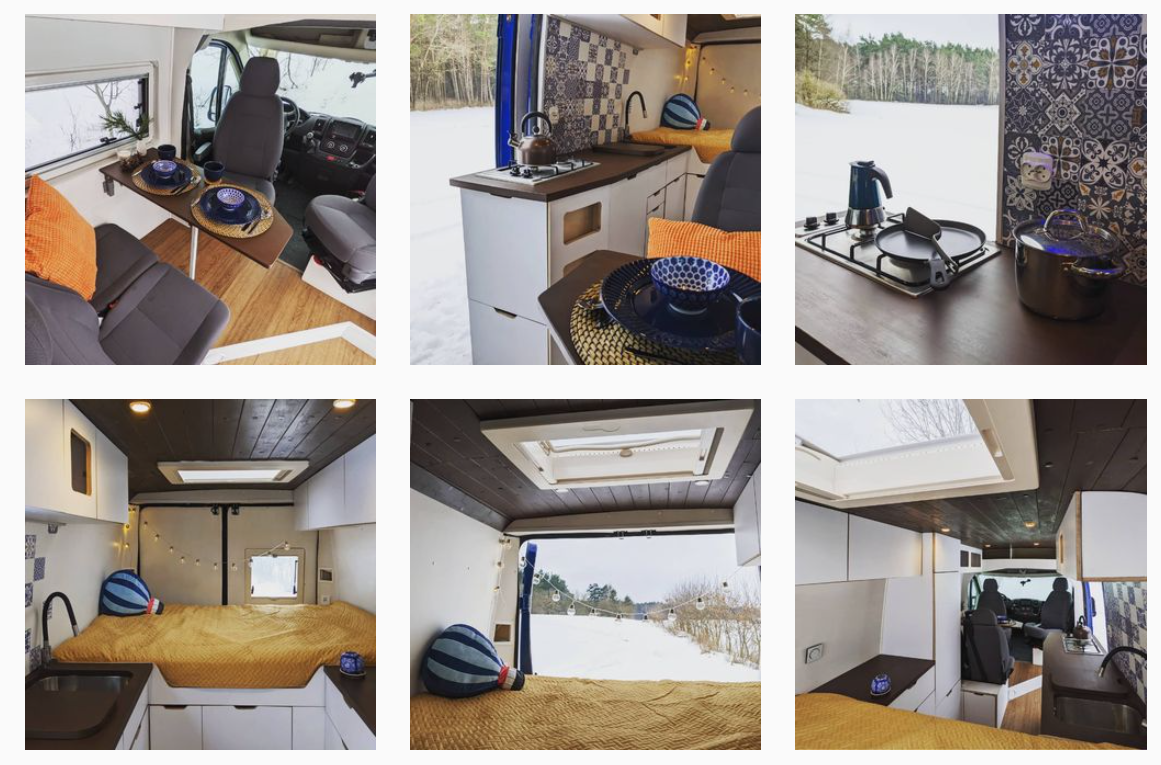 When it comes to construction, we based it on quite proven solutions. The insulation is 5 and 2.5 cm Styrodur (ceiling), thermal bridges filled with polyurethane foam and secured with acoustic tape. Additionally, Alufox foils in critical places of the ceiling, mainly in its front part. The walls and floor are made of Ceiba plywood to reduce weight, various thicknesses, from 4 to 12 mm depending on the location. Ceiling - spruce paneling, furniture bodies are 15 mm poplar plywood, fronts are also 15 mm poplar, additionally laminated in white and counter-pressure. As we saved weight by using relatively lighter wood, we installed 28 mm oak countertops.
What was the biggest challenge for you in the construction process, what did you cope with yourself and in what aspects did you use the services of external specialists or companies?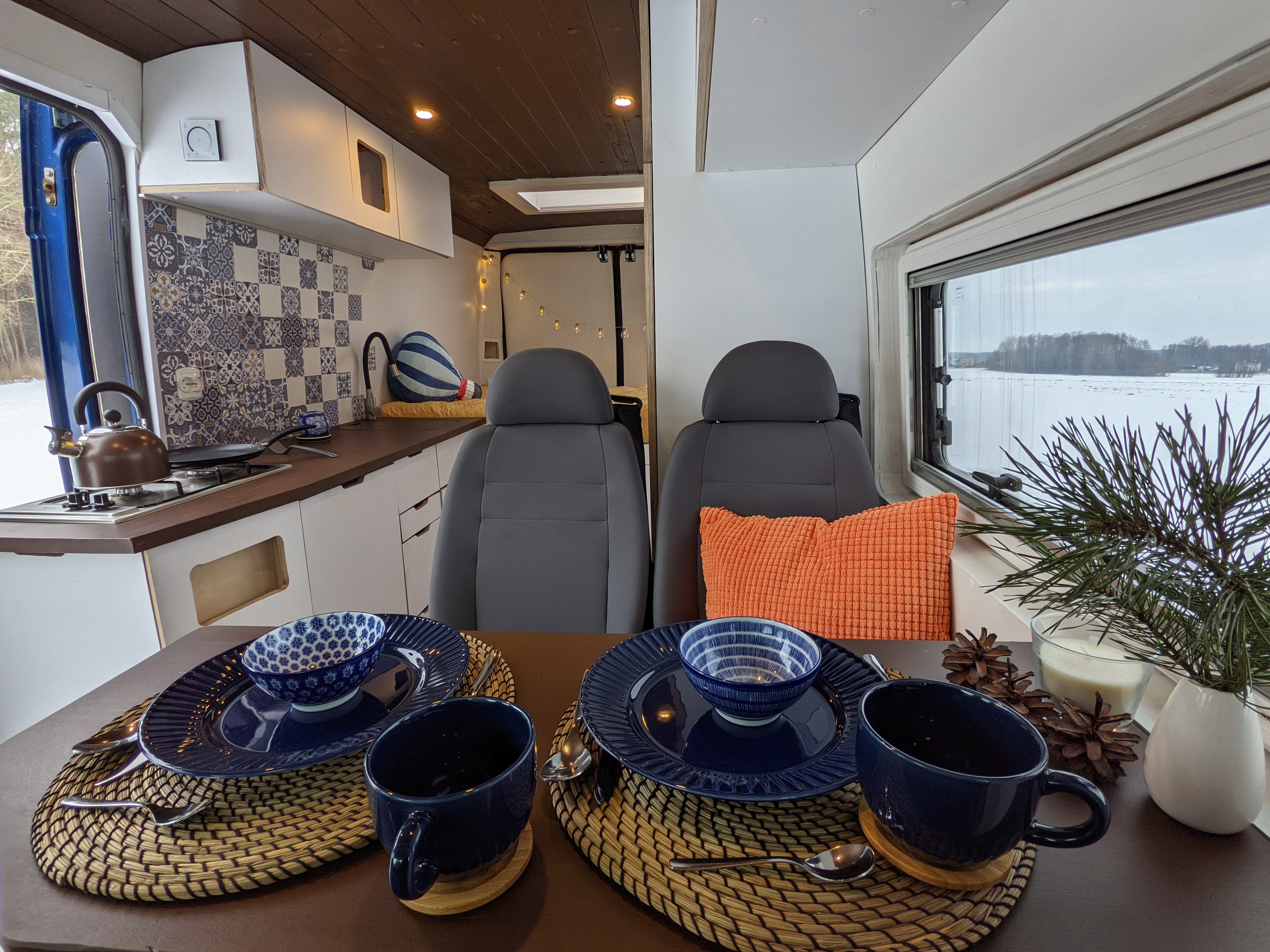 The most problematic topics for us were the natural curves of the car in the cargo space and their precise processing, as well as generally paying attention to the total weight of the vehicle . This last aspect can be really tricky, so frequent visits to the weight scale were advisable. We handled everything ourselves, not counting the delivery of ready-made components such as windows, heating and hydraulic system elements. We only used the plumber's advice and consultations for the optimal possible arrangement of all elements and the electrician's verification of the solar installation connected to the entire electrical system so that everything operated safely in this area.
How long did it take you to build the vehicle? What turned out to be the biggest challenge? To what extent did you do the work yourself and what did you entrust to professionals?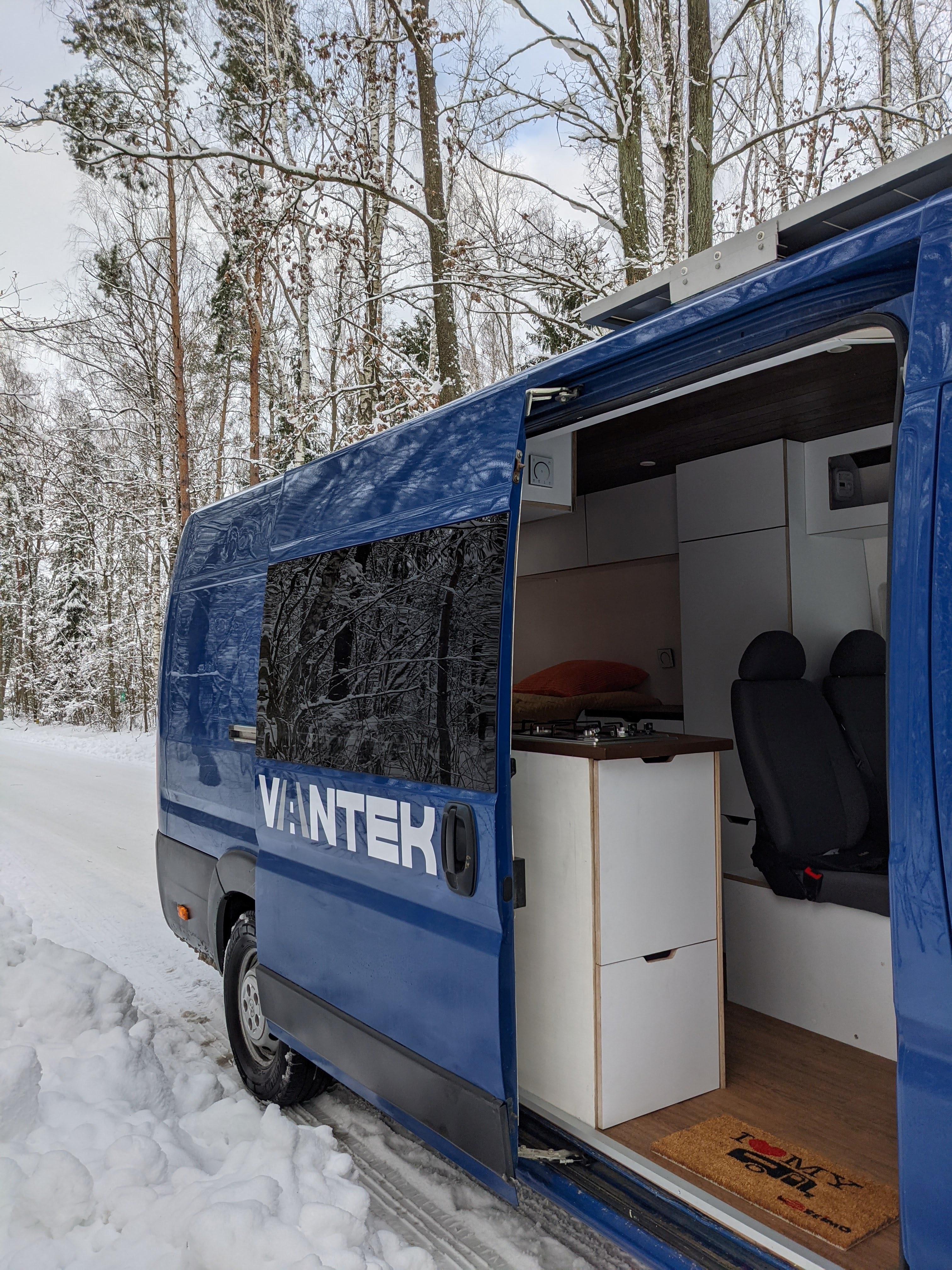 The construction took us about 5 months, working mainly in the afternoons and weekends, sometimes there were also works lasting several or a dozen days. We didn't count exactly, but I estimate that it could have been about 400-500 man-hours. As I mentioned, this is entirely our project , so I give 99% to us and leave 1% for the above-mentioned consultations with the plumber and electrician.
Have you summarized the costs associated with the entire project?
Yes, of course, in our opinion, the budget and its control are the basis for action and, above all, a calm mind that allows you to focus on proper work. In our case, we actually implemented the plan as planned, with a buffer of several percent. As we are still waiting for certain payments and settlements, we can assume that the project will cost PLN 70,000-80,000. zloty.
Comments, especially from Internet users, often include comments that it is not worth investing in dedicated, often more expensive, camper equipment and that you can always find substitutes. Is this approach correct? What compromises can and should we not make?
As is usually the case in such situations, the truth probably lies somewhere in between. In our opinion, everyone has to rationalize it, because of course there are substitutes or you can design and make a few things yourself after the so-called costs, but whether this game is worth the candle, the investor must judge for himself. On the one hand, such action can bring savings in the budget, on the other hand, we usually lose on aesthetics, failure rate and travel comfort . Following this path, we would not necessarily choose a decent electrical installation (good solar panels, an MPPT controller and an on-board battery were a must for us), camper windows or dedicated water tanks, but also a gas installation or a water heating solution - these do not have to be comprehensive. systems that can often cost more than the entire development budget!
What are your expedition and business plans related to the camper market? Are you planning further projects?
This year we would like to explore Poland more - we are planning 2-3 longer family trips. We will be happy to share the rest of the time with campers and offer Vantek to the market. We also want to take comfort in the freedom of choice and flexibility offered by such traveling , immerse ourselves in the environment and meet many interesting people. As for the next projects - we have another idea in mind, which has already been partially implemented, but at the moment we can only say that it may turn more towards off-road!
Vantek can comfortably accommodate two adults with two children. The sleeping space is a bed measuring 140x183 cm, which can be additionally expanded by 50 cm. A second bed is available if needed and is placed on the front seats thanks to a dedicated bed, creating a pleasant, potentially separated space. Its dimensions are 85x180 cm.
Vantek – equipment in a nutshell:
parking heating
clean water tank 93 liters
gray water tank 90 liters
compressor refrigerator 40 liters
two-burner gas stove - portable toilet
hot water supplied from the boiler
outdoor shower with roof
230V sockets with USB ports
external clean water inlet
external 230V power socket
gas, smoke and carbon monoxide detector
photovoltaic installation and on-board battery
NANO gas cylinder 8 kg
More information can be found at www.vantek.pl.
We also invite you to read an earlier interview with the creator of the competition camper - Vandalvan.
I feel best in the form of trade fairs and meetings with enthusiasts. Technical freak. In my life I have dismantled many motorhomes for the first time. Fan of large vehicles, mountain biking and traveling without weight and financial restrictions. At CampRest, I am responsible for all publications on automotive topics.
Enjoyed reading this article? Share it!