Motorhome up to PLN 50,000 - (part II)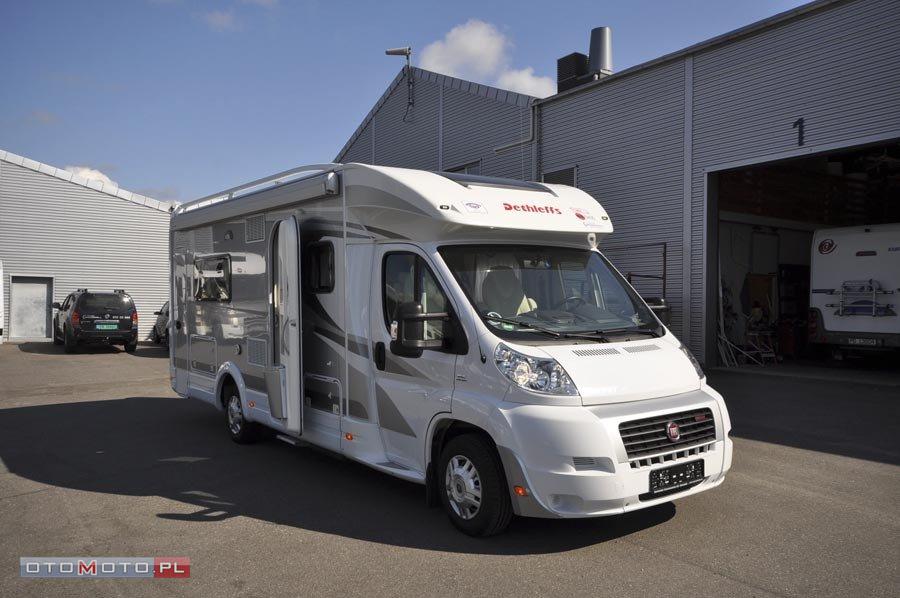 50 thousand PLN is a sum too small to exchange it for a new motorhome, but we can hope to find a used gem in good condition. Today we continue the search that we started in the previous episode in this series.
I admit - I thought that finding a well-preserved motorhome for a price of up to 50,000. PLN will be easier. By filtering the ads only in terms of price, you can actually find dozens of them in only one advertising portal. However, if the selection was narrowed down to vehicles not older than 2000, only a dozen or so results will remain on the list.
Suspicious opportunity
At the beginning, let's focus on the best motorhomes - that is, the relatively newest ones that can cause the least trouble. The Dethleffs Esprit T 7090 definitely attracts attention. Long motorhome (743 cm) produced in 2010 and costing 9,800 euros, or approx. 41 thousand. PLN . The price in euros suggests that you probably need to add the cost of registration to the price.
According to the description, the car has a mileage of 37 thousand. km , which seems very likely considering the age of the vehicle. The motorhome is equipped with a 3-liter 166 HP engine and is registered for 4 people. The vehicle's equipment includes family, winter and Chassis packages, as well as underfloor heating, navigation, external cameras and motion sensors, TV. In the photos, the motorhome looks like new - there is a sink, fridge, double beds.
The bathroom is not visible, however, and the photos show the car from one side only. Was there something missing to justify such a bargain price? Unfortunately, I do not know, but it is possible, considering that in another Fiat Ducato announcement from 2001 it costs PLN 49,999 .
Reasonable choice
The car from the caravanning company Roller Team does not look as modern as its predecessor, both outside and inside, but in this case the seller photographed the car from all sides. We can also see the toilet part in the pictures. The motorhome is equipped with a 1.9D engine . The vehicle has about 90,000 on the meter. km . It is hardly an opportunity, but it seems we have a chance to buy a car in fairly good condition at an acceptable price.
Other offers at a price of approx. PLN 50 thousand PLN are similar - correct, but no revelation. So I lower my age requirements and check older vehicles. After a while, I already know that with approx. 45 thousand in my portfolio. PLN, the easiest way to find a well-kept Fiat Ducato - year '96 or '97 . Unfortunately, there is a tooth of time on such cars, but you can find well-kept copies.
A motorhome for the brave
If someone is willing to take greater risks and wants to be original at the same time, they can go beyond the Fiat brand. For 42 thousand. You can buy the American Ford Winnebago E 35 motorhome from 1994 , without mileage and for PLN 42,000. zloty. The car is registered in Poland.
It is not a diesel engine - the motorhome is equipped with a petrol and LPG engine. The originally arranged interior has everything you need, including roof air conditioning , shower, fridge, freezer, kitchen, awning, navigation with DVB-T receiver.
Hymer from 1990 could also be a risky, but also an interesting choice. It is a fully integrated Mercedes based motorhome. It was equipped with a 3-liter diesel engine. The seller assures that only 83,000 traveled the car. km .
The vehicle is registered for 6 people and measures 660 cm in length. The equipment includes air conditioning, power steering, auxiliary heating, fridge, kitchen and toilet. Unfortunately, in this case, the age of the vehicle will be known very quickly - for example by the archaic, analog indicators in the interior.
So what to do? What who prefers! Some will put originality, even if it is risky, others will find a Fiat Ducato (or Ford Transit, for example) in the best possible condition. Still others will decide to set aside a larger sum so as not to buy a motorhome that is more than 10 years old. The next episode of our "series" will be intended for them.
Sometimes it is better to get lost than to ask for directions too much. Aldous Huxley
Enjoyed reading this article? Share it!