The best campsites for families with children in Italy - part 1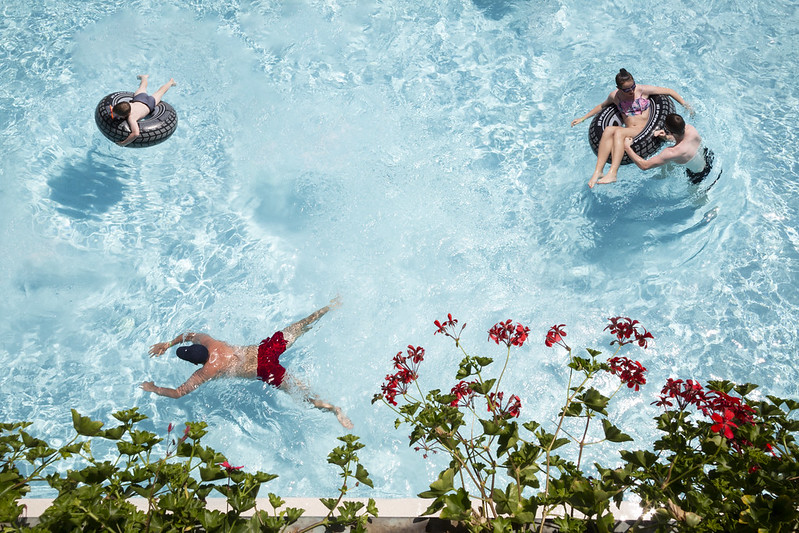 Swimming pools, aqua parks, mini-clubs, game rooms, mini disco, sports , art and music activities, as well as organized mountain trips, tournaments and various schools, for example swimming or sailing lessons ... phew, these are just some of the attractions that await children at the campground. There are also more and more places where children can take care of plants in the garden during the holidays, and it seems to me that more and more campsites create offers for families with children precisely in terms of communing with nature, and I will start with these campsites.
(After clicking on the name of the campsite in the header or its photo, the page of this campsite will open in our campsite search engine, where you will find information such as: detailed address details, website , telephone numbers and sample prices, as well as reviews about campsites . a campsite from our list and you want to share your comments about the campsites, click! Reviews can be added without logging in)
Barco Reale - Italy, Tuscany, Lamporecchio
This campground in the heart of Tuscany is small and very family-friendly , as can be seen from their entertainment program, which involves not only children but the whole family. Together with their parents, children can take part in painting competitions, look for treasures, take part in sports tournaments or cooking lessons.
At Barco Reale, children can also take part in gardening activities ! The campsite has its own vegetable garden, where children learn how to care for crops, and finally learn how to make healthy meals from vegetables and fruits they pick up.
In addition, the camping is a great base for exploring Tuscany, and concerts are organized here in high season.
Attractions for children
Animations for children take place every day at the campsite. One of the activities for children is also taking care of the vegetable garden. There are two swimming pools and a playground.
Where to eat
There is a restaurant on the campsite where you can eat delicious local Tuscan food, but if you want to go to Lucca, for example, I especially recommend the Buca di Sant'Antonio restaurant in Lucca, known for its pasta dishes and typical dishes from the Lucca region
Seiser Alm - Italy, Dolomites, Völs am Schlern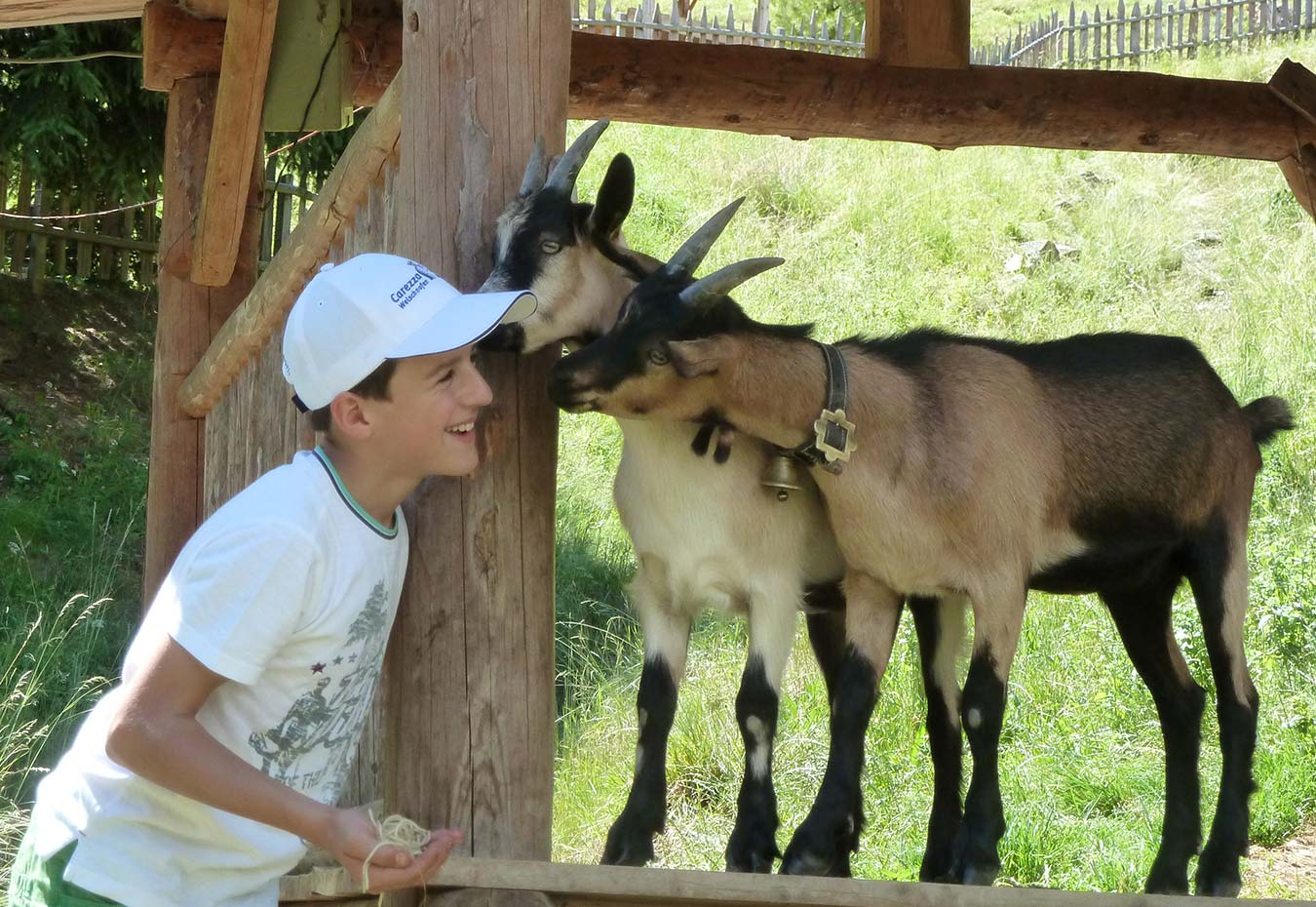 The campsite is located in the Dolomites just below the great Schlern massif. It will certainly appeal to families who like active holidays , because you can enter the mountain and bicycle trails straight from the campsite. Many trails are thematic, such as the geological trail or the trail of the saga "Path of Legends". In summer you can swim in the nearby lake and in winter you can enjoy walks in the snow or go cross-country or ski in the nearby Seiser Alm ski area. It is for skiing, because the camping is all-year-round , or maybe almost all-year-round, except for November and December.
Attractions for children
The camping has a wonderful wooden playground , a petting zoo with animals such as rabbits, goats and pigs. Throughout the year, animations are conducted, as well as organized activities such as joint trips to the forest and in the mountains, art classes or even climbing classes. There is also a salt water swimming pool - open from Easter until about October 15, with a water temperature of 27-29 °.
Each campsite guest receives a Sudtirol Alto Adige Guest Pass, which allows you to travel by public transport (trains, buses and lifts) in South Tyrol. I highly recommend going on a trip on the Ritten narrow gauge railway .
Where to eat
The camping has a great restaurant overlooking the mountains. You will eat here traditional dishes made of local products. Often the restaurant organizes special culinary evenings (especially in winter).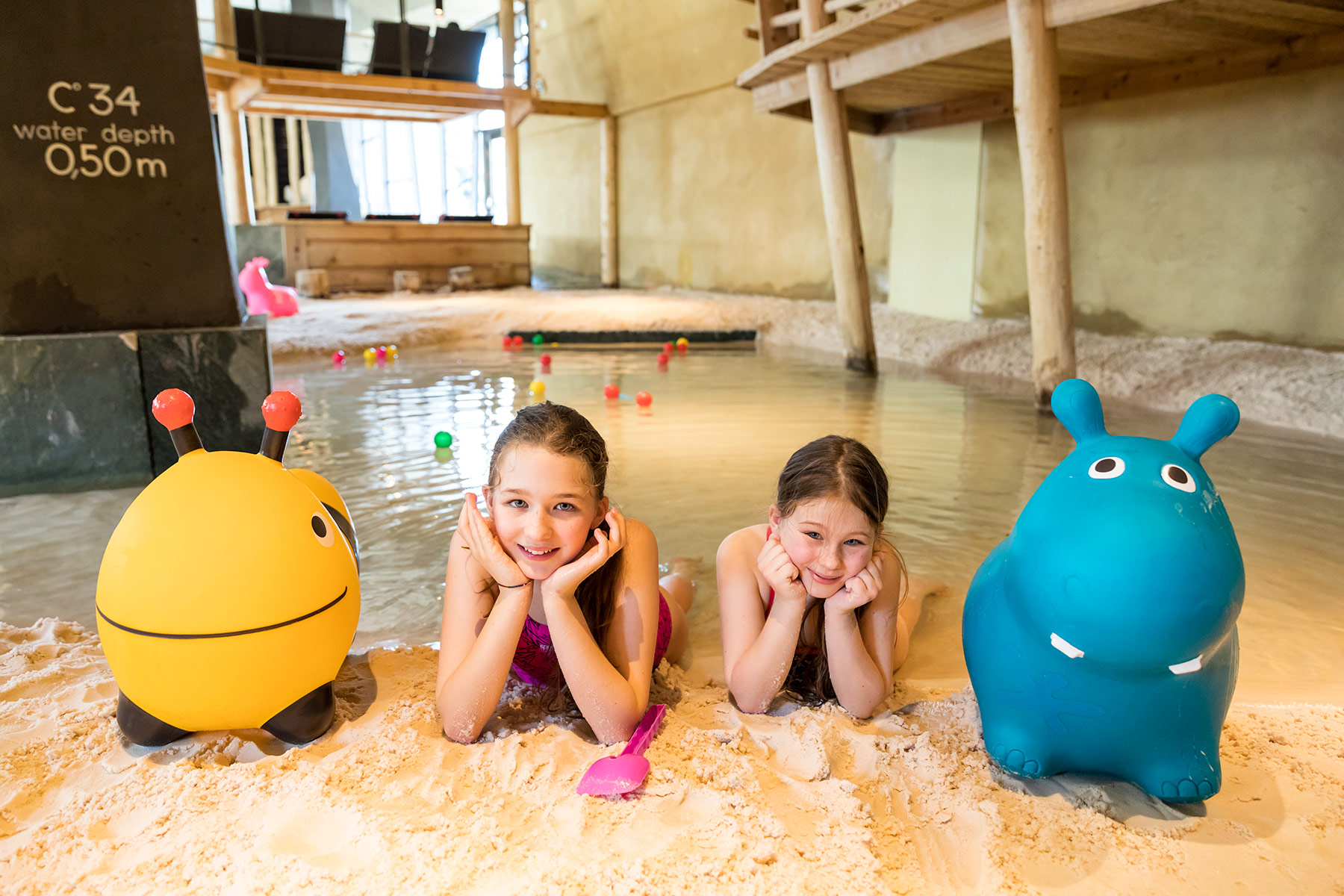 This campground is also located in the Dolomites - quite high like the previous one in our list. Take something warm to wear because even in summer it is cool in the evenings. Here you will also enter the hiking and biking trail straight from the campground, and in winter one of the trails next to the campsite turns into a ski slope, which goes straight to the gondolas.
The campsite renovated its swimming pool complex in 2019. It is so unique that you will not find another one like this in all of Europe and it will appeal not only to children. The water in the pools is 31 ° C in the main pool and up to 34 ° C in the paddling pool with sand and sand toys! Teenagers over the age of 14 can use the saunas, but younger children can also enter the sauna twice a week at certain times.
There is a great playroom on the campsite that is open from 10.00-18.00 all year round. At this time, the children are looked after by an animator who organizes various workshops every day, and at 4 p.m., together with the children, she chooses a film to watch in the cinema room. There is a games room next to the playroom.
There is also a climbing wall for children on the campsite.
Where to eat
The campsite has its own restaurant and pizzeria, but unfortunately has a children's corner.
Bella Italia - Italy, Lake Garda, Peschiera del Garda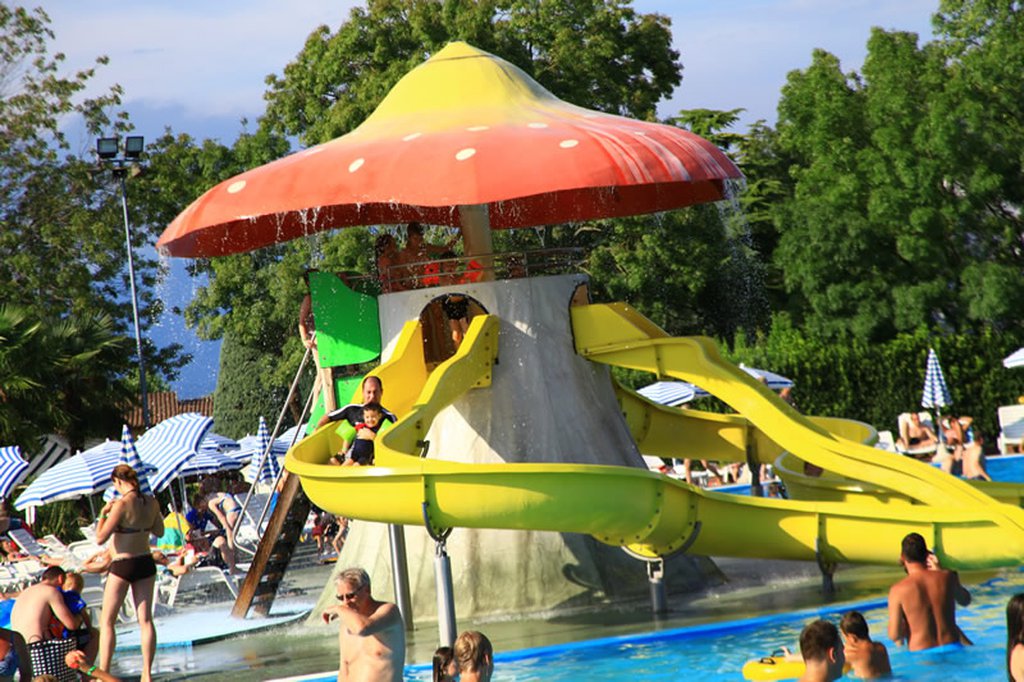 The next two campsites in the list are the large 5 * Family Parks by the Garda . Both guarantee high quality, proximity to the lake and great aqua-parks.
Bella Italia has direct access to the lake and its own small pebble beach. You can also rent pedal boats or canoes. It has a swimming pool complex with slides and a water playground . It also has some small normal playgrounds. The pools are both deep and shallow, and there are also slides and other water attractions. There is a beach zone with sand by the pools, and another one on the grass. Directly by the pools there is a cafe with an ice cream parlor with a spray park , and right next to the cafe there is a stage with a roof where all-day animations for children and evening mini disco take place.
Where to eat
The campground has a very good restaurant and pizzeria with a beautiful view of the lake. If you want to eat outside the campsite, a few steps from the campsite gate by the lake, there is a very good restaurant directly at the lake.
Attractions for children in the area
If you go in the direction of Mantova, we recommend visiting the Sigurta botanical park. Children of all ages will love a trip to the Gardaland theme park or the Canevaworld aquapark .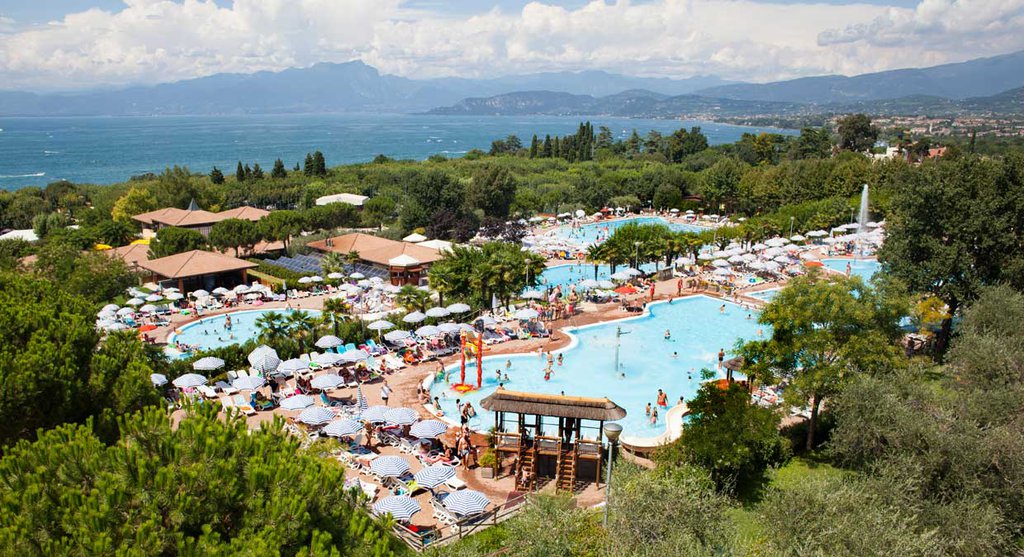 Camping Piani di Clodia has the largest swimming pool complex of any campsite on Lake Garda. There are as many as 7 of them and at least 2 of them are open in the low season (i.e. in Majówka). In this water park there are as many as 8 large slides, 6 slides for smaller children, 3 jacuzzis and as many as two rushing rivers with an artificial stream. The campsite also has its own pebble beach by the lake.
Attractions for children
The camping has pitches for football, volleyball (beach and normal) and basketball, tennis and table tennis. There is also a gym on the campground. A group of animators organizes all-day activities for children, and also organizes themed events such as Color Run , where all participants are showered with colored powder
Where to eat
The campground has 3 restaurants, a pizzeria and a takeaway bar. In addition, there are several bars by the pools. You will find plenty of good restaurants in Lazise.
Attractions for children in the area
As I wrote before, we recommend visiting the Sigurta botanical park, the Gardaland amusement park or the Canevaworld aquapark .
You can find more 5 * campsites by the Garda in our article .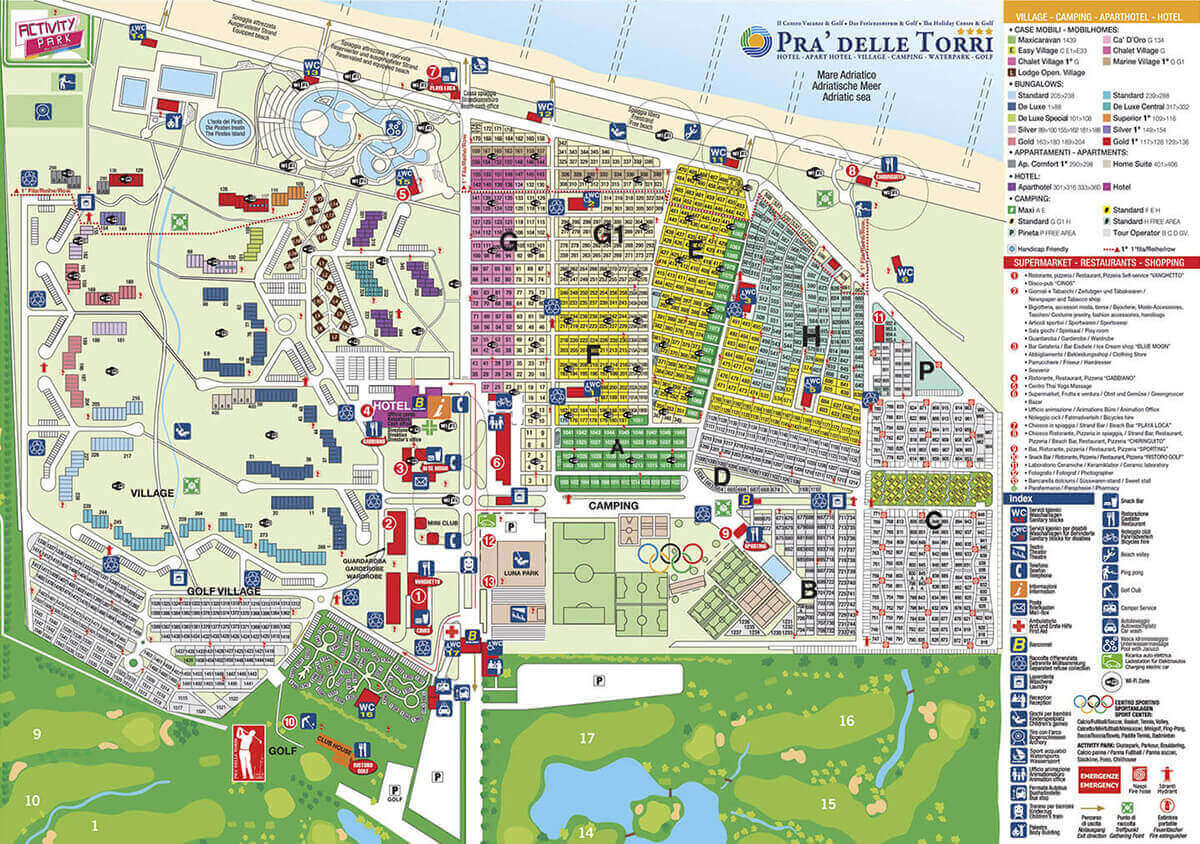 Pre'delle Torri is the first campsite by the sea on our list. In fact, it is not even a campsite , but a small town that has everything you could need during the holidays. At the same time, I must point out that this camping in Italy is huge (120 ha), so not everyone will like it, but if you are looking for good quality and lots of attractions, this place is for you. The campsite has a great swimming pool complex, which will be expanded with an aqua park with slides in the next 2020-2021. Currently, this water park is divided into two parts, at least one of which is always open even in April or May. In one part you will find a heated water playground in the shape of a pirate ship that young children will love! There are also two deep pools in this part, while the other (open in high season) has more water lagoons and a few small slides.
The campsite has a free Activity Park, i.e. a skatepark , parkour zone, climbing and bouldering zone, slack-line, as well as a music production zone and a chill room for teenagers. In addition, there are several playgrounds, and in the evenings from 5 pm to 11 pm, an additional (paid) Luna Park opens. All playgrounds and tennis courts are free of charge. You can also learn to shoot a bow under the supervision of instructors. But you can also rent bikes, play boules and badminton. The great mini golf course is also worth mentioning. This campground has great full-size golf courses, so it is a good place for families who are fascinated by the sport.
Is there a beach? Can you do water sports?
The campsite is located directly on the wide sandy beach. The camping also has its own water equipment rental and windsurfing schools.
Where to eat
There are restaurants and pizzerias with delicious food on the campground, but if you want to eat "the best pizza in the world" there is Pizzeria Brian 3km from the campsite, which is said to serve such a pizza.
Union Lido - Italy, Venetian Lagoon, Cavallino-Treporti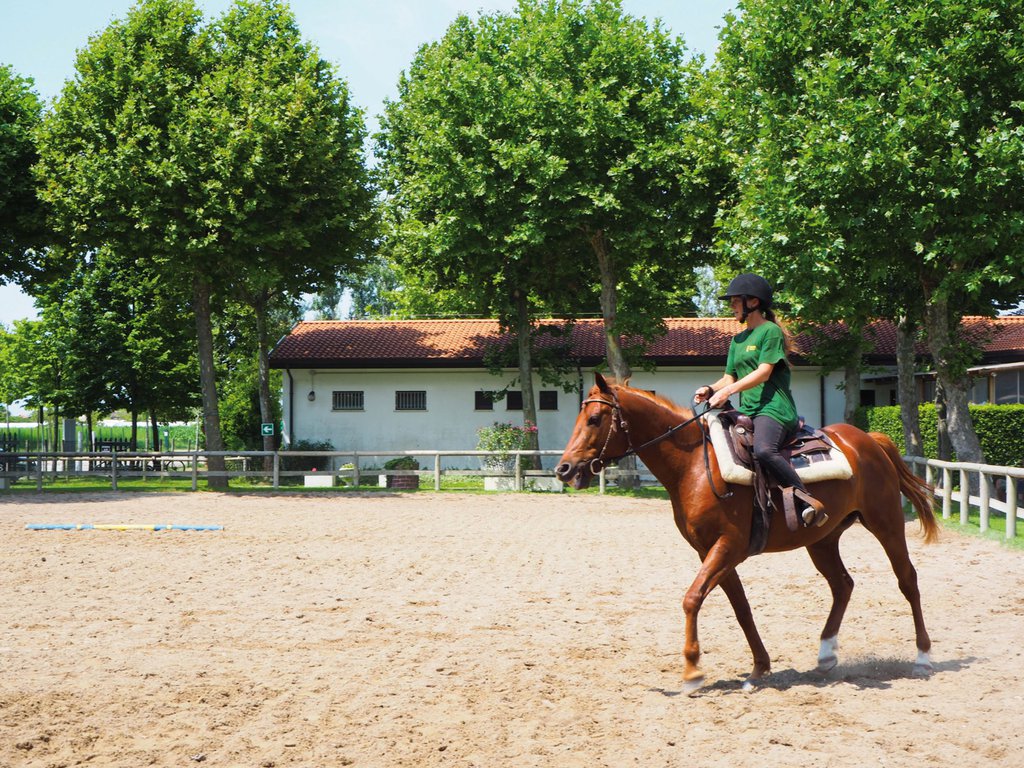 Union Lido is also a huge Family Park. On the area of 60 ha, there is a water park, an amusement park, various sports fields, and in all these places, a professional group of animators will take care of organized games.
The Aquapark in Union Lido has an area of 10,000m² and, in addition to the water slides, there are also water lagoons with safe ground for children, there is a wave pool and new spray parks or water playgrounds. All pools are open all season and most of them have heated water, such as the Olympic swimming pool and water playground, and of course, the pools to which you slide down from the water slide are also heated.
The campsite also has its own Funny World amusement park , which is expanded every year. There are little roller coasters, go-cards, games room etc.
Clubs for kids of all ages
Baby Club for babies up to 2 years old. This is an Activity Park, to which entry requires a one-time fee of EUR 12, which in turn is donated entirely to charity.
Mini Club for children from 3 to 6 years old. In this club, children already have specific activities and attractions planned, such as face painting, cooking classes, painting and just what I was talking about at the very beginning - garden activities .
Maxi Club for children aged 7 to 12. There are already a lot of sports activities in this club. Football, tennis, basketball and volleyball tournaments. There are also swimming and archery classes under the supervision of an instructor. There is also a talent show on the campground and a disco at PiñaColada Disco Bar for teenagers over 16 years of age.
Is there a beach?
There are two play zones for kids on the beach, and the campground is right next to the beach. Additionally, the campsite conducts windsurfing, SUP and even diving classes. Older children may enjoy horse riding courses .
Where to eat
There are several places on the campsite where you can eat or drink something. The campsite also offers gluten-free meals in several restaurants and pizzerias.
Albatros Park - Italy, Tuscany, San Vincenzo
I would recommend this Italian campsite mainly to families with young children . The older ones will not be bored here, but the most attractions are for the little ones. The best among them are undoubtedly the pools with soft ground, where they can safely play, climb and slide down a small slide. However, there are no large and long slides here that can be found on other campsites with real aqua-parks. It is worth adding that there is one heated swimming pool in the swimming pool complex, which can also be covered in bad weather.
The campsite is quite close to the coast, but you need to walk to it about 1 km. On the other hand, there are many beaches and they stretch for 10 km from Piombino to San Vincenzo. Every day, in high season, an electric train transports campsite guests to two selected beaches. It is worth taking bikes or scooters with you to get to the beach faster, but also easier to move around the campground itself.
Older children will love the ropes course suspended on tall pine trees in the heart of which this campsite is located. There is a bike rental on the campsite. Below the rope park there is a large playground, a mini club where children can, for example, make a pizza. Evening animations and mini disco take place next to the playground. In high season, the mini disco takes place on the main stage by the pools.
Where to eat
Good food is just on the campground and there are several restaurants and pizzerias to choose from, but there are several restaurants close to the campsite open after 7pm and are walkable.
Norcenni Girasole - Italy, Tuscany, Figline Valdarno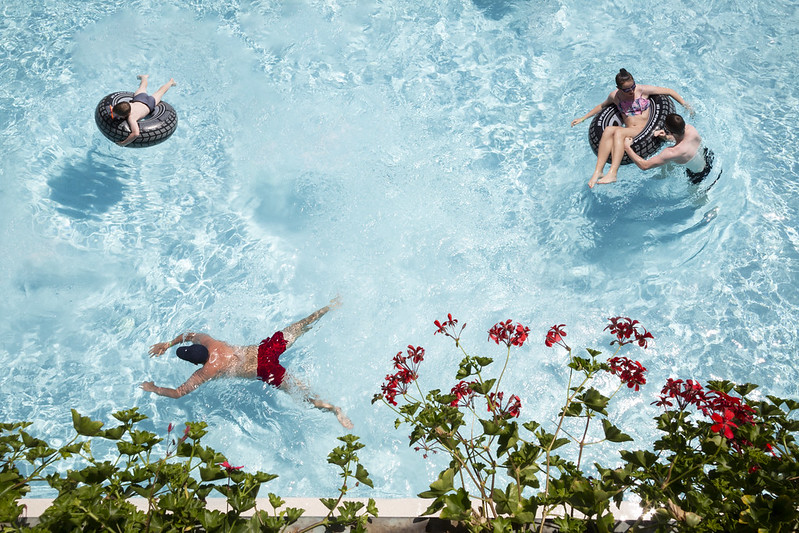 The campsite is terraced in the Chianti hills. Of course, it is far from the sea, but it has plenty of attractions for children and teenagers that will certainly compensate for the lack of a beach at the campsite. When it comes to swimming pools, the campsite has not one, but two swimming pool complexes! One is at the foot of the campground and the other is at the top of the campground. In 2018, several new attractions were created at the pools, but most of all, the water treatment system was renovated. There is one deep swimming pool at the bottom of the parc. Next to this pool there is one fairly small slide for children and a second shallower pool where aqua-aerobics classes mostly take place, as well as two paddling pools with small slides. A great advantage among other campgrounds is that the campground has a heated swimming pool with a roofed movable glass roof that allows you to have fun in the water despite colder days. In the upper part of the campsite there are more pools with soft ground, a lazy-river slide with large inflatable wheels and a water playground.
The campsite has several small playgrounds, a games room, a rope park and trampolines, animations and a mini club. There are football, tennis and volleyball courts, table tennis, and mini golf course on the campsite. The campsite also offers family trips to the nearby Villa la Palagina agritourism where parents can taste the local olive oil and wine while the children enjoy
Where to eat
There is a restaurant on the campsite, Il Vecchio, which was established more than 50 years ago and used to operate next to the campground, but as the campground grew, it absorbed the restaurant into its offer. We especially recommend eating beef here (Bistecca a'la Fiorentina).
Le Cappanne - Italy, Tuscany, Bibbona
It is a perfect place for families with young children . It also has great sports facilities. Volleyball, football and tennis fields, as well as aqua-aerobics or wellness program, but in order, because there are so many attractions that I have to divide them into several groups.
Attractions for children
The camping has its mascot - penguin Freddy, which appears in many places, for example, we have Freddy's playroom, but also mobile homes with his name, which include, among others, PS4 game console. There is also Freddy Land, or playrooms for children of all ages. For the little ones there is a room with toys and soft ground, for the older ones there is a cinema room and a games room. There are rooms where art classes are organized, as well as a Lego room! There is also a full-size Pinocchio house on the campsite that can be visited with a guide several times a week.
Beautiful new pools with soft ground, bridges, slide and waterfalls. There is a playground with a boulder wall , go-kart rental and mini golf.
Where to eat
There is a restaurant on the campsite where you can eat delicious local Tuscan food , but if you want to go to Vinci, for example, I especially recommend the restaurant La Burra di Vinci, or Agriturismo il Piastrino, where you can eat lunch for € 20. with anti pasto, main courses, wine and olive oil from this agritourism.
---
Do you want to know even more?



• Join our Facebook group -

Cool Camping


• Follow our profile on Facebook -

CampRestowy Facebook


• See how we travel as a family on Instagram. During our trips, it is here that we put the most reports from everyday life on the campground or in the camper -

CampRestowy Instagram


• See our YouTube videos, subscribe to our channel and give a thumbs up to the videos you like -

CampRestowy Youtube
We have created the CampRest portal for people who value freedom and travel on their own.
Enjoyed reading this article? Share it!