A Week in Garda Trentino - The Complete Guide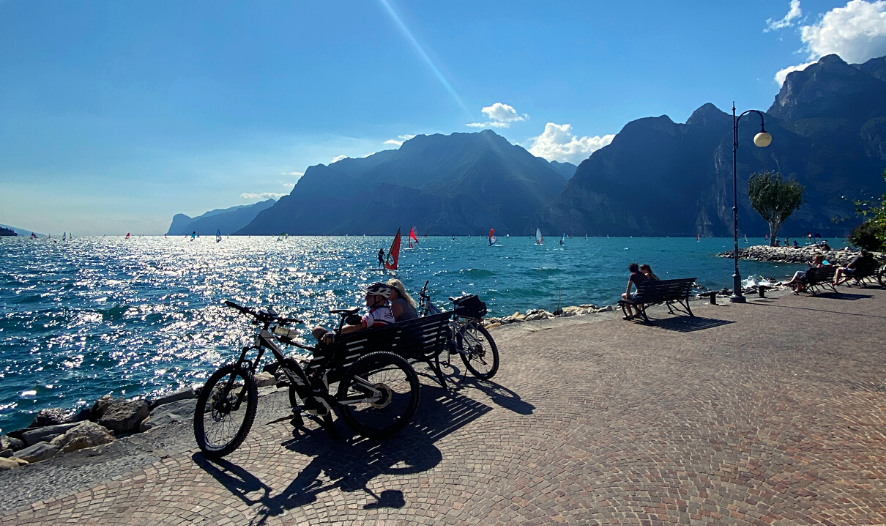 At the beginning of September, we spent an amazing week in the Garda Trentino region, during which we filled our days from morning to evening with interesting activities. We ate in twelve restaurants, slept at 4 campsites and one camper park, hiked in the mountains and valleys, rode bikes and donkey rides! Thanks to cooperation with the region, we are able to find and test for you the best attractions, the tastiest restaurants and scenic and camping gems. We have prepared the article in the form of an idea: What to do in one day in the Garda Trentino region ?
Let me know in the comment which day you like the most!
Day 1: Ferrata and visit to Drena Castle
If you don't know what ferrata are, read our article "Iron roads, or via ferrata" first. When sleeping in Drena, it is especially worth going on a ferrata up the Rio Sallagoni Ferrata. We highly recommend this route on warm summer days, because it leads through pleasantly cool rock corridors along the Sallagoni River. The ferrata starts at Drena Castle, where you can arrange an appointment with a guide from the Mmove school. This is a very convenient solution if you choose Camping Drena, which is located on the other side of the street. You then walk down the slope to the river mouth from the gully and start climbing back. This via ferrata is not difficult and older children can also go on it.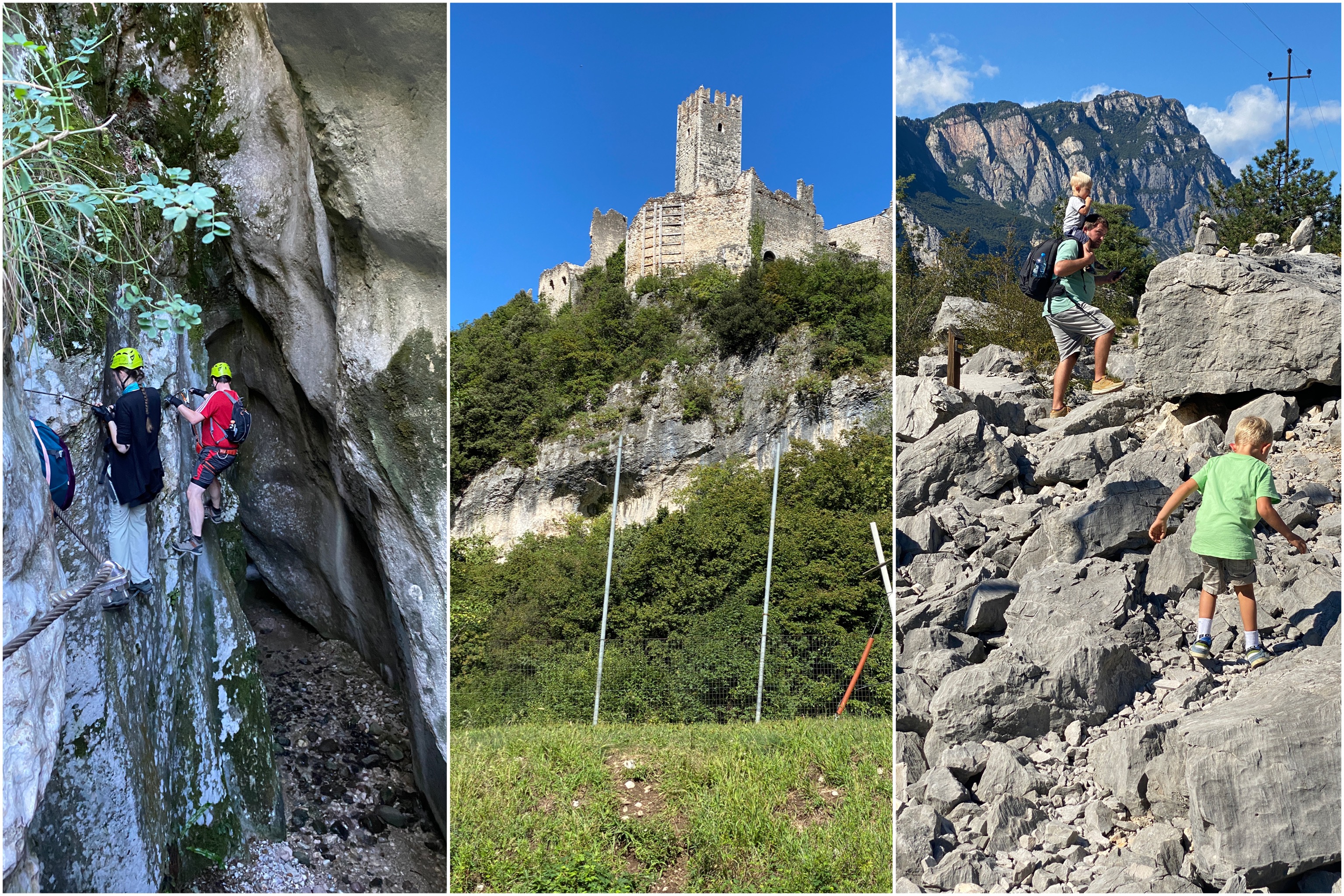 After climbing back to Castello di Drena, you can sit for a coffee in the bar right next to the castle, and then climb its walls and admire the wonderful panorama.
For lunch, we recommend going to Piccola Dallas. The restaurant has its own very large parking lot, where workers from construction companies come in large trucks during lunchtime - there is also plenty of space for campers.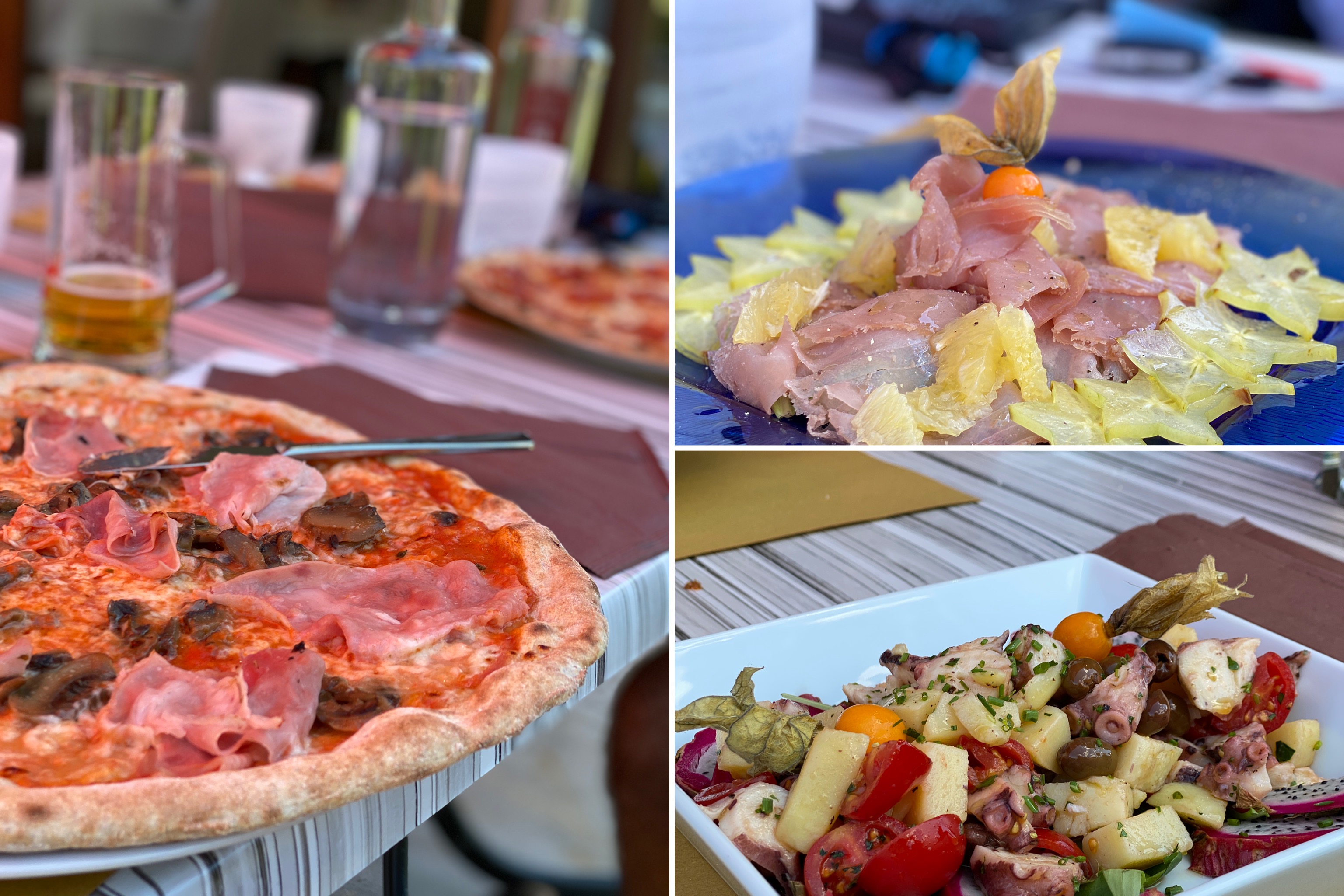 After a moment of rest in a restaurant, go for a walk in Marocche di Dro. It is an amazing valley lined entirely with rocks that give the impression that you are walking on the surface of the moon. The impression of mystery may be enhanced by the fact that dinosaur remains can be found in Marocche! Parking is located directly at the entrance to the path.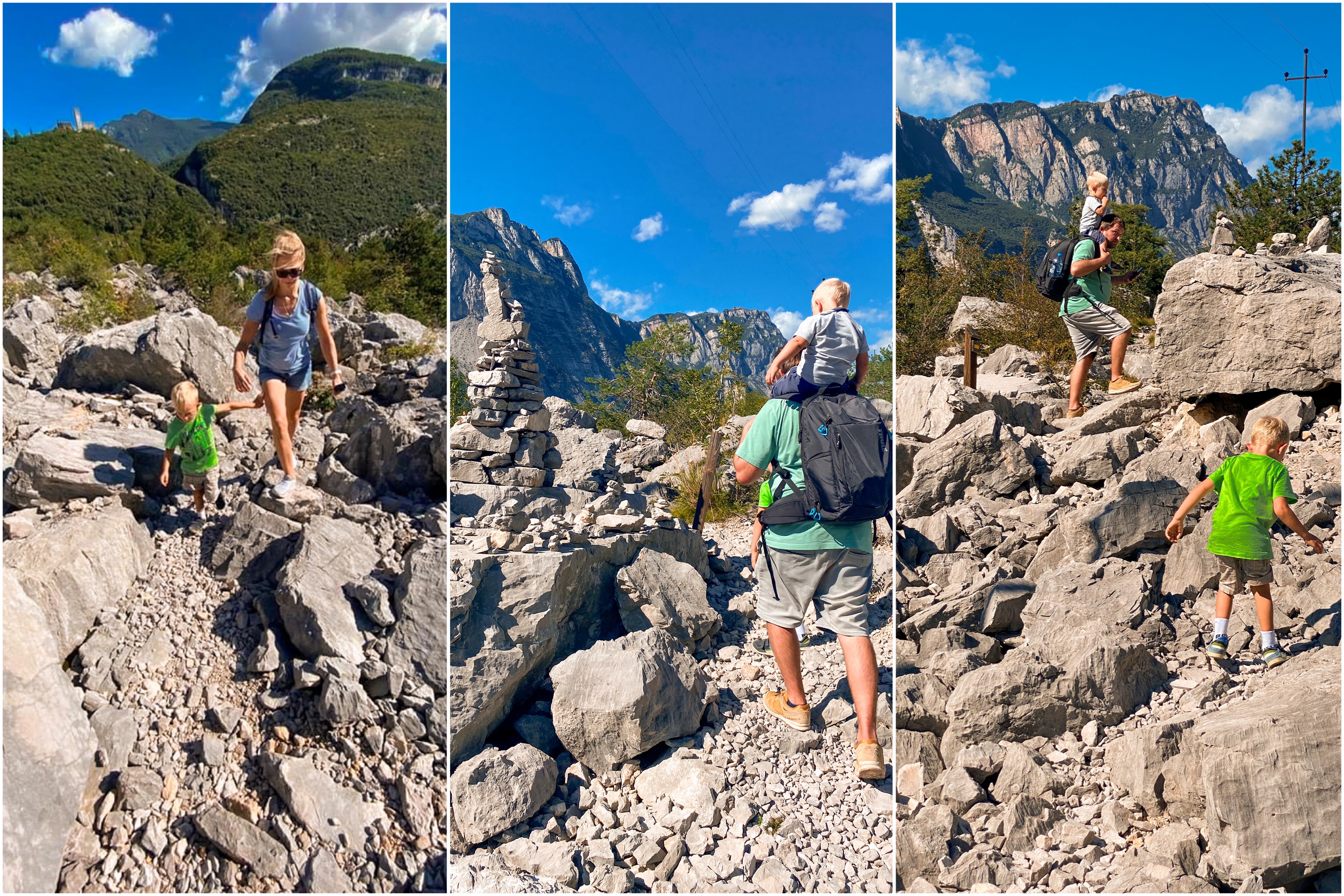 If you want to return to the campsite today, you can bike to the regional restaurant La Casina , where we ate the best beef carpaccio in the area.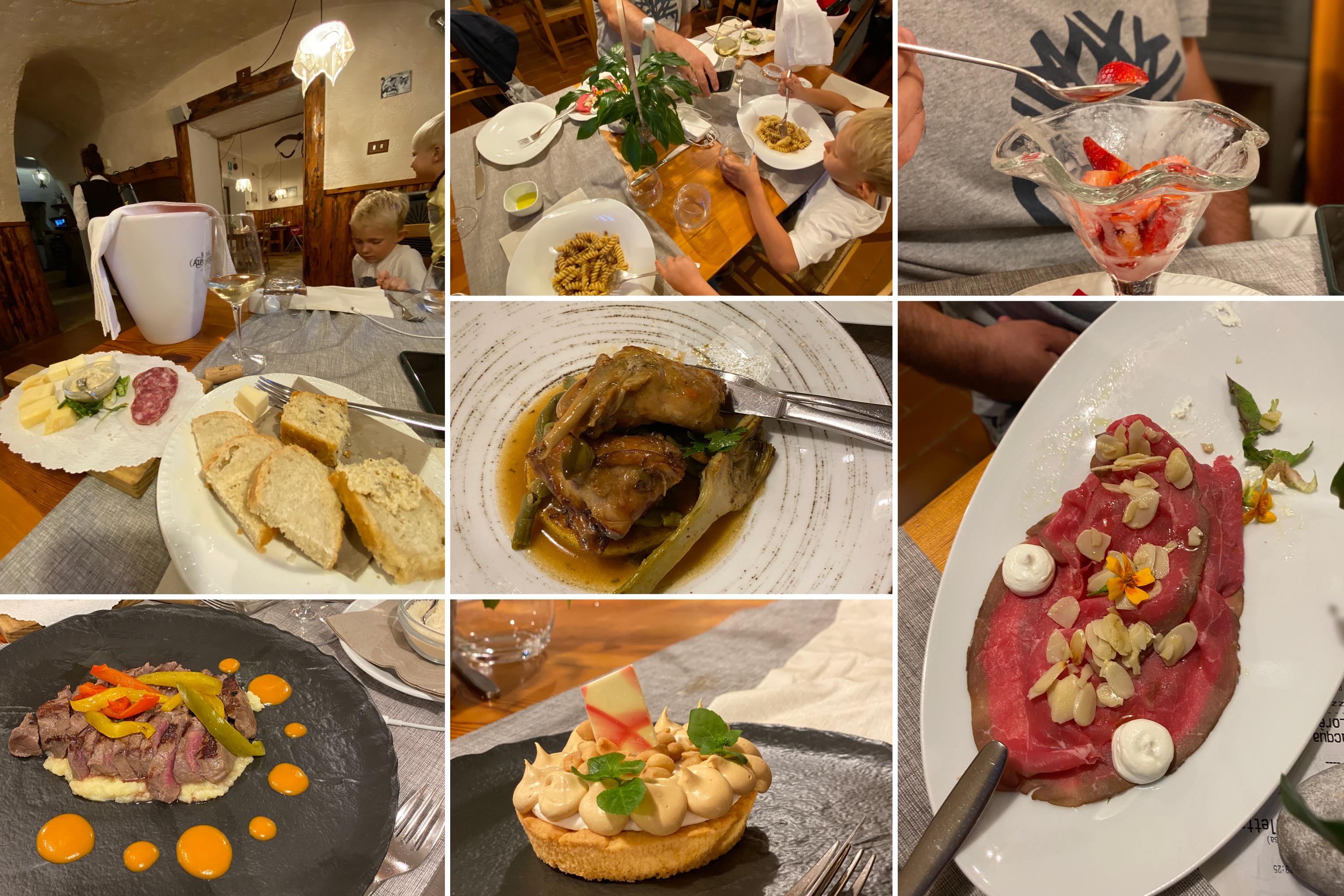 You can also eat in Dro at the Alfio restaurant, where you can easily find a place to park your camper as in the previous restaurant where you had lunch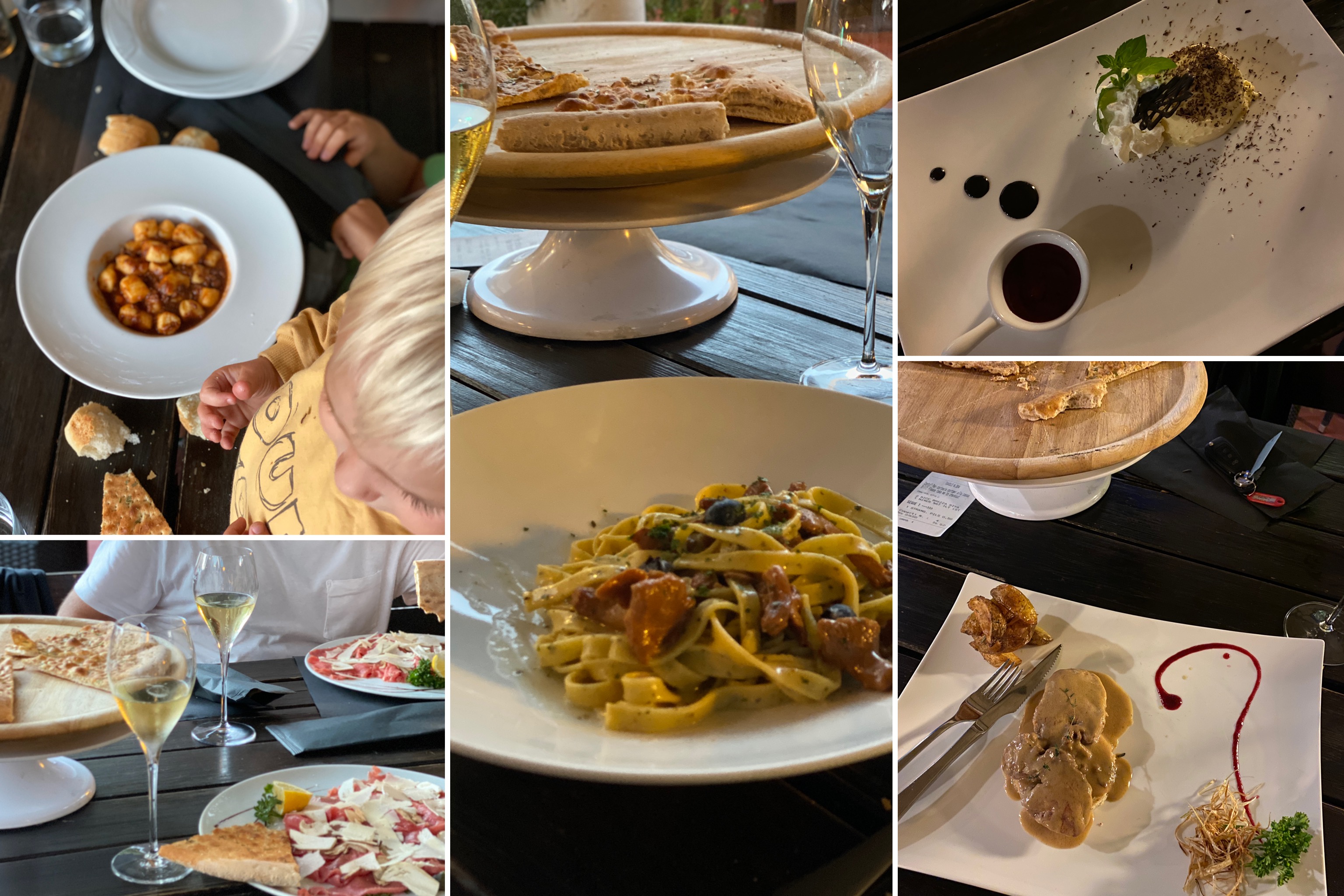 If you are interested in such a day in Garda Trentino, it is best to sleep at Camping Drena .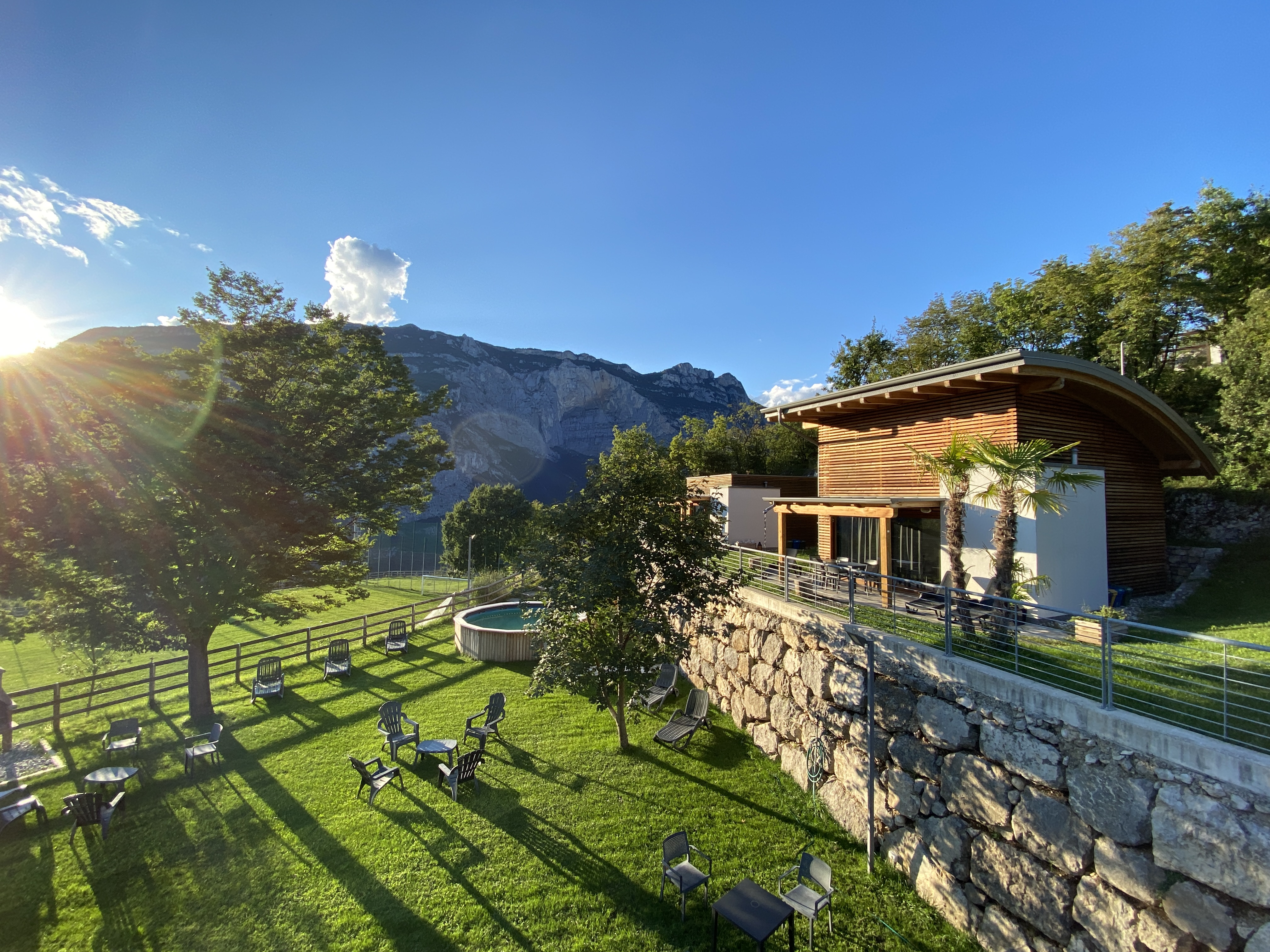 Day 2: Rest day on Lago di Tenno
Lago di Tenno is a small lake with an amazing green and blue color located in the mountains north of Lake Garda. If you prefer to relax by the water, you can do it on one of several beaches around the lake, or if you prefer active recreation, hop on a pedal boat, kayak or SUP, which can be rented at Tenno.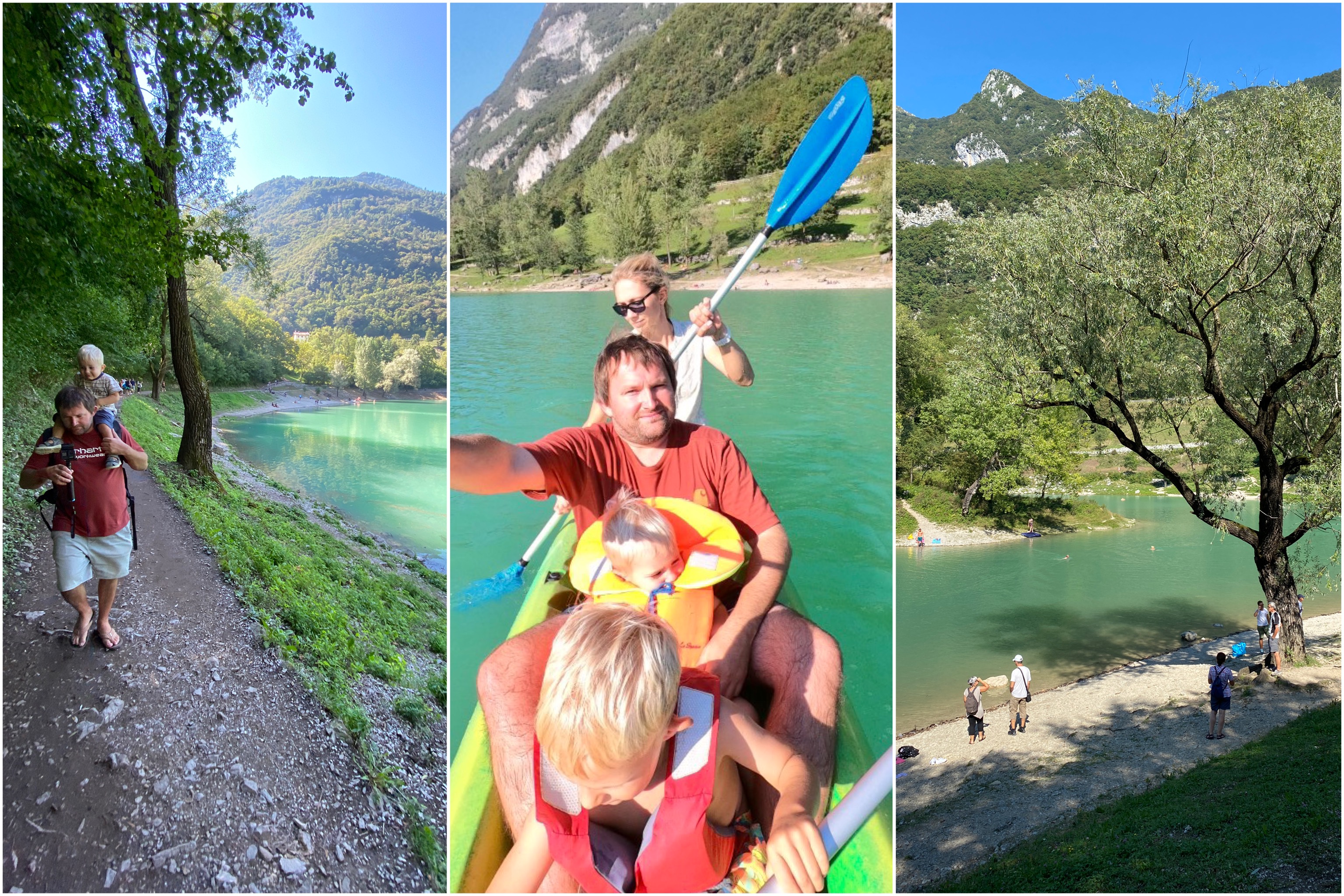 For all those who prefer hiking, from this place you can go for a short walk around the lake or somewhere further - even to Rifugio San Pietro (5 km), which I write about in my idea for the next day.
Before dinner, go to the medieval town of Frapporta , next to the Canale di Tenno castle. You won't find the town on Google maps, but if you park at the Antica Croce restaurant, you'll be right at its gates.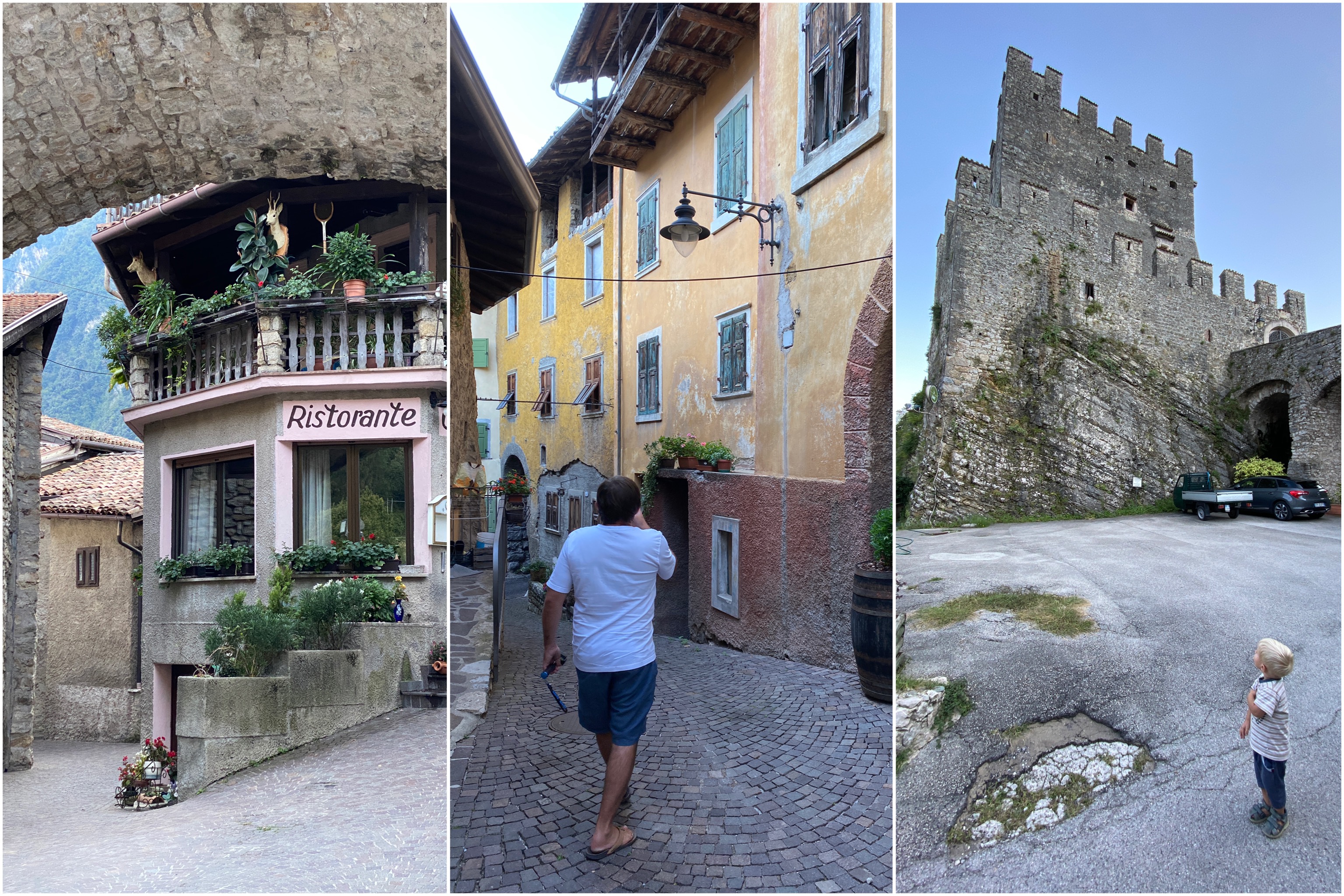 Antica Croce restaurant is a place with over 100 years of tradition. They only serve local specialties.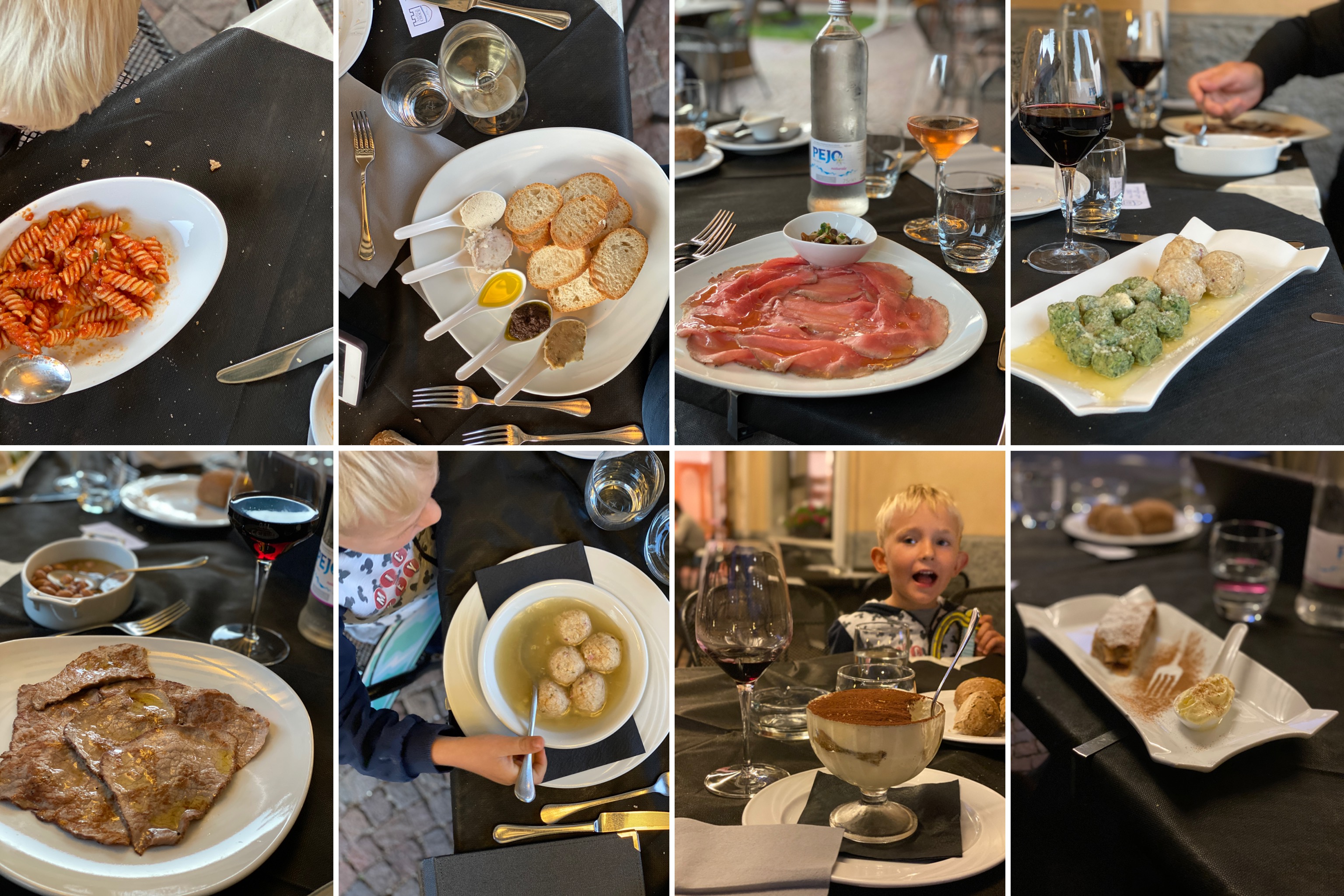 If you are interested in such a day in Garda Trentino, it is best to sleep at Camping Lago di Tenno .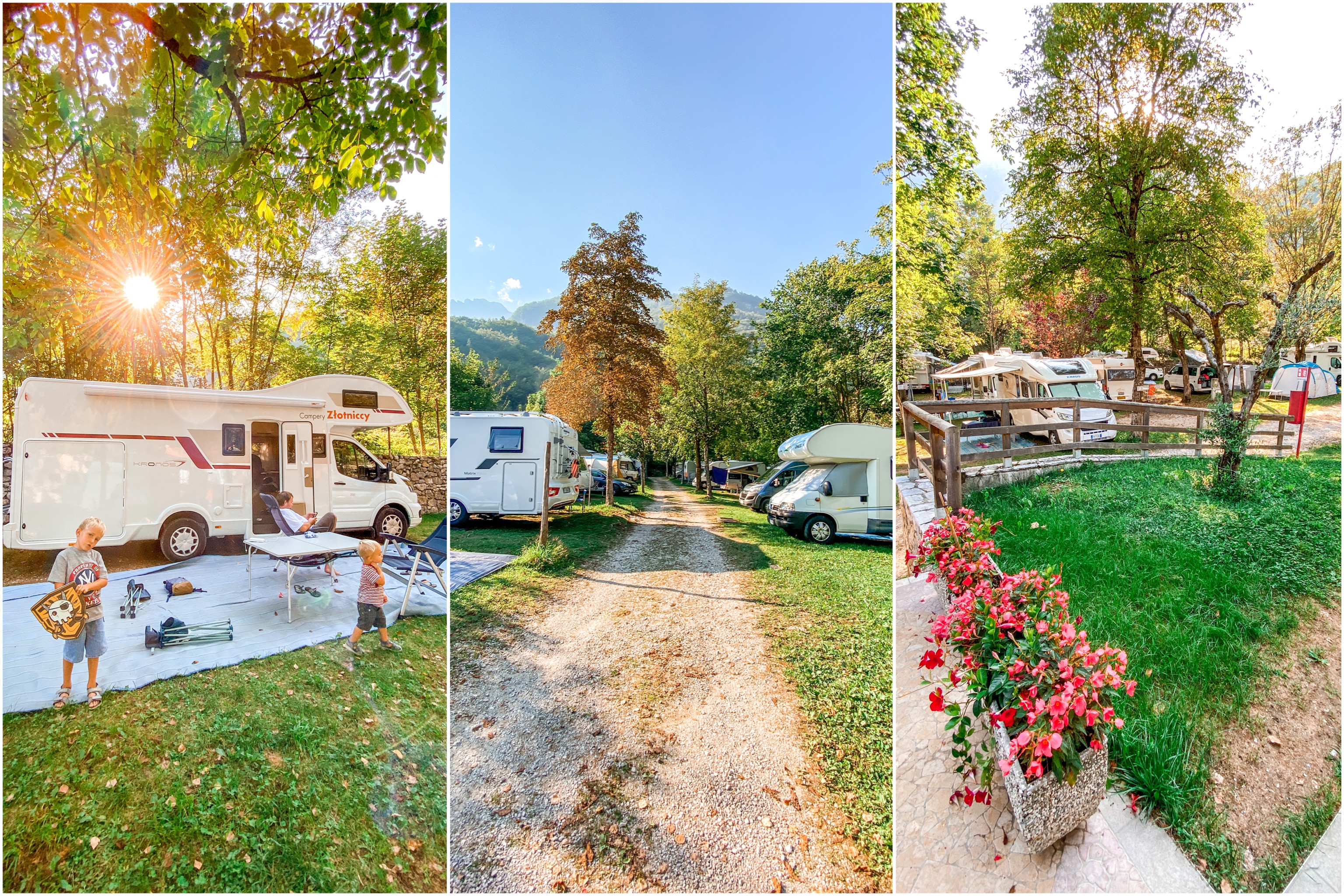 Day 3: Walk to Mount San Pietro
Today is a proposal to spend time in the Canale di Tenno region. Park your camper here and then walk through the medieval town of Canale di Tenno and up towards Rifugio San Pietro . At the end of the hike there is a shelter where you can buy takeaway food and eat it in the meadow or sit for lunch at one of the few tables (reservation required) with an amazing view of Lake Garda ! Children will love the playground and animals bred by the owners of the shelter: goats, pigs, chickens.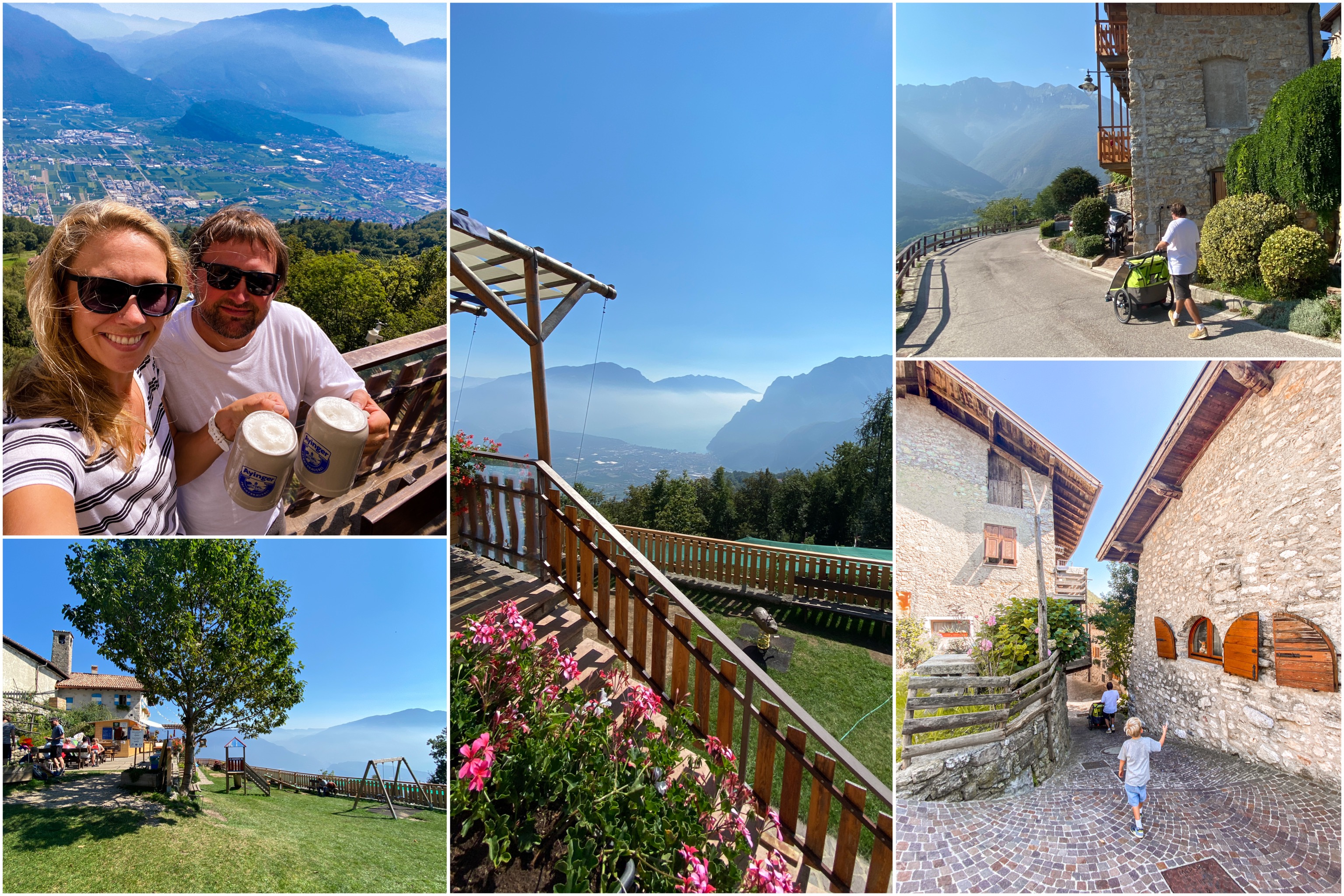 We recommend eating dinner at the agritourism farm Agritur Calvola , which is located in the town of Canale di Tenno. In this restaurant, it is necessary to reserve tables in advance, and everything served here comes directly from the owners or nearby farms and crops.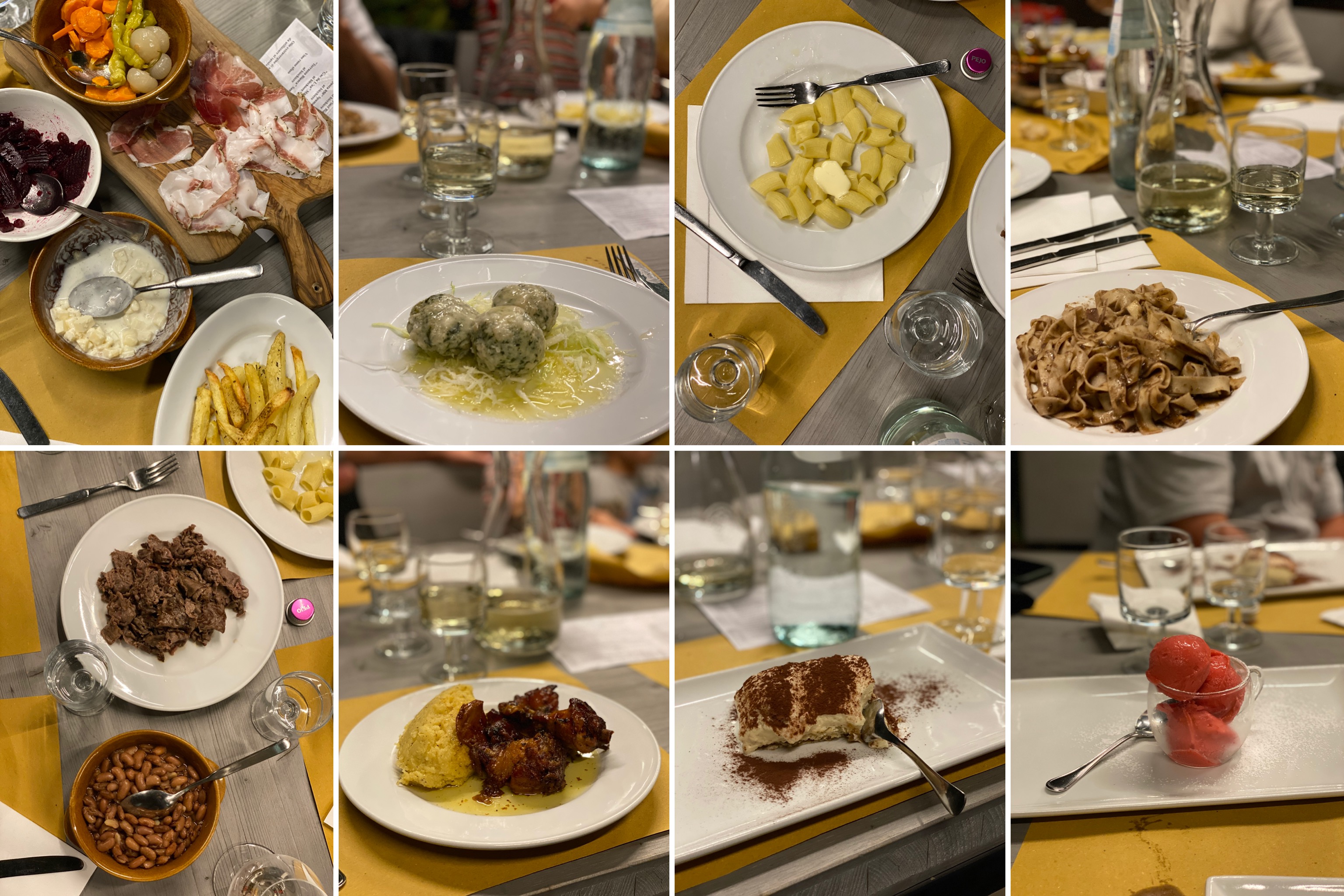 If you are interested in such a day in Garda Trentino, it is best to sleep at Camping Lago di Tenno .
Day 4: SUP and kayak on Lake Garda
You will spend today entirely in Riva del Garda on or on the lake ! In the morning, take advantage of the offer of one of many schools or water equipment rental companies. We suggest going on a SUP or kayak trip with a guide. If you set off in the morning, the wind will direct you deeper into the lake, and at 12 p.m. it should change direction, making it easier for you to return to land. The guide will take you to the lesser-known places of the Riva del Garda coast. We especially recommend choosing the Sailing du Lac school and their trip: Ponale tour with guide .
Or you can just relax on the beach, taking advantage of the free, clean and guarded beaches in Riva del Garda. You can read more about them here: Beaches on Lake Garda .
After spending the morning in the water, you will definitely feel like eating something. So grab a quick sandwich in Panem . Each sandwich served at this bar represents an Italian region. We chose Molise and Lombardo :)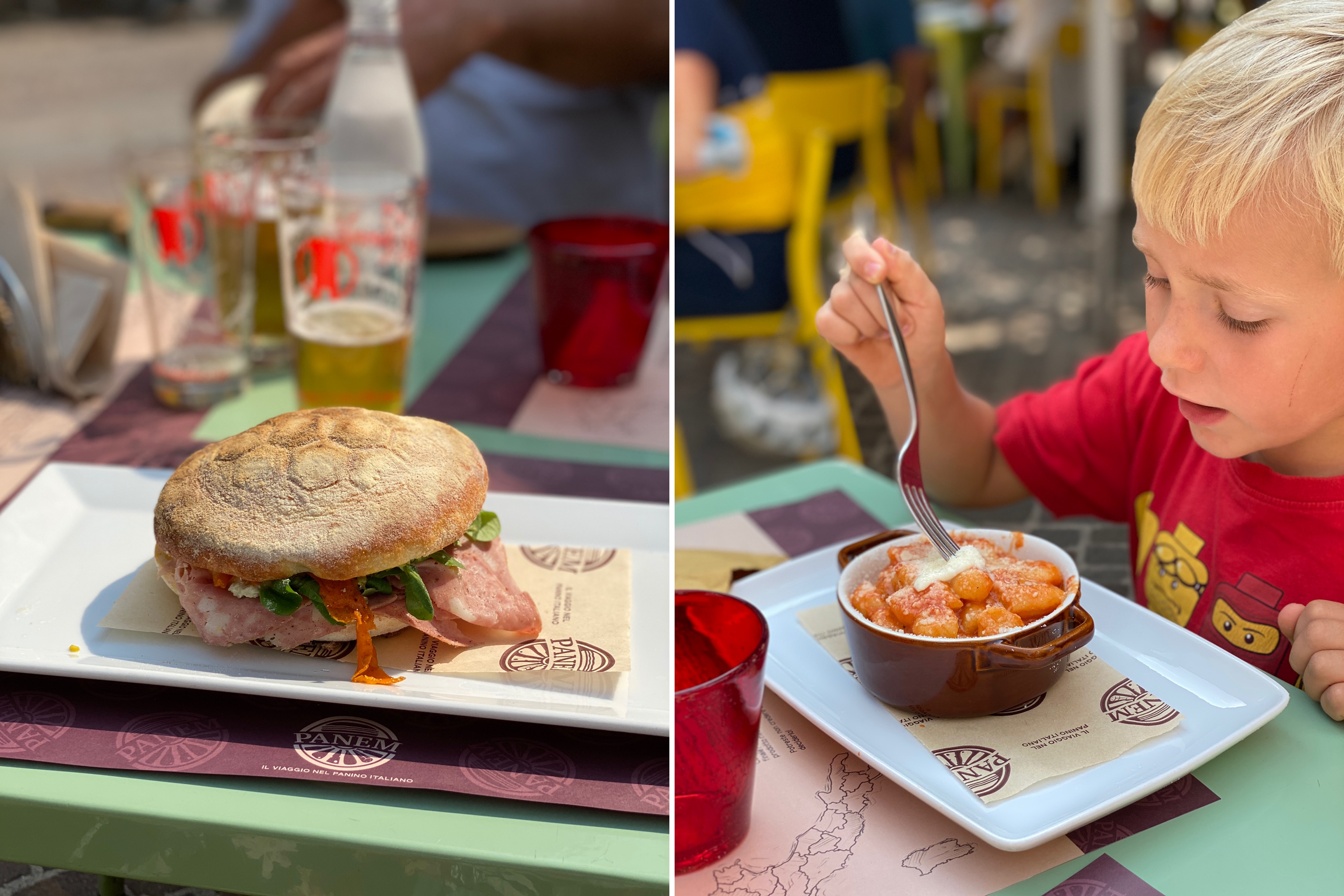 After lunch, take a walk around the city, along the wide promenades, narrow streets and relax in one of the many cafes overlooking the lake. Before dinner, go to Bastion , which you can enter via a new, glass elevator.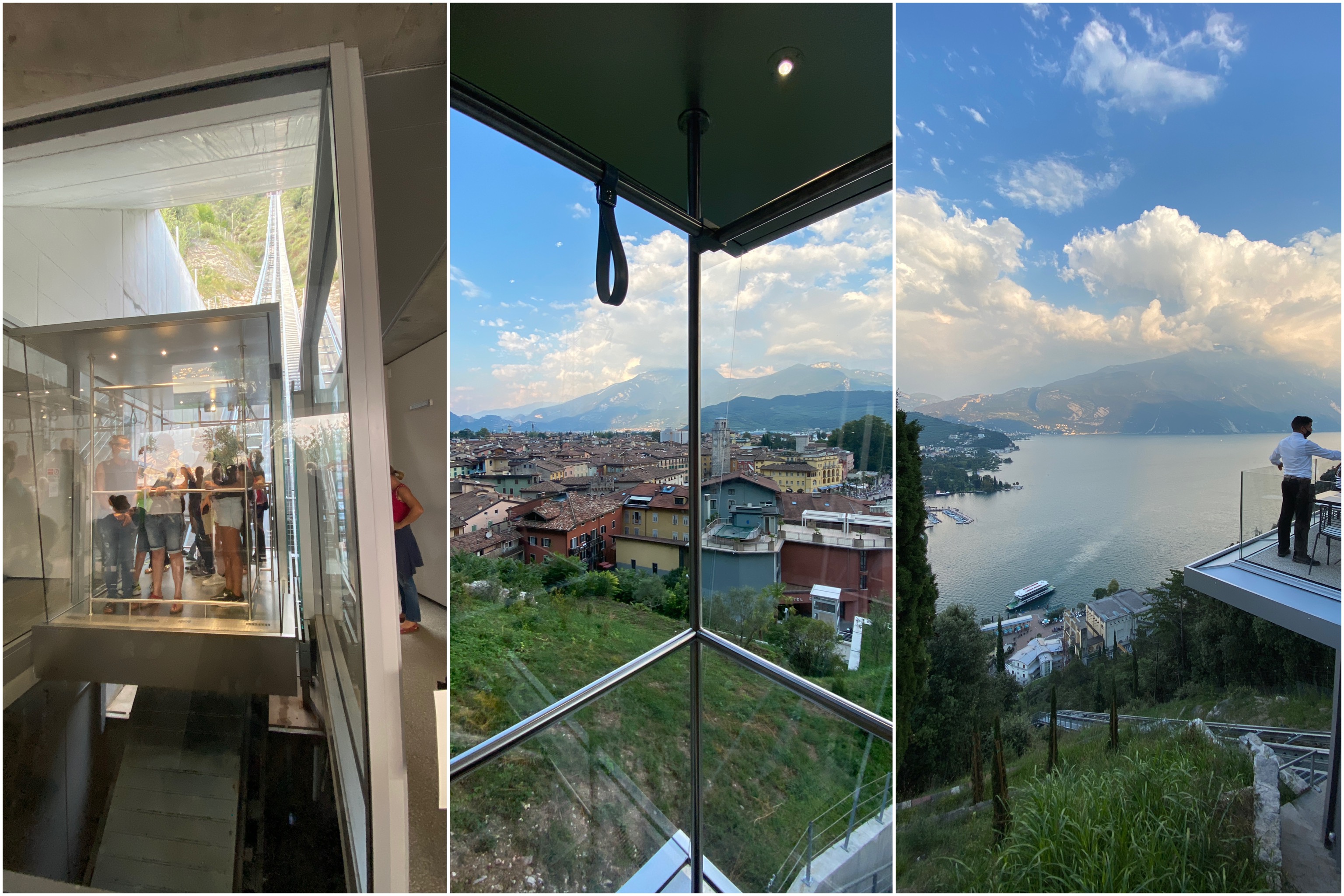 Eat dinner in the center of Riva at the Leon d'Oro restaurant. We go there every time we are on Lake Garda. The time spent in this restaurant is not only a feast for the palate but also the friendly service, which makes every guest feel special here. Luca, the owner of the restaurant, pays great attention to the quality of food and imagine that he orders for his restaurant every day! Thanks to this, the plate includes not only local ingredients, but also fresh seafood from Sicily. Lucca is probably the only Italian who ate pierogi in Zakopane :) he also appreciates our Polish alcohols and always has Krzeska from Polmos at the counter.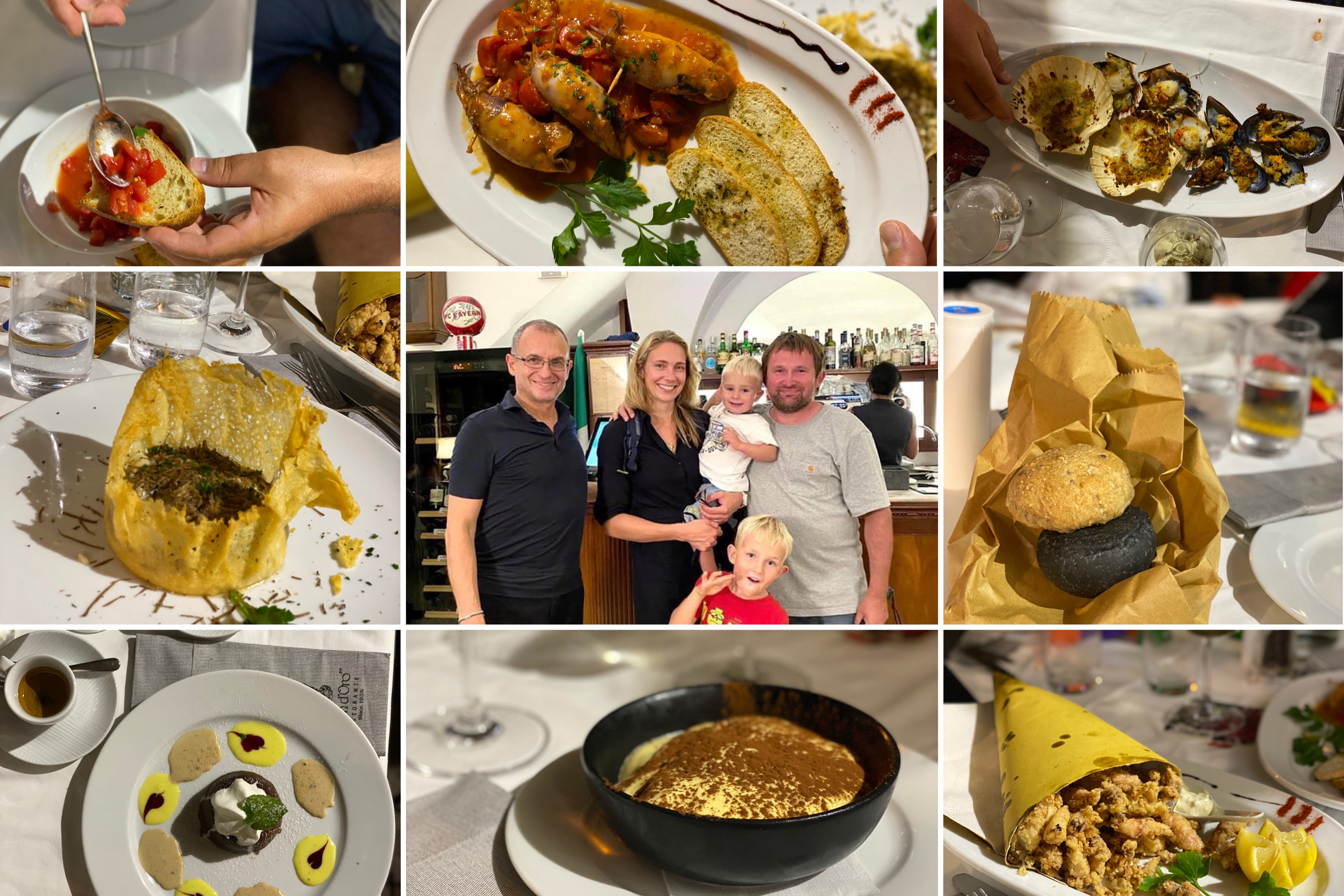 If you are interested in such a day in Garda Trentino, it is best to sleep at Camping Brione .
Day 5: Bike trip
We have a bicycle proposition for you today! If, like us, you travel with children and choose gentle routes on bicycle paths, the perfect route will be from Riva del Garda, through Torbole to Arco and Dro - along the bicycle path up the Sarca River. In Dro, you can take the road leading along the Marocche valley (which I mentioned on the first day) to Lago di Cavedine and either relax on the beach or go to the local Gino Pedrotti winery for a Vin Santo tasting.
If you prefer to go cycling somewhere closer to Riva, choose Strada del Ponale and then have lunch in Balla Napoli, where children can eat pizza in the shape of a teddy bear head :)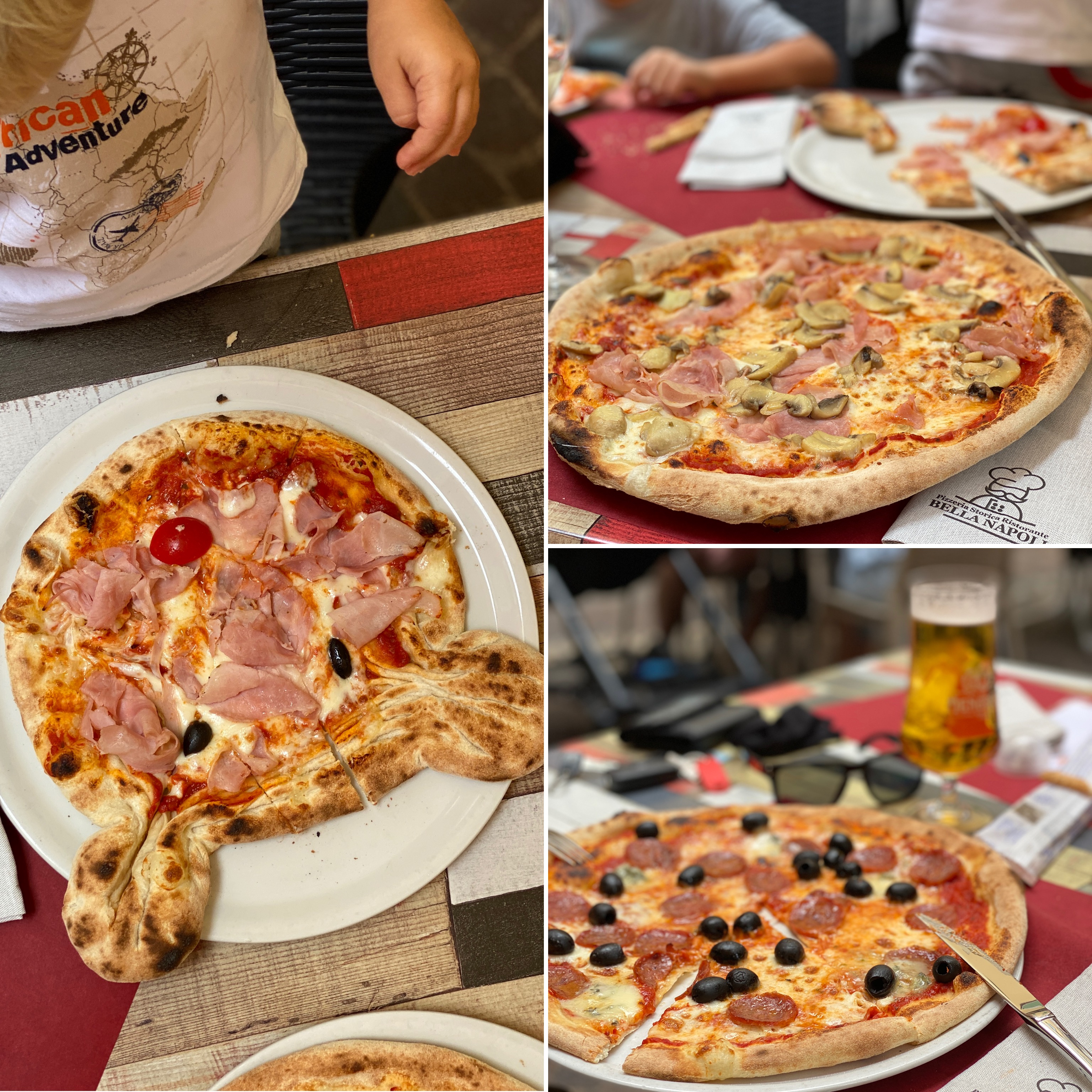 If you choose MTB or e-MTB bikes, there are some routes that we especially recommend: 5 best e-MTB routes in the Garda Trentino region .
I suggest eating dinner at Arco, the Ai Conti di Arco restaurant located in Palazzo Marchetti. We chose a table on the beautiful patio, which also has a play corner for children, but the restaurant also has an amazing interior with interesting finishes. Notice the ceramic chimneys on the roof of this building, which can be seen standing on the side of the Ai Conti bar (not on the patio).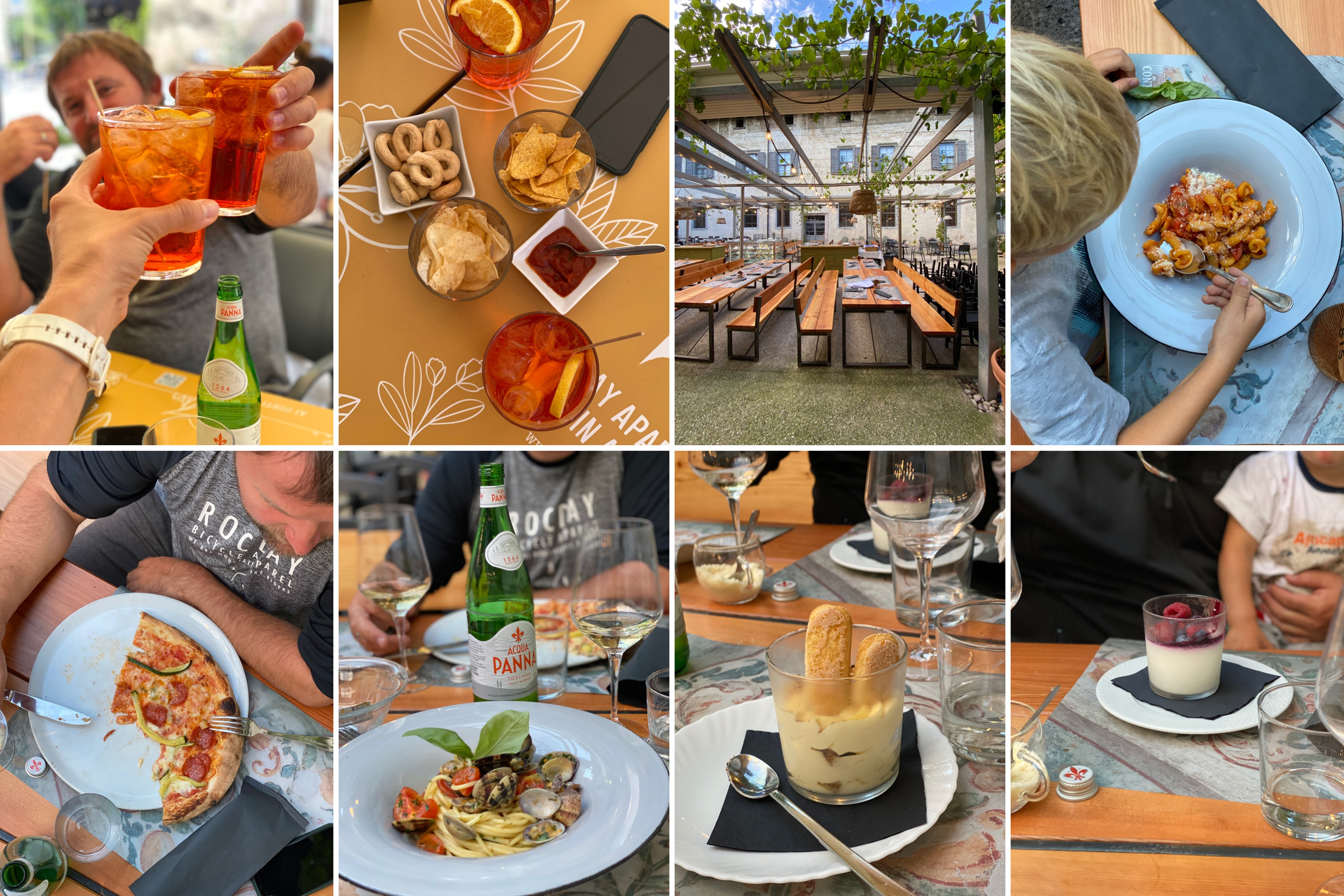 If you are interested in such a day in Garda Trentino, it is best to sleep at Camping Brione .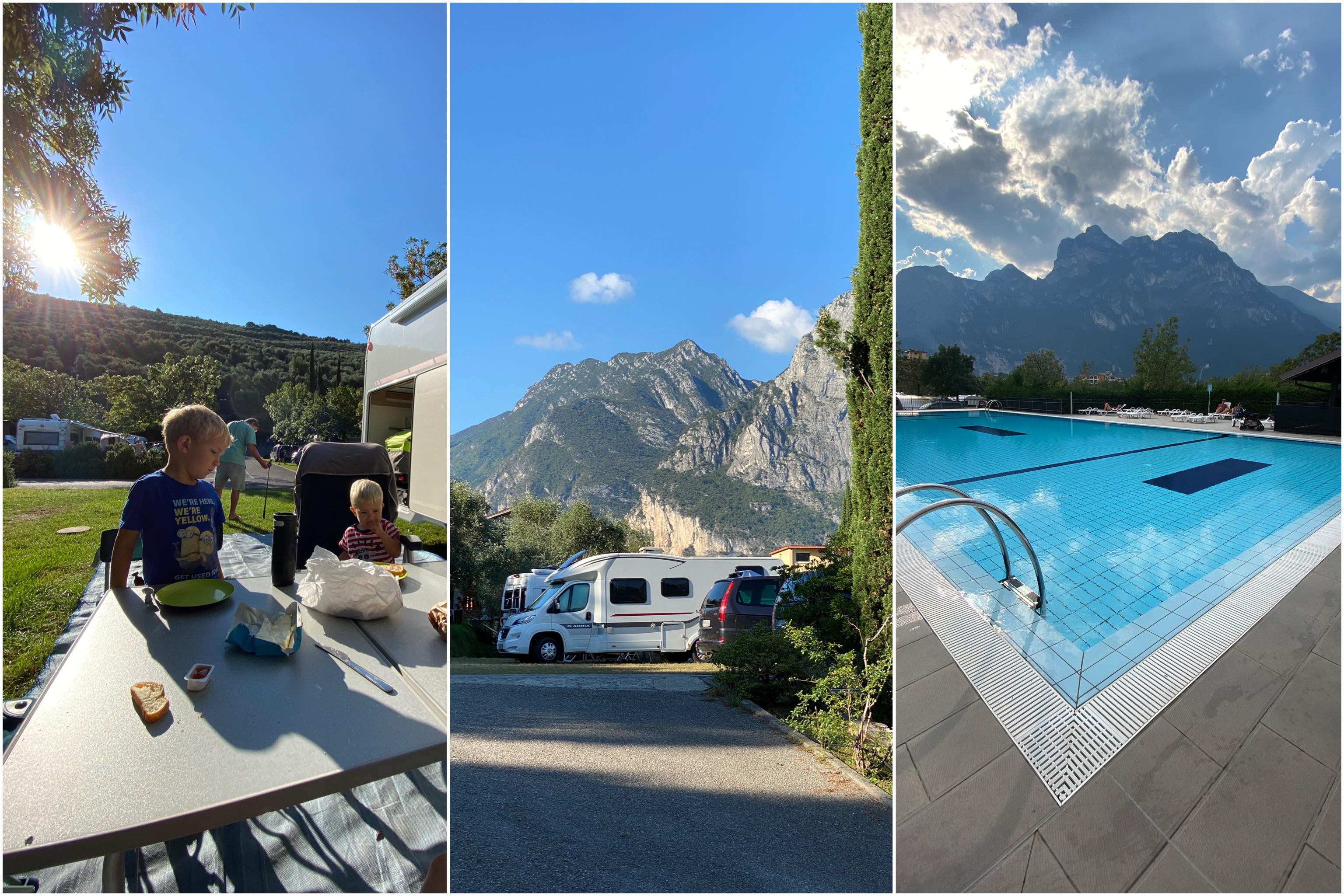 Day 6: Torbole – walk and rope park
The next two days are a particularly interesting proposition for families with children. It's nice to spend one of them at Busatte Adventure Park. You can get here by bike from Torbole, although I warn you that children may need help on the climbs. The rope park has several levels. Maks (5 years old) and I sent the first three. The next ones are hung very high!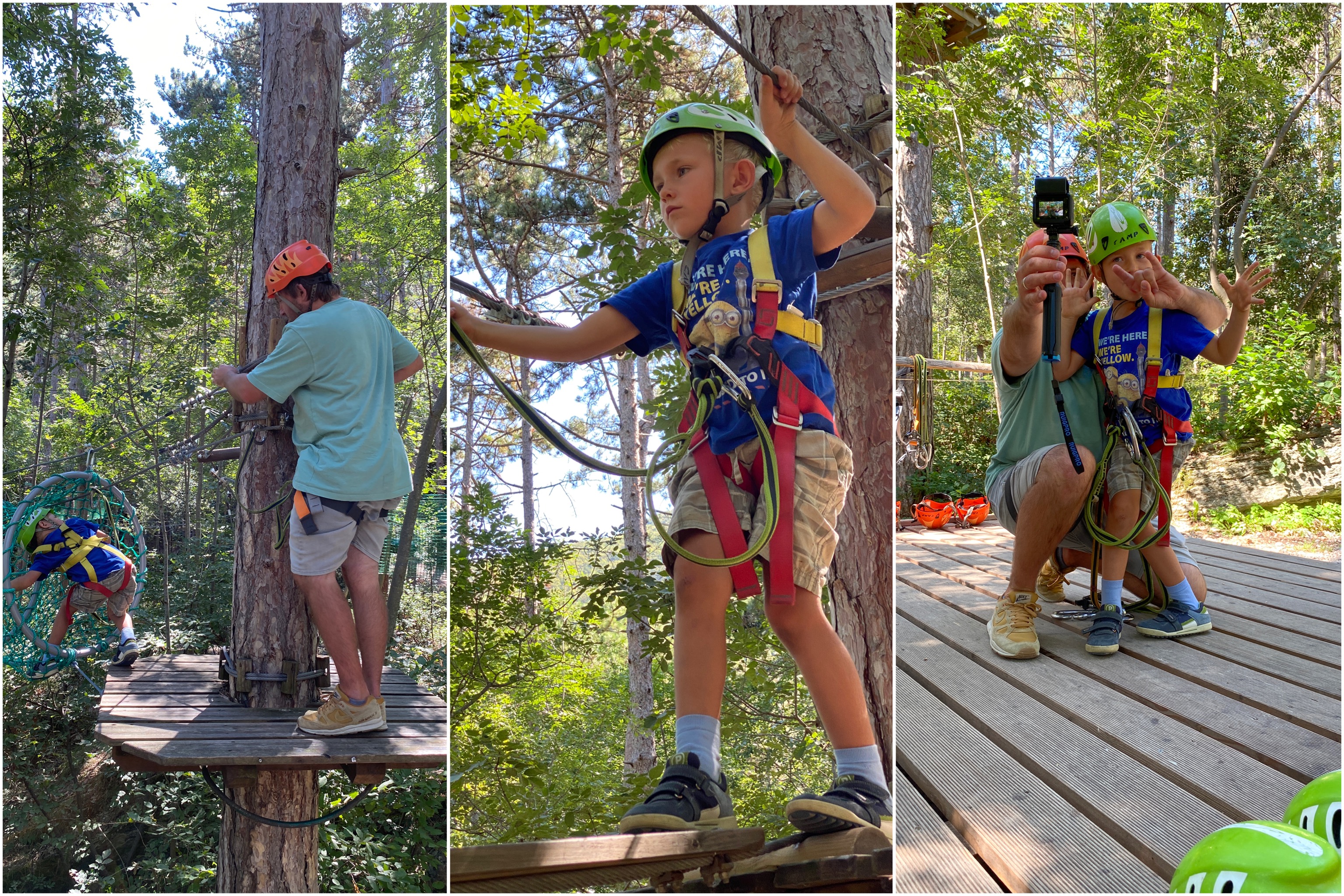 Enjoy lunch at the Busatte Grill and Steak Restaurant, and then (if you still have the strength) go on the Busatte – Tempesta trek. Please note that this trail has a lot of stairs, so it is not suitable for cycling or walking with a stroller.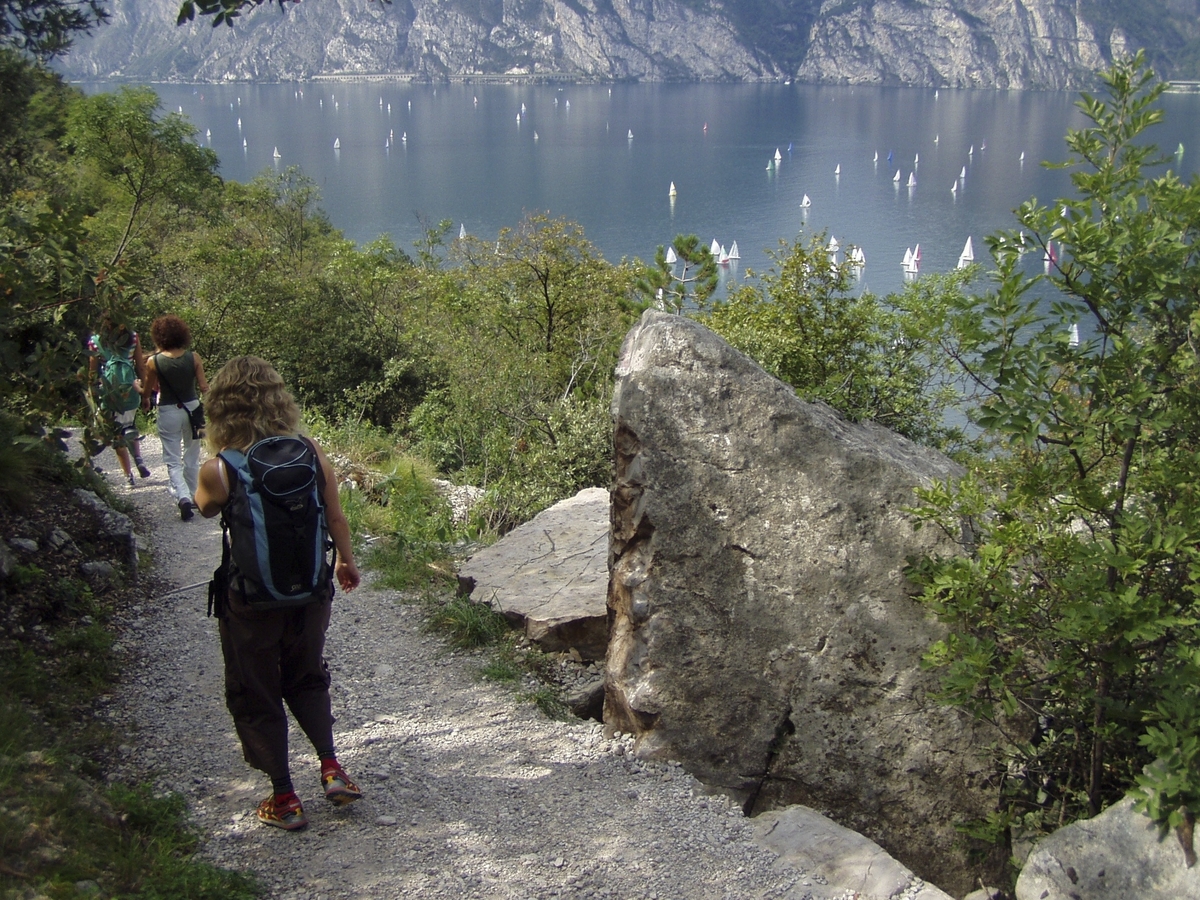 Eat dinner in the center of Torbole in a restaurant with a direct view of Lake Garda - Casa Beust. It is best to order a tasting menu here, although we went crazy this time differently.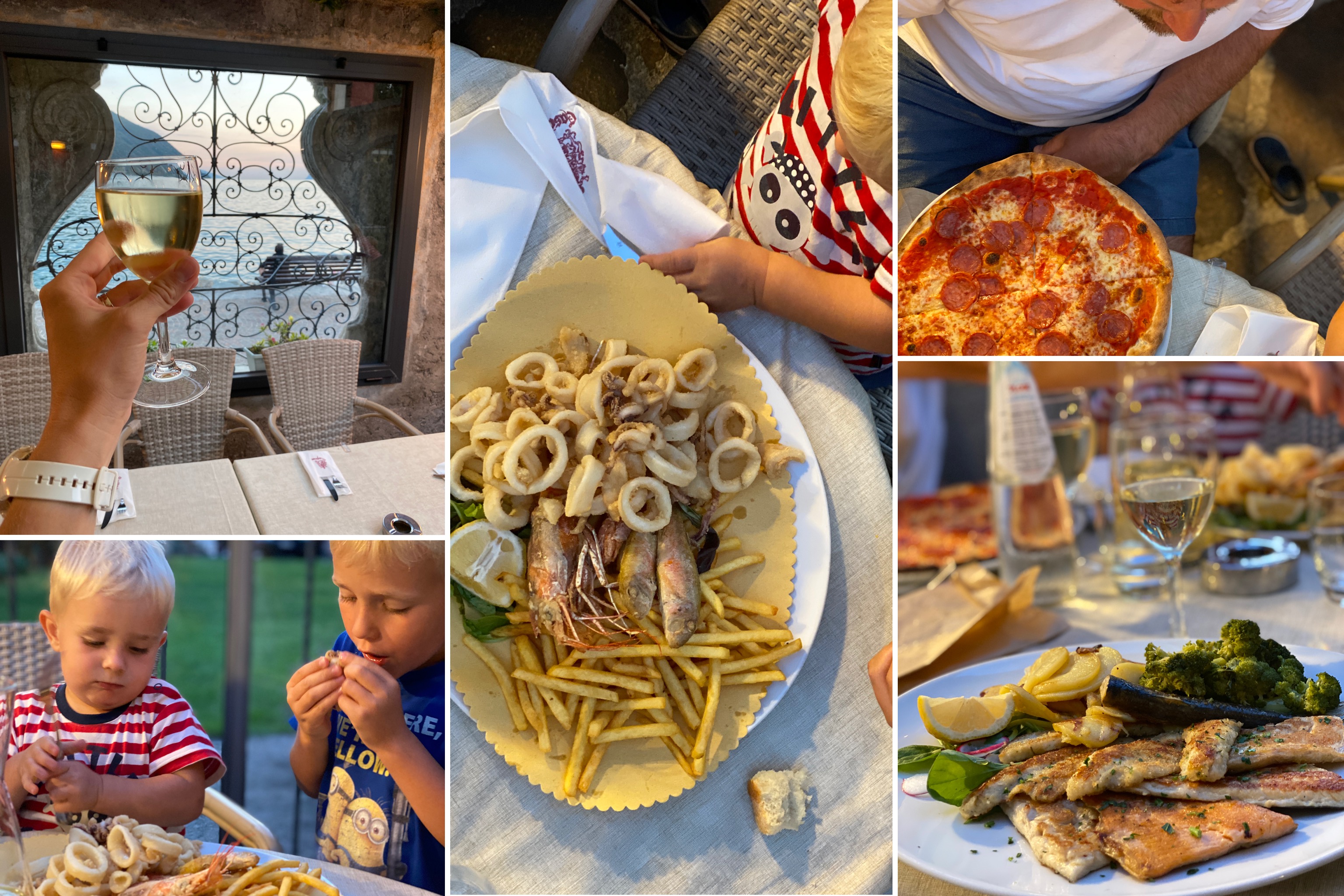 If you are interested in such a day in Garda Trentino, it is best to sleep in Torbole at Camping Al Porto .
Day 7: Donkey tour and relaxation on the beach
The last and probably the most memorable day on the Garda is a walk with donkeys ! First you need to drive to Malga Zanga . If you have a large camper, it is better to leave it a little lower and cover the rest of the route, e.g. on bicycles. A small camper or bus can handle winding, narrow roads with ease. If you make an arrangement with the owner, you can stay on his property for the night.
Children from about 2 years old can ride a donkey. The little ones even have their own special chair in which they often fall asleep while driving! First, the owner chooses donkeys that everyone can clean together, then he puts saddles on them, sits the children and we go around the house to check how the children and donkeys react to each other. If everything is OK, we go back to the restaurant for cake and coffee and the owner shows us the route we will take on the map. This gentle route is approximately 4 km long. The loop walk took us 2 hours. After starting the actual hike, the owner walks with us for a while to check if we are handling the donkeys well and after a few hundred meters he leaves us and we cover the rest of the route on our own.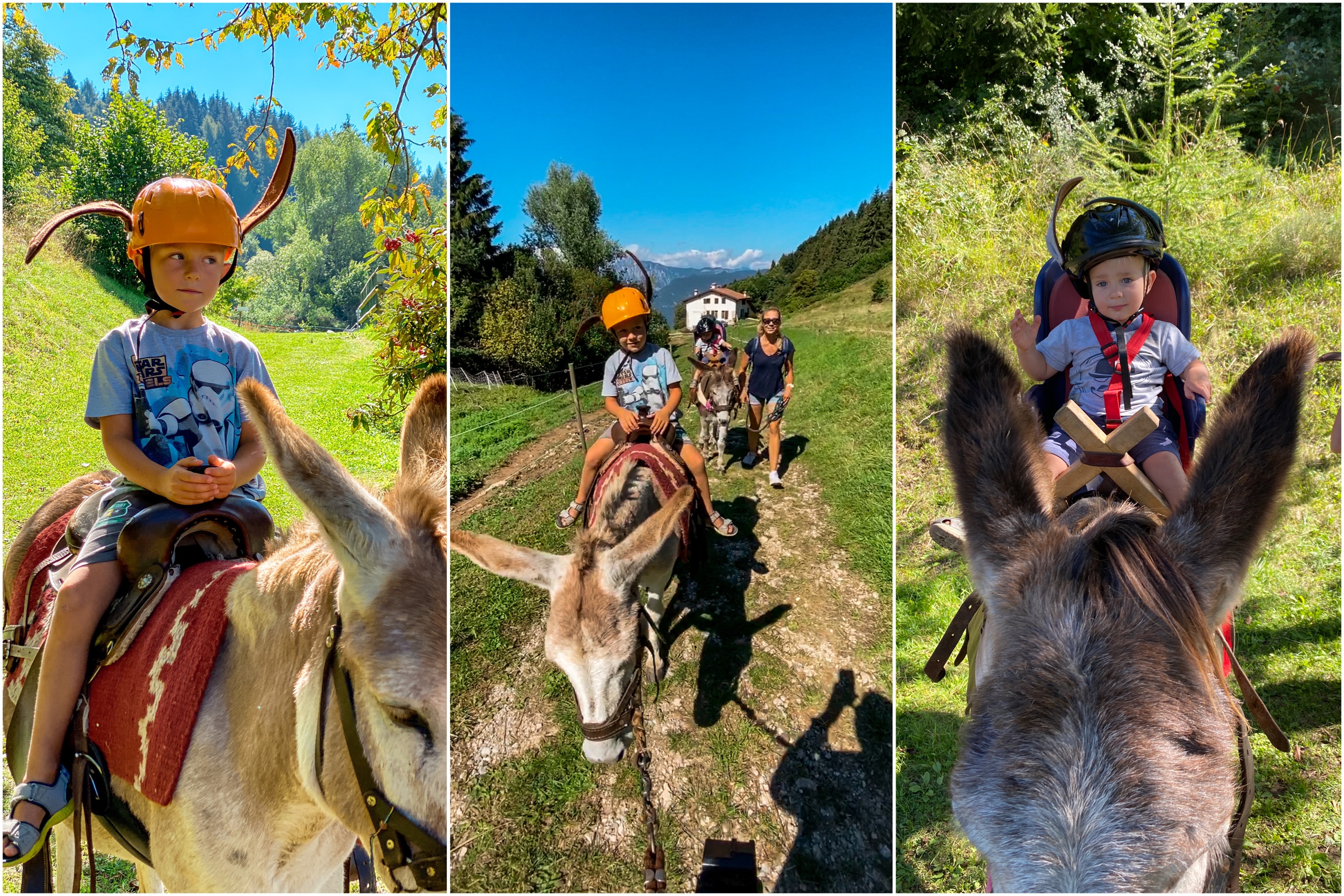 The children are delighted and so are we. Such an independent walk with large animals (for us city dwellers) is a great attraction. After the trip, we learn that the owner also organizes multi-day trips with donkeys with overnight stays in shelters both here on the Garda River and in Umbria. This is something I'm putting on our bucket list.
The donkey tour is not cheap, because one donkey costs 40 EUR, but I will tell you that it is worth it! If you can also sleep for free in your camper next to the owners' house, the value of the trip becomes completely small.
However, we returned to the center of Torbole for the night to eat our last dinner at the very popular Hotel Centrale Torbole. The queue for the tables outside (we had a reservation inside, so we didn't wait) was about 20 meters long! The food is amazing - be careful if you want to order tiramisu for dessert, leave plenty of room, because the portion is huge!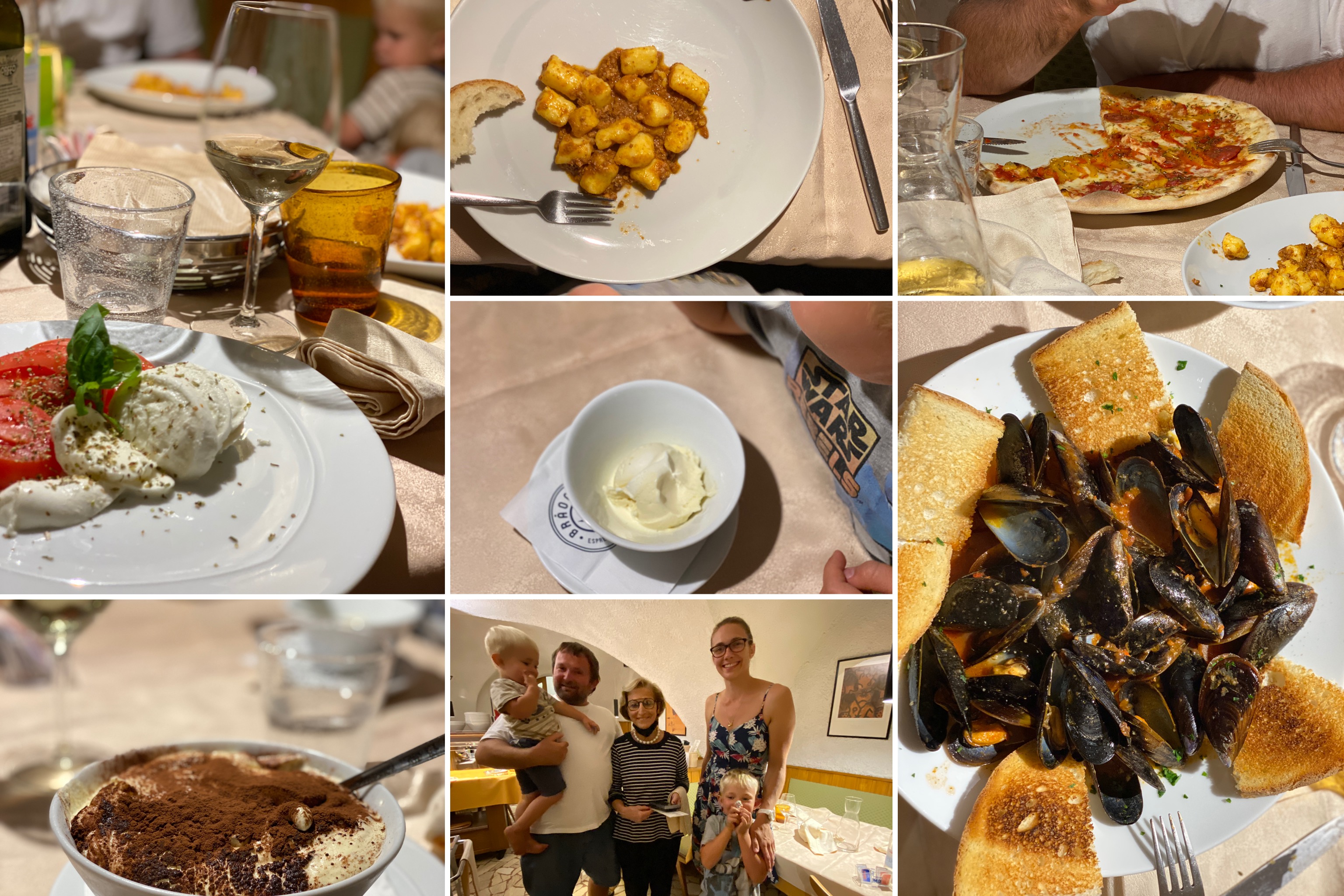 If you are interested in such a day in Garda Trentino, it is best to sleep at Camping Al Porto .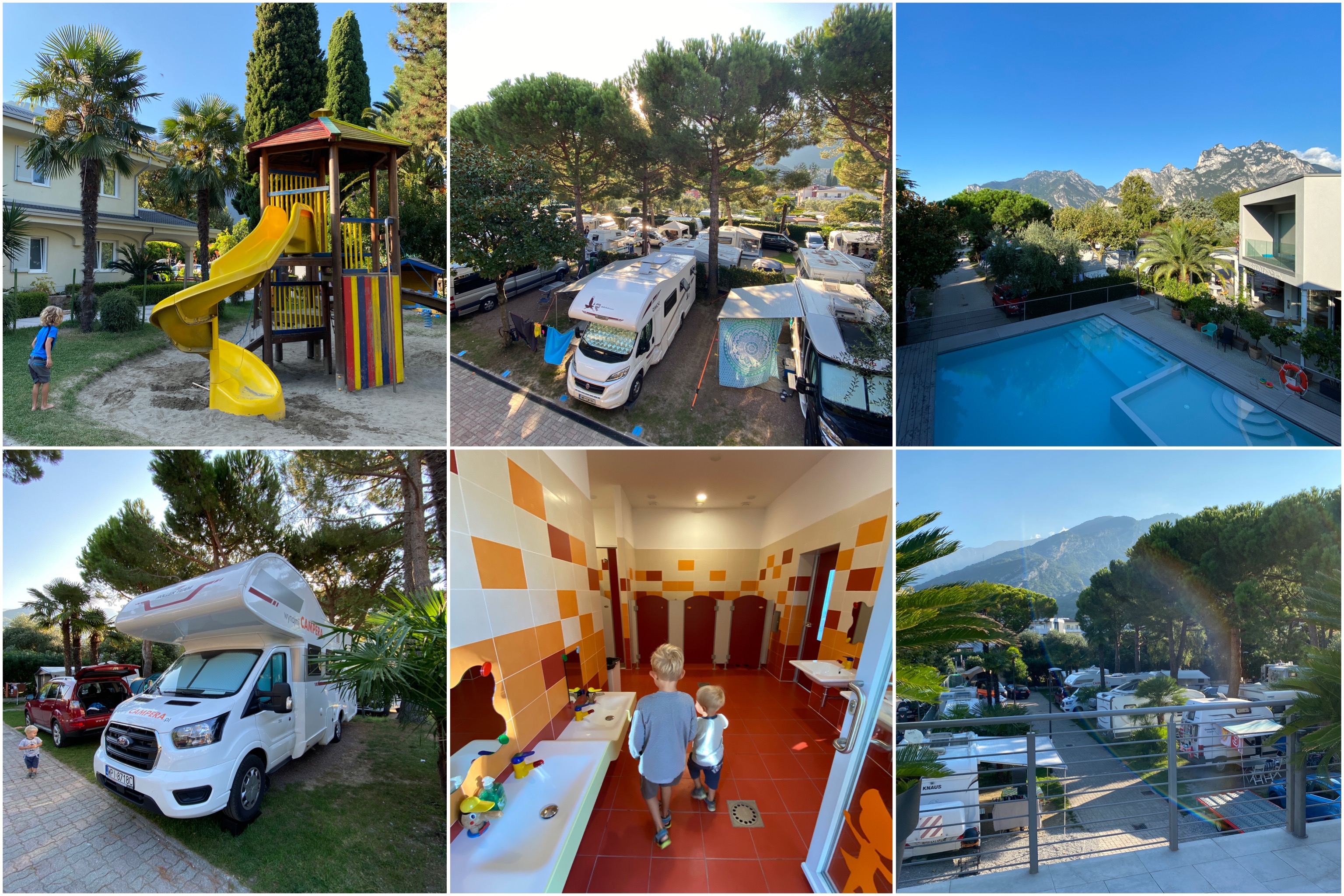 Garda Trentino – other guides and videos
If you are interested in this guide, you may want to see other guides from this region:
3 days in Riva del Garda - a complete guide
Garda Trentino - a culinary trail
Family holiday in Riva del Garda
11 things you must do in Lake Garda
See also our videos:
How to spend an active day in Garda Trentino?
How to spend a week in Riva del Garda on Lake Garda ?
A week in the Garda Trentino region
---
Want to know even more?

• Join our Facebook group – Fajne Campingi
• Follow our Facebook profile – CampRestowy Facebook
• See how we travel as a family on Instagram. During our trips, this is where we post most of our reports from everyday life at the campsite or in the camper - CampRestowy Instagram
• Watch our videos on YouTube, subscribe to our channel and give a thumbs up to the videos you like – CampRestowy Youtube
We have created the CampRest portal for people who value freedom and travel on their own.
Enjoyed reading this article? Share it!